Since last night's 4-0 loss to the Flyers wasn't much to write home about, I thought I'd do an abbreviated game summary in the style of the old TV series, Dragnet 1967.
Cue the opening music. Sergeant Joe Friday and Officer Bill Gannon, on loan from the LAPD, knock on the front door to the home of Polly Penzfan. Clad in a Penguins toque, Sidney Crosby jersey and slacks, Polly opens the door.
Polly: May I help you?
Friday: I'm Sergeant Friday and this is Officer Gannon. From police headquarters. Understand there's been a robbery.
Polly: Yes. I'd like to report a missing two points. And the possible kidnapping of a hockey team.
Friday: Mind if we ask a few questions?
Polly: Not at all.
Gannon: Can you describe what happened?
Polly: I'll try. You see, the Penguins played the Flyers last night in Philadelphia. That is, it looked like the Penguins.
Friday: Ma'am?
Polly: They wore the right uniforms and all. Black and gold. Sidney Crosby wore No. 87. He's my favorite player…
Friday: Just the facts, ma'am.
Polly: Sorry. The Penguins started out okay. Even played pretty good in the first period. After that, they didn't look so hot.
Gannon: You think they were kidnapped?
Polly: Uh huh.
Friday: Notice anything suspicious?
Polly: They didn't have much pep.
Gannon: Score any goals?
Polly: No. And they usually score a lot.
Friday: What about the goalie?
Polly: Matt Murray? Oh, he was fine. If you ask me, he's the only one who wasn't kidnapped. At least not till late in the game.
Gannon: And the coach?
Polly: He looked upset. Mike Sullivan always looks upset when they lose.
Friday: Anything else?
Polly: Um…let's see. Well, the Pens did fly back to Pittsburgh on Tuesday from an awfully long road trip out west. Then they flew into Philadelphia yesterday morning to avoid a snowstorm. Oh, and they played part of the game with only five defensemen. They do that a lot these days.
Gannon: I see.
Friday: Thank you, ma'am. I think we have enough. We'll look into it.
Polly: I hope you find them. After all, the playoffs are coming up soon. It sure would be nice if they could win another Stanley Cup.
Friday: I wouldn't worry. I'm sure they'll turn up.
Cue the closing music.
*Be sure to check out Rick Buker's books,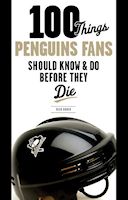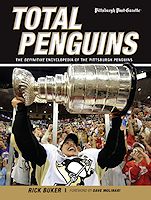 available at TriumphBooks.com, Amazon.com, and BarnesandNoble.com