Here's a look at how former Penguins performed during the 2016-17 NHL regular season.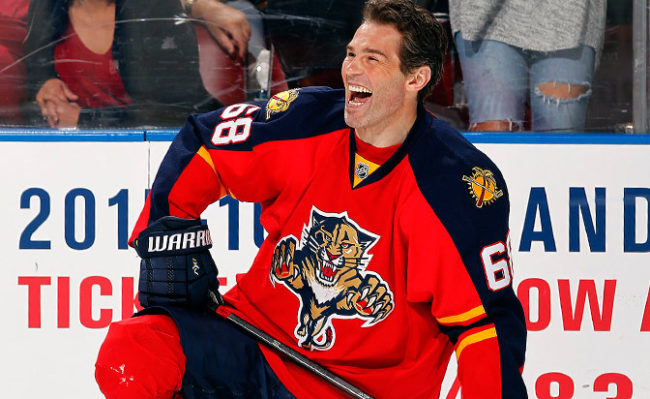 David Perron and ageless Jaromir Jagr took the scoring honors with 46 points apiece. Marian Hossa and Jordan Staal finished a close second. Each tallied 45 points.
Hossa paced the Ex-Pens with 26 goals, followed by James Neal (23). Perron finished a distant third with 18 goals. Matt Niskanen led the black-and-gold alum with 34 assists.
Brooks Orpik topped the list in plus/minus (+32), followed by Niskanen (+20). Chris Thorburn (95 PIM) and Deryk Engelland (85 PIM) were the most penalized.
Among the goalies, Mike Condon recorded the best goals against average (2.48). Thomas Greiss registered 26 wins, seven more than Condon. The latter posted five shutouts, two better than Greiss and Chad Johnson.
SCORING
Player
Team
Pos
GP
G
A
PTS
PIM
+/-
David Perron
STL
LW
82
18
28
46
54
-2
Jaromir Jagr
FLA
RW
82
16
30
46
56
2
Marian Hossa
CHI
RW
73
26
19
45
8
7
Jordan Staal
CAR
C
75
16
29
45
38
-1
James Neal
NSH
LW
70
23
18
41
35
-10
Lee Stempniak
CAR
RW
82
16
24
40
32
2
Matt Niskanen
WSH
D
78
5
34
39
32
20
Alex Goligoski
ARI
D
82
6
30
36
28
-9
Mark Letestu
EDM
C
78
16
19
35
17
-2
Brandon Sutter
VAN
C
81
17
17
34
12
-20
* Matt Moulson
BUF
LW
81
14
18
32
10
-4
Jussi Jokinen
FLA
LW
69
11
17
28
39
-15
* Jake Muzzin
LAK
D
82
9
19
28
46
-21
Jarome Iginla
COL-LAK
RW
80
14
13
27
70
-30
Paul Martin
SJS
D
81
4
22
26
20
10
Daniel Winnik
WSH
LW
72
12
13
25
49
15
Dominic Moore
BOS
C
82
11
14
25
44
2
Blake Comeau
COL
LW
77
8
12
20
58
-19
Beau Bennett
NJD
RW
65
8
11
19
20
-4
Deryk Engelland
CGY
D
81
4
12
16
85
2
Brooks Orpik
WSH
D
79
0
14
14
48
32
Eric Fehr
PIT-TOR
C
53
6
5
11
14
2
Adam Clendening
NYR
D
31
2
9
11
17
3
Jayson Megna
VAN
C
58
4
4
8
6
-4
Ben Lovejoy
NJD
D
82
1
6
7
39
-7
Taylor Chorney
WSH
D
18
1
4
5
11
8
Chris Thorburn
WPG
RW
64
3
1
4
95
-7
Harry Zolnierczyk
NSH
LW
24
2
2
4
10
-2
Robert Bortuzzo
STL
D
38
1
3
4
15
11
* Kenny Agostino
STL
LW
7
1
2
3
2
0
Scott Harrington
CBJ
D
22
1
2
3
10
3
Michal Rozsival
CHI
D
22
1
2
3
14
-3
Tanner Glass
NYR
LW
11
1
1
2
17
0
Brian Strait
WPG
D
5
0
2
2
0
-1
* Kasperi Kapanen
TOR
RW
8
1
0
1
0
-2
Thomas Greiss
NYI
G
51
0
1
1
0
0
* Joe Morrow
BOS
D
17
0
1
1
8
-4
Steve Oleksy
PIT-TOR
D
11
0
1
1
24
2
Cal O'Reilly
BUF
C
11
0
1
1
0
-6
Mike Condon
PIT-OTT
G
41
0
0
0
4
0
Simon Despres
ANA
D
1
0
0
0
0
0
Bobby Farnham
MTL
RW
3
0
0
0
17
0
* Chad Johnson
CGY
G
36
0
0
0
0
0
Zbynek Michalek
ARI
D
3
0
0
0
0
1
Trevor Smith
NSH
C
1
0
0
0
0
0
Jeff Zatkoff
LAK
G
13
0
0
0
0
0
GOALTENDING
Player
Team
GP
MIN
GA
SH
AVE
W-L-OT
Mike Condon
PIT-OTT
41
2324
96
5
2.48
19-14-6
* Chad Johnson
CGY
36
2013
87
3
2.59
18-15-1
Thomas Greiss
NYI
51
2813
126
3
2.69
26-18-5
Jeff Zatkoff
LAK
13
550
27
0
2.95
2-7-1
Italics—Draft pick or free agent who began his pro career with the Penguins
Asterisk—Draft pick who didn't appear in a regular season or postseason game for the Penguins
*Be sure to check out Rick Buker's books,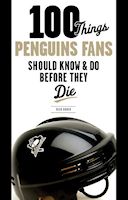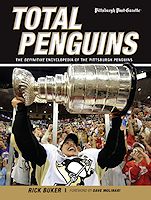 available at TriumphBooks.com, Amazon.com, and BarnesandNoble.com