I must admit. Watching last night's Penguins-Blues game on the big screen TV at the Pennsbury Pub and Grille, I was pulling like mad for goalie Marc-Andre Fleury to do well.
"I hope 'Flower' gets a shutout," I repeated at least three or four times to my good friend, Dave Yelich, in an obvious breach of sports etiquette.
Fleury almost did, too, coming within nine minutes and change of posting a goose egg before Patrik Berglund churned through the slot and slid a backhander through a tiny opening in the five hole.
In keeping with his recent custom, Fleury slowly uncoiled from his low goaltender's crouch and went for a short skate. His way of pressing an internal reset button, I suppose. I sensed by a slight shrug of the shoulders that he really wanted a shutout.
Of course, Marc-Andre wasn't the only story of the night. As if we needed any reminders, Sidney Crosby reaffirmed his status as the finest player in the world with a brilliant three-point game.
Defying logic—if not the very laws of physics—Sid roofed a backhander from impossibly close range to give our Pens the lead. With a masterful bit of deception, he faked a slap slot before slipping a perfectly placed pass into Justin Schultz's wheelhouse on our second goal. Borrowing a page from the past, No. 87 closed out the scoring in a crisp 4-1 Pens victory by air-mailing an improbable Murphy Dump into an empty net.
Still, my thoughts were with Fleury. Amid all the rumors flying about (an especially crazy one out of Toronto has him going to Colorado for Jarome Iginla) you never know if you're witnessing his last game in the black and gold.
While I've never been a dyed-in-the-wool Fleury supporter—he's been too inconsistent and error-prone to suit me—I'm suddenly saddened by the thought that he might be leaving.
Deeply so.
After all, when then-GM Craig Patrick traded up to grab the willowy wunderkind from Sorel, Quebec with the No. 1 overall pick in 2003, Fleury became the original cornerstone of the Penguins resurrection.
"We were looking to build a championship team from goal on out," said former goaltending coach Gilles Meloche. "Not too many goalies like Marc-Andre come along."
Basking in the recent afterglow of two Stanley Cups and 10-consecutive playoff appearances, it's hard to remember just how bad we were back then. Jaromir Jagr and Alexei Kovalev were gone. Martin Straka, soon to depart. Mario Lemieux, injured for most of the season, was in the final throes of an extraordinary Hall-of-Fame career. Journeymen like Drake Berehowsky and Rico Fata dotted the roster.
Raw as he was, Fleury gave us hope. Few who witnessed it can forget his dazzling debut at Mellon Arena back on October 10, 2003, when he made 46 saves as an 18-year-old kid in a 3-0 loss to the Kings. Many of the highlight-reel variety. Or his valiant 31-save effort in his second start that vaulted the lowly Pens past powerhouse Detroit.
He's been remarkably durable over the years, especially for one so slight of build. From 2005-06 through last year, he averaged 57 games a season. Exclude the lockout season (2012-13) and '07-08, when he missed time with a high-ankle sprain, the average soars to over 60 games.
Nearly every significant goaltending record in franchise history is his—both regular season and postseason. Games played, shutouts, victories…you name it.
During his stay in the Steel City he's experienced dizzying highs and equally crushing lows. His sprawling, last-second stop on Nicklas Lidstrom in Game 7 of the Finals back in '09 won us a Cup and cemented his status as a Penguins hero for the ages.
On the flip side? His wobbly performance in the 2012 playoffs against Philadelphia elicited scathing criticism from the media and bloggers alike, myself included. Not to mention his all-too-frequent puckhandling gaffes.
Yet through it all, his grace and dignity have remained intact. Not to mention the undying respect and affection of his teammates.
As Fleury was interviewed by Dan Potash following last night's win, I couldn't help but note that after all these years he seems like the same guy. Flashing the same shy smile and answering questions in a way that reveals his modest nature and all-around goodness and decency.
Small wonder he's so beloved in the 'Burgh. How can you not root for a guy like that?
No matter what Flower's fate, I wish him the best.
No one is more deserving.
*Be sure to check out Rick Buker's books,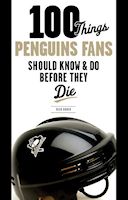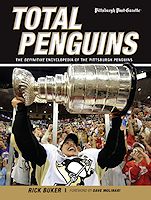 available at TriumphBooks.com, Amazon.com, and BarnesandNoble.com