"We could have clubs for the next eight or nine years like this."
Venerable Eddie Johnston, then the Penguins' senior advisor, uttered those words shortly after the team won the Stanley Cup back in 2009. How prophetic he was.
However, for the longest time—through an unending string of playoff disappointments—it seemed the promise of those days would go unfulfilled. In hindsight, the core players had some growing to do.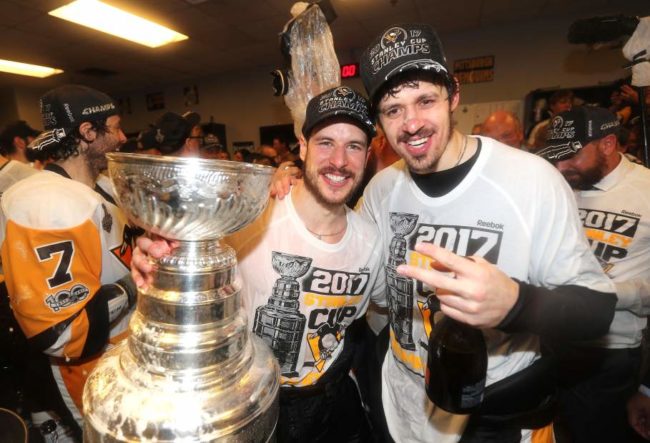 I'm happy to say, the maturation process is complete. Thanks to an incredible team effort, the Pens captured their second Stanley Cup in a row, and third in nine seasons, with a riveting 2-0 victory over the game but ultimately outgunned Nashville Predators in Game Six of the Stanley Cup Final.
It truly was a masterful win over a fiercely determined adversary, one that cements the Pens' legacy as the premier NHL team of the new millennium. Or, at the very least, places them alongside the Chicago Blackhawks, who likewise have won three Cups in the past decade.
Proving every bit worthy of coach Mike Sullivan's unwavering confidence, goalie Matt Murray led the way with an icy-cool performance that belied his rookie status. As sharp and poised as I've seen him, the kid from Thunder Bay turned aside 27 shots to earn his second-straight shutout—with a little help from the officials.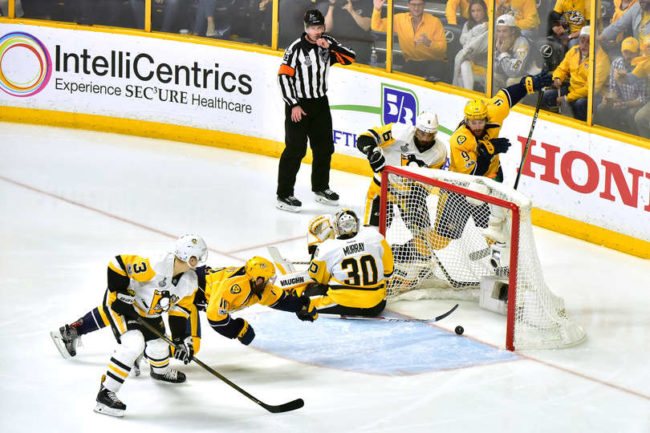 Early in the second period, the Preds' Colton Sissons beat "Muzz" clean on a rebound. Referee Kevin Pollock—his view impeded by Pens defenseman Trevor Daley and Nashville forward Filip Forsberg—assumed the puck was frozen beneath Murray's pads. He blew the whistle a millisecond before Sissons' shot crossed the goal line.
Some things aren't meant to be.
Pollock and fellow referee Dan O'Halloran tried to make amends. They turned a collective blind eye to a number of obvious Nashville infractions, none more glaring than a brutal tag-team trip of Daley in the third period that resulted in the Pens' defender landing chest-first on the ice.
On the flip side, the officials doled out four questionable minors to the black and gold, including a dubious pair of penalties to Olli Maatta and Daley midway through the third period to give the Preds a 5-on-3 for 32 seconds. Talk about handing the game to Nashville on a silver platter!
Backed by Murray's airtight play, the Pens' penalty killers rose to the occasion in superb fashion.
What a game it was. Truly, last night's contest was a glittering jewel, packed with all the passion, tension and gut-wrenching drama the NHL could hope for on its center stage.
In stark contrast to the first five games, each decided in lopsided fashion, this one resembled the 1978 Belmont Stakes, when the great thoroughbred rivals Affirmed and Alydar tore neck and neck through the homestretch to a dramatic photo finish.
Which team would flinch first?
I'm pleased to report it was Nashville.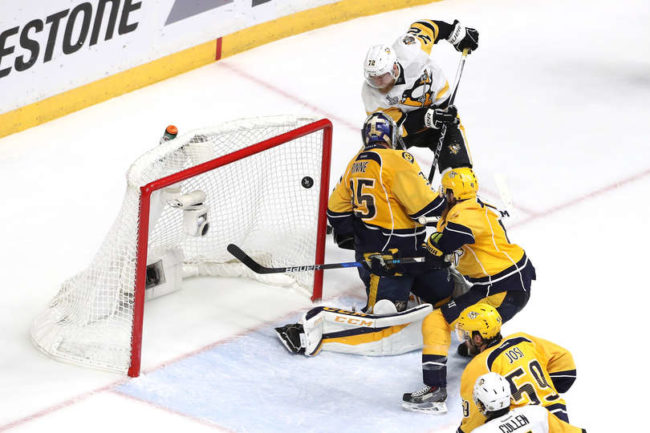 It seems altogether appropriate that Patric Hornqvist netted the game-winner. After all, the Pens' transformation from playoff flop to super achiever began that fateful June day in 2014 when general manager Jim Rutherford acquired the ultra-gritty Swede from Nashville for sniper James Neal.
"We wanted to change the mix of the team," said Rutherford at the time.
Boy, did he ever.
With 1:35 left in regulation No. 72—wreaking havoc in the slot—chased down a ricochet of a wayward Justin Schultz blast. In his inimitable scrambling style, "Horny" chipped the puck off Pekka Rinne's left arm and in. The tally was pretty and ugly all at the same time.
Moments later Hornqvist's best friend and countryman, Carl Hagelin, outraced Preds villain P.K. Subban to a loose puck and escorted it into an empty Nashville net.
As I watched our guys frolic with the Cup like a bunch of frisky colts set out to pasture, I felt so intensely proud, not to mention deeply and richly blessed to cheer for them. Each one, from captain Sidney Crosby to fellow superstars Evgeni Malkin and Phil Kessel to Black Aces like Josh Archibald, contributed in some way to the triumph. Makes me wish we could divvy up the Conn Smythe Trophy (awarded to Sid) and hand a piece to each player.
I was especially happy for Marc-Andre Fleury. Unlike last spring, when he seemed reluctant to celebrate, Fleury eagerly took Lord Stanley's chalice for a long skate before symbolically passing it to Murray.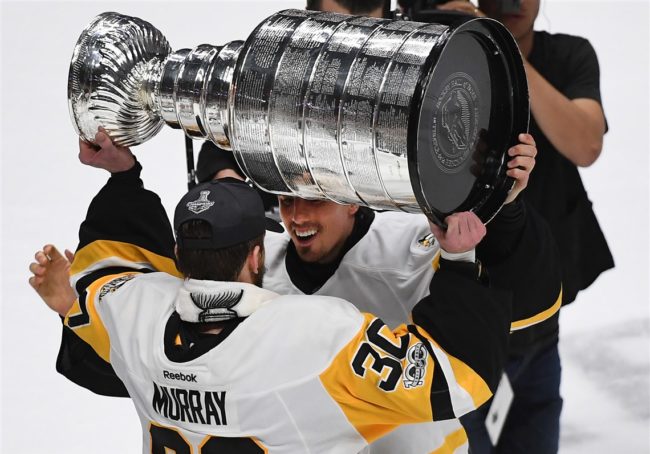 Couldn't have won it without you, "Flower."
And what about the job Sullivan and his staff did? How they got their bruised and battered troops to refocus time and again, I'll never know.
Let other coaches have the Jack Adams. Thanks to "Sully," we've got the Cup.
With expansion and free agency looming just around the corner, change is in the wind. It's a safe bet that some members of the team will be wearing other uniforms come the fall…perhaps even the beloved Fleury. Assistant Rick Tocchet is rumored to be the front-runner for the Buffalo coaching job.
It'll be a sad day, indeed, to see this mighty champion broken up.
For now, let's revel in the triumph.
*Be sure to check out Rick Buker's books,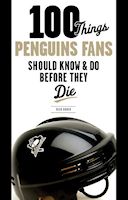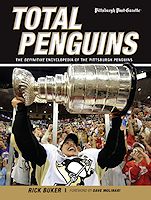 available at TriumphBooks.com, Amazon.com, and BarnesandNoble.com