Amazing what a difference a week can make. Especially during the course of the seven-month, knock-down, drag 'em out endurance test that serves as the NHL regular season.
Following a discouraging 4-3 loss to Boston on November 25—the Penguins' third loss in a row and ninth over a 13-game stretch—it appeared their season had reached an early tipping point. They'd slipped from a playoff spot, with few signs of improvement.
Even worse, goalie Matt Murray—arguably the team's MVP through an ugly first quarter—was hurt three days later, thrusting unproven rookie Tristan Jarry into a starting role.
Now we're riding a snappy four-game winning streak and looking like a brand-new team. Or, at the very least, a reasonable facsimile of our back-to-back champions.
Why the dramatic upswing? Here are a few thoughts.
Murray's injury, unfortunate as it is, provided the team with a much-needed cause. Prior to 'Murr' going down, the Pens were finding it nearly impossible to restoke their competitive fire, as evidenced by an endless succession of languid starts and spotty overall efforts.
The Pens clearly have rallied around Jarry, with favorable results. And give the kid credit. He's made a ton of key saves and displayed the poise of a seasoned veteran, affording the Pens ample opportunity to get to their game.
Scorers are scoring again, too. Following an uncharacteristically frigid start, Sidney Crosby has strung together a six-game scoring streak, including six goals and 13 points. With six goals in his past six games, Jake Guentzel has likewise thawed out. Ditto Viking warrior, Patric Hornqvist, who has five goals and 10 points in his past nine.
Blend in team scoring leader Phil Kessel and Evgeni Malkin, who've been consistent from the get-go, and goals haven't been an issue of late.
Likewise, the Pens' compete level has shown marked improvement. Including the loss to the Bruins, the black and gold registered 46 takeaways over their past five contests, a respectable average of 9.2 per game. That contrasts sharply with the anemic 26 they'd recorded in their previous eight, which included five defeats.
Indeed, the Pens appear to be taking the play to opponents with renewed vigor. As evidenced by a healthy collective Corsi of 53.8 percent, the third line of Carl Hagelin, Riley Sheahan and Bryan Rust has been a particular thorn on the forecheck, thanks to their drive and speed.
Even the much-maligned defense seems to be jelling, along with the penalty-killing unit. After yielding 10 power-play goals over a rocky six-game stretch, the PK crew has allowed just two over the past 21 chances against, for a highly respectable 90.5 percent kill rate.
This isn't to suggest that everything's rosy. Although Hagelin and Tom Kuhnhackl snapped long goalless droughts over the weekend, bottom-six scoring remains an issue. So does a nagging tendency to let down at critical junctures.
And, before we get too giddy, let's not forget that our past three victories came against the Flyers and Sabres, two of the league's weak sisters. Just what the doctor ordered, perhaps. But not nearly the test our next three foes—the Rangers, Islanders and Maple Leafs—figure to provide.
Still, for now, the signs are trending upward.
Puckpourri
Seven Pens tallied goals during the home-and-home sweep of Buffalo. Crosby and Hornqvist netted two apiece, with Guentzel, Hagelin, Kessel, Kuhnhackl and Malkin chipping in as well.
Hagelin's goal was a thing of beauty. The speedy winger took a short pass from Rust, swung in front of the net, and coolly outwaited Sabres goalie Chad Johnson before snapping the puck home. The snake-bitten Swede looked to the heavens and shook his fists in celebration.
Jarry stopped 66 of 67 shots over the weekend to earn a first and second star. His bid for a second-straight shutout was foiled by Jason Pominville midway through the third period, the lone blemish in a 5-1 triumph.
Elsewhere around the league, Vegas goalie Marc-Andre Fleury donned the pads and took shots during a Saturday practice session, fueling hopes for a return. 'Flower' has been on IR with a concussion since October 15.
*Be sure to check out Rick Buker's books,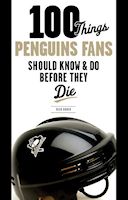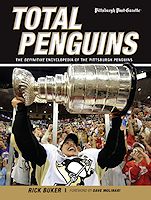 available at TriumphBooks.com, Amazon.com, and BarnesandNoble.com