The date may not live in infamy. But Friday, June 27, 2014 was nonetheless a bellwether day in Penguins history.
Barely three weeks into his new job, Pens GM Jim Rutherford swung his first major trade. He dealt James Neal—former 40-goal man, big and ornery, bomb of a shot—to Nashville for Patric Hornqvist and Nick Spaling.
"We wanted to change the mix of the team," Rutherford explained.
There was push back aplenty, from all directions. Including rumblings out of Moscow that a certain ex-linemate of Neal's was less than thrilled.
"They did not talk to me about the trade…" Evgeni Malkin confided to Pens beat reporter Josh Yohe. "It's a new GM. It's his job. He never asked me."
Rutherford stuck to his guns.
"Hornqvist plays with an edge," he said prophetically. "Goes to the net, works the corners."
The understatement of the century.
As if we needed any more convincing, Hornqvist provided yet another example of how much he means to the team. The bullish Swede struck for two goals—his 16th and 17th of the season—to pace the Pens to a 4-1 road win over Colorado.
Don't let the margin of victory fool you. This was one of those sloppy games where the black and gold played down to the level of competition. In the case of lowly Colorado, way down.
Had it not been for Hornqvist's clutch scoring and goalie Matt Murray's brilliance (27 saves)—not to mention Avalanche star Nathan MacKinnon's affinity for striking iron—the outcome could've easily turned the other way.
The Avalanche, winners of two in a row going in, dominated the faceoff circle. They outhit the Pens by a wide margin, too (23-11). Coupled with a turnover-laden stretch by the locals late in the second period…
Perhaps Pens coach Mike Sullivan summed it up best.
"Certainly we're happy with the result, but that's probably where it ends," he grumbled. "We can't play a loose game like that and expect to win consistently in this league."
While Murray—sharp as a tack—literally saved the day at the far end of the ice, Hornqvist was at his pile-driving, opportunistic best.
Working on a power play early in the second period, No. 72 barreled through a MacKinnon stick check, scooped up a nifty feed off the boards from Phil Kessel and banged the puck past goalie Calvin Pickard to give the Pens a 2-0 lead.
Later in the frame, with the contest still very much up for grabs, the power-plant winger rammed Francois Beauchemin into the end boards, beat the hapless Avs defender to the slot and, in typically dirty fashion, chipped a backhander past Pickard to the stick side.
During the ensuing celebration, he gave teammate Justin Schultz a knowing wink.
"The first one bounced off I don't know how many guys and came right on my stick," Hornqvist said afterward, summing up his night's work. "The other one, (Schultz) did a good job keeping it in and shot it. Some nights you find those loose pucks."
No one was more appreciative than his coach.
"It's great that he got rewarded tonight because he pays a price," Sullivan said. "He pays a price to go to those areas, and he's willing to do it. He never gets deterred. He just gets back in the battle. He gets knocked around a lot, but he almost just embraces it."
Amen.
Anyone wanna' go back and undo that trade?
Ice Chips
Sidney Crosby was held off the score sheet last night. Sid needs two points to reach 1000 for his career. He continues to pace the league in goals (30) and is presently tied with Edmonton whiz Connor McDavid for the lead in points (60).
Bryan Rust left the game late in the second period after being checked into Pickard by Mark Barberio. He appeared to favor his right arm. No word of yet as to the nature or severity of the injury.
Malkin participated in the Thursday morning skate. His return appears imminent.
*Be sure to check out Rick Buker's books,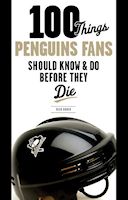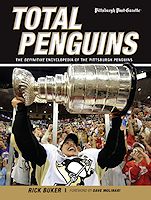 available at TriumphBooks.com, Amazon.com, and BarnesandNoble.com