Over the course of an arduous, 82-game NHL schedule, it's inevitable for our Penguins to struggle in certain areas from time to time.
Defensive lapses…check. Turnover troubles…check. Occasional ugly loss…check. Inability to score…now wait a minute.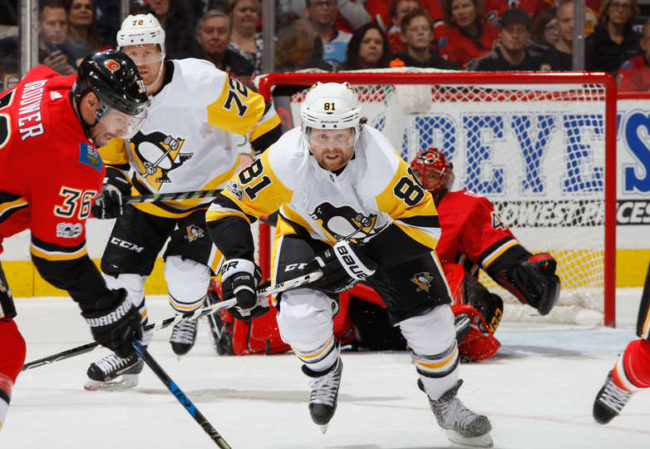 Of all the maladies that could've afflicted our team, I sure didn't anticipate this one. Yet the Pens are struggling to score. Really struggling.
Including last night's 2-1 overtime loss at Calgary, when they narrowly averted a shutout by the collective hairs of their chinny chin chins, the black and gold have tallied a grand total of 11 goals over their past seven games. Seven-Eleven may be a great name for a convenience store, but it makes for a lousy games-to-goals ratio.
Among those 11 goals, five have come on the power play. Which means we've averaged less than one even-strength goal per game. Scratch a pair of Phil Kessel game winners, scored during 3-on-3 overtime, and we've notched just four 5-on-5 goals over the seven-game span.
Pitiful.
It's been an equal-opportunity slump, afflicting superstars and support players alike. Sidney Crosby's goalless in his last seven. Jake Guentzel's been dry as a bone for the past six; Bryan Rust for 10.
Excluding Patric Hornqvist, who's frequently skated on the third line, the bottom six has been abysmal (a paltry four goals combined). As a group, they haven't scored since Carter Rowney tickled the twine against Florida on October 20…roughly dating back to Mike Lange's proverbial eighth-grade picnic.
Following a fast start, our defense hasn't contributed on the score sheet, either. They're in the throes of a five-game drought, which coincides with the absence of puck-mover Justin Schultz.
Heck, if it weren't for our power play, remarkably productive (29.1 percent) considering the team's malaise, we might not score at all.
It isn't that our guys aren't tryin'. Over the past seven games we've unleashed 245 shots on goal, a healthy average of 35 per game. At 51.1 percent, we have a solid, if not dominant, edge in total shot attempts. But the puck's not going in.
Mike Sullivan's tried everything short of enrolling his troops in The Mario Lemieux School for the Offensively Challenged. He's juggled lines and put the team through special battle drills in practice. He even grafted heavyweight Ryan Reaves onto Evgeni Malkin's right flank for a spell in an attempt to discover a little hidden vigorish, to no avail.
The good news?
Logic dictates the slump won't last forever. The Pens possess too much firepower to flounder indefinitely. A breakout game's a-comin', perhaps as early as Tuesday night when the locals at long last return to the friendly confines of PPG Paints Arena to take on Rick Tocchet's hapless Arizona Coyotes.
In the meantime? Keep shootin', boys.
Jarry Shines
Goalie Tristan Jarry sparkled last night in his 2017-18 Penguins debut. The former second-round pick made 32 saves, 14 during a high-energy second period. He stopped Doug Hamilton on back-to-back shots and robbed Sean Monahan with a pad save from the slot in the closing seconds of the frame.
Seven minutes into the third period, Jarry thwarted Mark Jankowski on a breakaway.
"It's not the outcome I wanted. I thought I played well," confessed the 22-year-old rookie. "I thought I played very well positionally. I thought I played tight and I thought it was a step in the right direction for me."
Puckpourri
Hornqvist scored on a deflection with 72 seconds left to send the game to overtime. Malkin and Kris Letang assisted on the play.  Despite the team's offensive woes, "Geno" has a four-game scoring steak, including three goals. Letang has five points in his past four games.
Defenseman Frank Corrado played in his second game of the season for the Pens, logging 12:44 of ice time. He blocked a game-high four shots and belted Flames forward Mikael Backlund with a big hit late in the second period.
The Pens are presently tied with Columbus and New Jersey for first place in the Metropolitan Division with 18 points.
*Be sure to check out Rick Buker's books,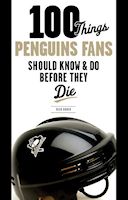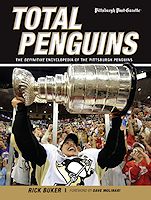 available at TriumphBooks.com, Amazon.com, and BarnesandNoble.com