We are in day seven of free agency. I am reminded that NHL free agency is not a 100-yard sprint race but a very long and strenuous 26-mile marathon.
I must confess to our readers, I get very excited about all the big-name signings and all the drama that goes with it. The media does a very good job of ensnaring us with their constant coverage and potential trades that never materialize.
If you listen to some national media sports sources, they have it all figured out on who will win the Stanley Cup 11 months from now. Thus, there is no need to play the season. These are the same people who get paid big, big money to tell you what to think. Some of them with the big names are pretty good at it, too!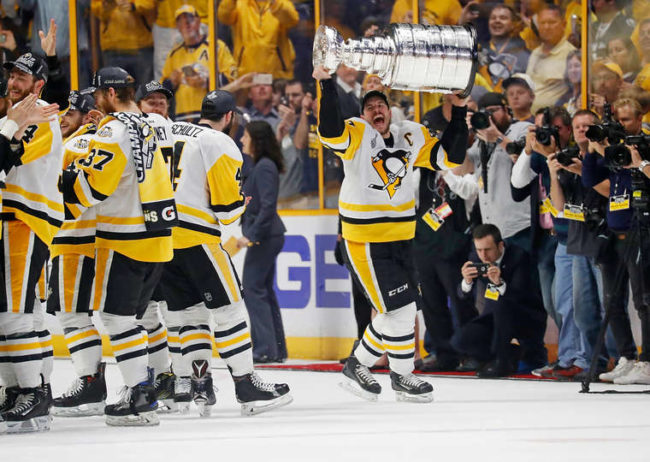 One little problem is they often get it wrong! Take the top 25 North American hockey experts and ask them if they picked the Pens to win the Cup in 2017. Eighty percent of them would have said no!  Washington, Chicago…fill in the blank…but not our beloved Penguins. Four get it wrong and one gets it right. Funny how that works.
How about in 2016? Ask any of those same 25 hockey experts on October 1, 2015, if the Pens under Mike Johnston were going to win the Cup that year. After they stopped laughing, all would say no way. But we did.
To my point, these same experts are still here. And, whether we like it or not, their faulty opinions influence our game on a national, international and…unfortunately…local level as well. I'm reminded of the old adage, believe half of what you read and a quarter of what you see.
You do not need an expert to tell you what we already know. Our Penguins in 2016 and again more amazingly in 2017 defied logic and beat all the experts, winning back-to-back championships! Let us never forget this. No one can ever make light of these accomplishments! The other 30 NHL franchises do not have to like us, but they darn well will respect us!! We're the back-to-back champions…and you don't find them in a box of Cracker Jacks.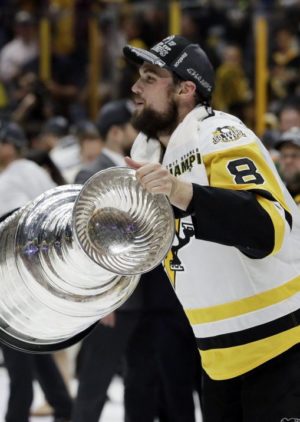 To the elusive three-peat! Our 2017-2018 edition of the Penguins need some help. That is most definitely an understatement. Left wing is an area of concern. Defense as well. We need Brian Dumoulin re-signed at a reasonable rate in the worst possible way. He may not be flashy as some of the other bigger names on our team, but as Don Cherry of CBC fame said, "He moves the puck well. He's good under pressure. He gets the job done."
What more do you want your 4-5 d-man to do?
Then we have the issue at center. I'm hoping Matt Cullen returns for another year to anchor the fourth line. We need a replacement for Nick Bonino–we have a few options inside our own system for a temporary fix. As I mentioned above, we are running a marathon…not a sprint. With that in mind, we have time and flexibility to make the right trade at the right time. I'm sure Pens GM Jim Rutherford is of that mind set.
One of my most knowledgeable hockey friends made a very good point. One I'd never considered before. We have Sidney Crosby and Evgeni Malkin. We have no center problem, Penguins fans!
They play about 22 minutes a game, my friend noted. Jordan Staal used to play 26-28 minutes a game as a defensive center every night. There are many elite centers that can play 26-28 minutes per game on a nightly basis. No effect on overall performance. If you increased Sid's and Geno's ice time to just 25 minutes a game, your need for a third-line center would become much different. Especially if you were going all in to three-peat, as our plan would be for 2018. There are very few teams that can do that!
His main concern was whether Kris Letang would come back stronger than ever after surgery and give us 28 strong minutes every night. My friend believes Letang will, and that's why the Pens are a force to win it all again. Edmonton and the Pens are his prediction for 2018 Cup Final!
For me? I still want to see us add that two-way center, with size, skill, speed before next Christmas, and another large left winger to balance the attack.
I'm already thinking "Dumo" is signed. Mother always told me I shouldn't count my chickens before they hatch.
What I'm happiest about? Due in part to JR's fine work (signing Justin Schultz and Antti Niemi for just over 6 million) and a helpful boost in the salary cap, we have some money to build a better team.
So, when these national and international hockey experts all predict we will not three-peat, we can all rest easy knowing they have been wrong many more times than they get it right.
I'm okay for now. How about you?