Haven't you heard? "The best defense is a great offense." Our favorite fowl from Antarctica have exemplified that mantra for two years now; back-to-back Stanley Cup winners. Let's face it, they don't have a Norris Trophy candidate or  a true shut-down defenseman.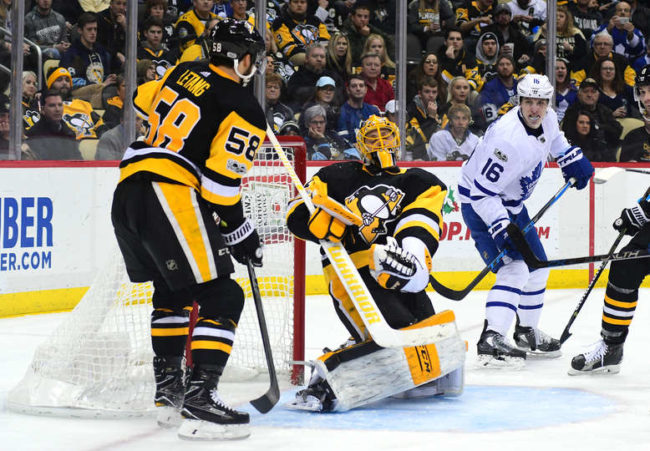 The Penguins started the season off struggling on "Offense," getting out-shot pretty much nightly, leading to many blowouts. With the Forwards having difficulty establishing any serious offensive zone presence, Defensemen were being exploited. During the first month of the season, most of the players on the team had pathetically bloated CORSI numbers. Every player on the team had a Shots Against per 60 minutes (SA/60) over 60 with many of them over 70 during even strength ice time. Not surprising, when ceding that many SA/60 at even strength, the CORSI percentages were less than 50% for all players, since shots for are divided by shots against and the Penguins' opponents were getting over 1 shot every minute, Penguins Forwards weren't getting shots of their own.
Fortunately, even though the offense wasn't really exerting itself in the offensive zone with a whole lot of shots, the team's line-up is liberally laced with true snipers. They don't always need multiple chances to convert into goals.
Unfortunately, the Penguins' Goalies were the players who bore the biggest brunt of the limited offensive zone time. Matt Murray was often asked to be Superman, since the Penguins' Defensemen were turned into turnstiles by opposing players flying right past them.
Lately the Penguins seem to be finding their fore-checking game again. I noted that I was cautiously hopeful after the team went on a 4-0-0 run but wanted to see how they would fare this week facing both New York teams and the Maple Leafs. So far our "Boys of Winter" have acquitted themselves fairly well on the score-board, splitting against the hot Gothamite teams. However, because of those recent successes I have heard (and read) some commentators extolling the virtues of Kris Letang and Matt Hunwick. Although I am resigned to and can at least acknowledge some benefits that Riley Sheahan and Ryan Reaves are bringing to the team, I am sorry to say Letang and Hunwick still have the cross-hairs of my criticism squarely on them.
Yes, Letang is racking up points, many of them on the power play, and he has even fought his way to a positive CORSI percentage. He was credited with the Penguins' first goal last game against the Islanders, after the game was over. (The goal was originally credited to Jake Guentzel, but the second year man, in George Washington fashion did not tell a lie, he went and told the official scorers that he didn't touch the puck for a deflection as they had thought.) However, Letang balanced that out by being on the ice for Jordan Eberle's goal. He was standing around, apparently trying to tuck the loose puck under a fallen Carl Hagelin, who was sprawled on Tristan Jarry's left in the goal crease, when the Islander over-powered him and slammed the puck into the net. Even if he had tucked the puck under Hagelin, Hagelin was in at least partly in the crease, not a good thing. Furthermore, wasn't it Letang's stick that broke, causing Sidney Crosby to have to give up his stick to Letang?
Against the Rangers, Letang struggled even more in the defensive zone; he was on the ice for 3 of the 4 goals scored against Jarry. Making Letang's performance worse, Letang deflected his second shot of the season past a Penguins goalie evening up his score sheet; touching up Penguin Goalies with friendly fire just as often as he has downed opposing Goalies.
As I said, Letang has pared his SA/60 down to 52.3 but opponents do not need too many shots, they are converting 4.02 of those 52.3 shot attempts into goals. Please Jim Rutherford and Mike Sullivan, do not insult me by telling me that Lukas Bengtsson or Andrey Pedan or Jared Tinordi need to work on their play in their own zone when the veteran Letang is given a free pass.
Hunwick is in a similar boat. Yes, he did convert in over-time (OT) last game (1 goal on 3 shots in OT) to stave off the Islanders rally and preserve the Penguins win but he was on the ice for several of the goals the Isle's scored. In fact–speaking of CORSI numbers–though most of the team has finally trimmed their SA/60 under 60, Hunwick is still sitting at 64.3, tied for worst on the team. I will give Hunwick this:Even though he has the worst SA/60 on the team, he is only on the ice for half as many even strength goals per 60 minutes that Letang is.
I am still trying to fight my way through some pessimistic feelings with the positives players like Jarry, Phil Kessel, Evgeni Malkin, Sidney Crosby, Guentzel, Patric Hornqvist, and Bryan Rust are radiating as well as at least some appreciation for Sheahan and Reaves. The Penguins won the Cup last year on the strength of Murray, Marc-Andre Fleury, and the Forwards noted above, so let's keep hoping.
Odds and Sods
The Penguins brought up Dominik Simon from Wilkes Barre-Scranton and sent down Greg McKegg, who cleared waivers. Rutherford assured fans that McKegg didn't play all that badly and that the move was made to give the team more flexibility. I think that I read somewhere here on these boards someone suggesting that the team would eventually be forced to risk exposing players to waivers for just that reason, flexibility.
Simon is tied for the team lead for the Baby Penguins with Daniel Sprong after 20 games. Simon has 3 goals and 13 assists while Sprong has 10 goals and 6 assists. Simon also had a +/- of 0.
Good luck Simon.