In a taut, white-knuckle thriller played before an anxious overflow crowd of 18,610 at PPG Paints Arena, the Penguins overcame injuries and adversity to edge Ottawa, 1-0, and even the Eastern Conference Final matchup at one game apiece.
It was playoff hockey at its finest as the Pens, backs to the wall, authored an effort worthy of defending Stanley Cup champions.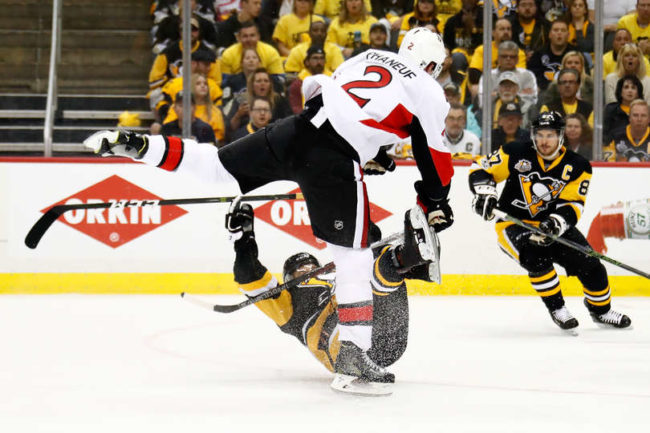 They won despite a heaping dose of early misfortune. Swooping in from his left defense position, Ottawa hammer Dion Phaneuf caught Bryan Rust with his head down five minutes in and lowered the boom. Clearly dazed, "Rusty" did not return.
At 9:30 Mike Hoffman gave Justin Schultz a shove deep in the Penguins' zone. The ace defender tumbled awkwardly into the end boards and appeared to injure his right arm or shoulder. Schultz, too, was finished for the night.
In the immortal words of spinach-munching Popeye the Sailor, "That's all I can stands, and I can't stands no more."
The Pens promptly lashed out at the Senators as if they were a collection of modern-day Blutos menacing Swee'Pea. Leading the counterassault were crash-and-bangers Scott Wilson and Carter Rowney, who made it their personal mission to thump any foe within reach. The duo delivered 17 of the Pens' 50 hits on the night.
Wilson was particularly fierce, plowing into four Senators on a single even-strength shift midway through the contest.
The fourth-liners weren't the only ones to show some pluck. The undermanned defense, paced by veteran Ron Hainsey, joined the attack with surprising fervor (10 shots on goal) while shielding Marc-Andre Fleury to the tune of a measly 35 shot attempts against.
Popeye couldn't have done a better job of protecting his 'goil,' Olive Oyl.
Following a so-so first period the locals gradually seized control, outshooting the Sens 21-13 over the final two periods. During a particularly dominant stretch beginning late in the second period and lasting well into the third, they held the visitors without a shot on goal for nearly 19 minutes.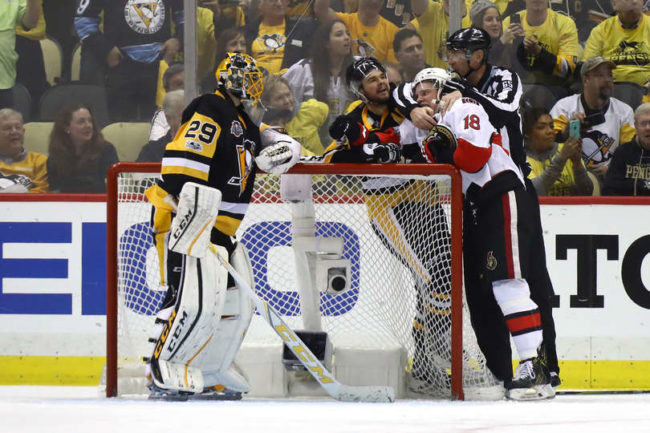 Quite a change for Fleury, who's used to seeing tons of rubber.
"I just tried to stay loose," explained the Pens' goalie, who posted his 10th career shutout and second in three games. "I tried to talk to the guys when they came by and tried to keep my head into it. I always expected (Ottawa) to come with a push at the end, especially after the goal there."
The tally "Flower" referred to came off the candy-striped stick of Phil Kessel, who only moments earlier had been caught on camera venting his considerable frustration on the Pens' bench.
When asked what his linemate said, Chris Kunitz shook his head and grinned.
"I don't pay attention that much," he said. "Phil is always yelling."
Mike Sullivan elaborated.
"Phil is an emotional guy, so when he comes back to the bench, he wants a pass, doesn't get it, he lets a guy know," the Pens' coach said. "I don't have a problem with that. …It tells me he's invested—I love that about the guy."
Near the 13-minute mark of the final period, No. 81 got his wish. Taking a pretty feed from Evgeni Malkin in stride just inside the Senators' blue line, he ripped a shot off the leg of Jean-Gabriel Pageau. In a flash, the fiery winger pounced on the loose rubber and reloaded. His second attempt found the net, whistling past Ottawa goalie Craig Anderson low to the glove side for the game's lone goal.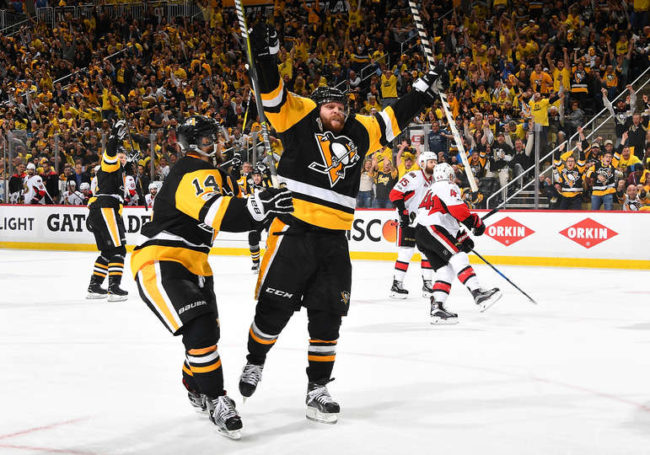 As he'd anticipated, Fleury had to be sharp late in order to preserve the victory. With the game clock ticking down to 30 seconds, Flower made a seeing-eye save through traffic on a Kyle Turris blast from the point, then sprawled on his belly to deny Hoffman and poke the rebound from harm's way.
A fitting end to a great night of hockey, especially for Penguins fans.
Puckpourri
The Penguins outshot Ottawa, 29-23, and held a sizeable advantage in hits (50-36) and faceoffs (37-23).
Carl Hagelin replaced Patric Hornqvist, who sat out after participating in pre-game warmups. "Hags" registered two shots on goal, two hits and two blocked shots while flashing his old HBK form.
Following Rust's injury, Sullivan reunited Conor Sheary with Sidney Crosby and Jake Guentzel. "Sid and the Kids" combined for six shots on goal, including three by Sheary.
Brian Dumoulin led the Pens with 26:08 of ice time. Fellow defenseman Chad Ruhwedel played a strong game, recording seven hits and four shots on goal. Olli Maatta picked up the second assist on Kessel's game-winner and saw action on the top power-play unit.
No word yet on the exact nature or severity of the injuries to Hornqvist, Rust and Schultz.
*Be sure to check out Rick Buker's books,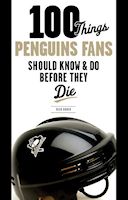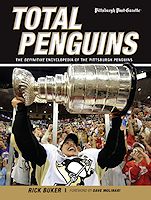 available at TriumphBooks.com, Amazon.com, and BarnesandNoble.com