Back in the day, there used to be a radio show on WYDD called "Jazzz Impressions." During the segment, which aired on Sunday nights, noted jazz aficionado Jim DeCesare would play tunes featuring his favorite performers.
I thought I'd steal a page from DeCesare and dispense with a traditional game summary, instead giving some overall impressions of the Penguins' disappointing 4-2 loss to Vancouver. I'll split 'em into pluses and minuses. Here goes.
Plus
In terms of effort, the Pens had nothing to be ashamed of. In fact, considering they were playing their third game in four nights and fifth of an extended western road trip, I thought they gave a pretty good account of themselves. From a numbers standpoint, they dominated the Canucks in both shots on goal (39-21) and total shot attempts (60-42). The Pens were responsible with the puck (only 3 giveaways) and held their own on faceoffs (50 percent).
Carl Hagelin played a terrific game…his best in a long, long time. Flashing his old HBK Line form, he used his blazing speed to create turnovers on the forecheck and aggressively drove to the net, an effort that earned him an in-game promotion from the fourth line to the second. A shame "Hags" wasn't rewarded with a goal. He richly deserved one.
Ryan Reaves (five hits) played one of his better games for the black and gold. I'm not just saying that because he picked up an assist. It's taken nearly a quarter of the season, but he appears to be a bit more in sync. On the shift that produced the Pens' second goal, the big guy did yeoman's work along the boards to keep the play alive and had the good sense to drift back and cover the point, despite being visibly out of gas. Reaves then unleashed a nice, low shot into traffic that Greg McKegg pickle-stabbed past Jacob Markstrom. Who, by the way, played a heckuva game for Vancouver.
Minus
I hate to single out players for criticism. However, Kris Letang (minus-3) endured a brutal game on defense. On the ice for all four Vancouver goals, Letang had the look of a deer caught in the proverbial headlights while the Canucks worked the puck over, around and through him. (For good measure, he crashed headlong into the boards.) Difficulties close to his own net are nothing new for "Tanger," but last night his struggles were extreme. Maybe he's trying too hard and getting caught out of position. Or perhaps he's not reading the play properly, or lacking in confidence…or a convoluted combination of all. Whatever the reasons, he needs to be better. A lot better. And he knows it.
By virtue of yielding four goals on 21 shots, I'll stick goalie Matt Murray in the minus category. Although he had virtually no chance on most of the scoring plays due to screens, defensive lapses and questionable coverage by his teammates, "Murr" gets paid to stop the puck. And he wasn't up to his usual high standards last night.
I don't really know if it's a minus. We certainly need to consider that it was the tail end of an extended road trip, one that's taken the Pens on a protracted week-long swing from Minnesota through western Canada. So our guys had to be at least a little tired. But to me, we seemed to lack our old speed. While we're at it, I wish we had a little more jam.
Play of the Game
Sidney Crosby (minus-3) likewise had a tough night at the office. However, Sid made a pass on the Pens' first goal that was pure gold…one of the best I've ever seen. Planted in the slot while working on a power play, he one-timed a feed from Evgeni Malkin between his legs to Phil Kessel, positioned some 15 feet away in the left circle. It reminded me of a shortstop in baseball grabbing a throw from an outfielder and, in an instant, unleashing a strike to home plate to nail a baserunner. Except Sid was facing away from his intended target. Kudos to Kessel, too, for having the wherewithal to anticipate the pass and one-time it to Jake Guentzel, who smacked it into the net.
I'm not doing the play justice. If you didn't see it, watch the replay on NHL.com. Pure magic.
The Road Ahead
I'll wrap up my ramble by stating the obvious. While things certainly could be better for our Pens (8-6-2), they're just about finished with a murderous, 19-game stretch to open the season that'll include 13 road games and a mind-blowing six sets of back-to-backs before all is said and done. Starting on November 14 against Buffalo, they'll play 10 of 13 at the friendly confines of PPG Paints Arena.
Hopefully, better days are ahead.
*Be sure to check out Rick Buker's books,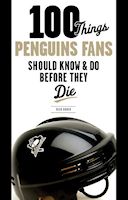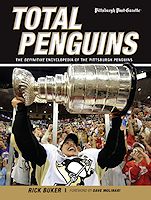 available at TriumphBooks.com, Amazon.com, and BarnesandNoble.com