I had my lead-in for last night's Penguins-Jets game all but written.
In deference to the upcoming Academy Awards, I'd nominated Marc-Andre Fleury for Best Performance by a Losing Goalie. Perfectly fitting, given that "Flower" literally stood on his head to make 44 saves. None more spectacular that his sensational glove save on Nikolaj Ehlers with 2:10 left in overtime.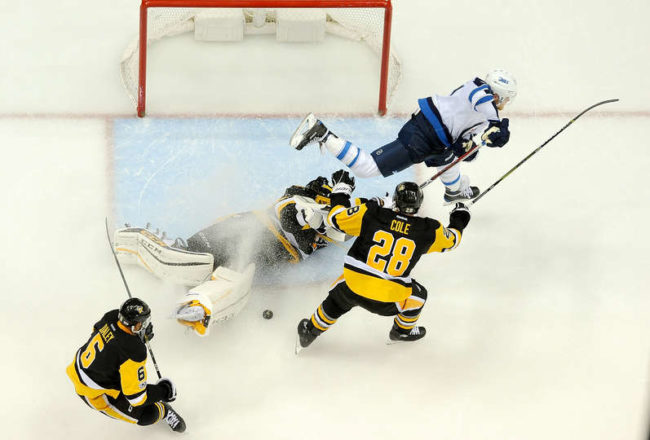 Rarely in recent memory has Fleury been as sharp, or looked so confident. He challenged shooters, gobbled up shots with that rapier-like glove hand and made exceedingly tough saves look ridiculously easy. Heck, No. 29 even handled the puck with skill and aplomb.
Too bad the Pens went and spoiled my plans by winning (kidding, of course). In dramatic comeback fashion, to boot.
I've watched a lot of hockey. I don't think I've ever seen anything to match that overtime. Talk about drama. There were enough undertones and plot twists packed into four minutes and thirty-eight seconds to do an Oscar winning epic proud.
For starters, Chris Kunitz delivered a little payback to the ultra-physical Jets by dishing out two bone-crunching checks. Phil Kessel, who notched the tying goal with six minutes to play in regulation on a sizzling snap shot, went against type by hounding Winnipeg sensation Patrik Laine off the puck with a defensive effort worthy of a Selke winner.
Then Evgeni Malkin gathered in a long pass from Kris Letang and drove straight for the net. Jets defenseman Jacob Trouba tried to stop the big Russian, to no avail. Malkin plowed ahead and swept the puck into the crease before tumbling into the end boards. In typical hustling fashion, Sidney Crosby outraced Mark Scheifele to the loose rubber and fired it home.
Penguins 4, Jets 3.
It was only fitting that Sid and Geno—the Two-Headed Monster of yore—did the honors. After all, Crosby recorded his 1000th career point earlier in the evening on a play that seemed to combine all the elements of his game: speed, aggression, tenacity, vision and an uncanny knack for finding the open man in traffic. In this case, long-time linemate Kunitz.
And Malkin? Well, let's just say No. 71 woke his teammates up. Or delivered the hit that was heard way up in Manitoba. Take your pick.
The Jets, you see, were having their way with our boys, big time. After yielding two first-period goals, they resorted to doing what they do best.
Namely hitting. Hard and often.
Led by Adam Lowry, who made road kill of any Penguin who crossed his path, the Jets began littering the PPG Paints Arena ice with black-and-gold clad bodies.
Justin Schultz crumbled after his head rattled off the glass in bobblehead fashion, courtesy of a hard check by the "Big Buff," Dustin Byfuglien. Olli Maatta was felled a short time later in a head-on collision with Lowry. He went to the bench flexing his left hand.
Neither Penguin returned.
Down to four defensemen, the locals evinced a deer-in-the-headlights look. Especially after Winnipeg pulled even on a long-range shot by Paul Postma early in the third before snatching the lead on a wraparound by Byfuglien. The lone softie allowed by Fleury.
Malkin decided to give the Jets a taste of their own medicine. He delivered a little chin music, in baseball parlance, driving a shoulder into the noggin of unsuspecting Blake Wheeler.
Down went the Jets' captain. Mark Stuart flew at Malkin. Scott Wilson grabbed Stuart. A ruckus ensued in front of the Pens' bench.
Kessel tied the score 171 ticks later. Then came overtime and Sid and Geno's heroics, with a little help from Fleury.
Guess I'll need to come up with a new awards category.
How about Best Record by a Hockey Team When Leading After Two Periods?
The Pens are 63-0 since the start of the 2015-16 season.
Ice Chips
Crosby is the 12th fastest player in NHL history to reach 1000 points, accomplishing the feat in 757 games. Sid's the third player to reach that milestone wearing a Penguins uniform, behind Mario Lemieux and Jaromir Jagr.
Winnipeg outshot the Pens, 47-39, including 33-18 over the final two periods. The Jets out-hit us, too (49-38). The home team won the faceoff battle, 34-31.
No word yet on the nature or severity of the injuries to Schultz and Maatta.
*Be sure to check out Rick Buker's books,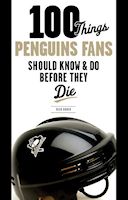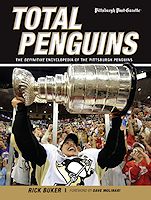 available at TriumphBooks.com, Amazon.com, and BarnesandNoble.com