Back in mid-January, I suggested in one of my follow-up comments that the Penguins consider moving Chris Kunitz at the upcoming trade deadline.
To digress for a moment, I've been a huge Kunitz fan ever since he arrived from Anaheim in a trade for Ryan Whitney back in February 2009. They simply don't come any tougher or grittier. Or classier, for that matter.
Night after night, he's squeezed every ounce of effort from his compact frame. Almost always in physical fashion. I've long lamented that if he weighed 210 pounds instead of a buck-ninety soaking wet, there'd be no stopping him.
Yet Kunitz has been plenty good. A First Team NHL All-Star in 2013, he's topped the 20-goal plateau six times—including a career-best 35 in 2013-14—while serving as a valued performer for three Stanley Cup champions.
Not too shabby for an undrafted free agent from Ferris State.
Back to my original train of thought. After watching Kunitz endure an uncharacteristically moribund stretch in early December (no points, minus-1 in six games), I felt he was no longer capable of filling a top-six role. The Saskatchewan native seemed a step slow, for one. Even his legendary compete level appeared to be down a notch.
Understandable for a 37 year old with a lot of hard miles on his hockey odometer.
I'd begun to think that it would be a good idea for the Pens to shed Kunitz and his considerable cap hit of $3.85 million. After all, with kids like Jake Guentzel, Tom Kuhnhackl and Oskar Sundqvist waiting in the wings, the Pens aren't exactly hurting for capable replacements.
Although "Kuni" perked up around the holidays, he still struggled to mesh with linemates Evgeni Malkin and Patric Hornqvist. He became a vagabond of sorts, bouncing between lines.
Then Matt Cullen went down with a foot injury during the wild 8-7 victory over Washington on January 16. Penguins coach Mike Sullivan didn't hesitate, moving Kunitz to the restructured fourth line alongside Eric Fehr and Scott Wilson.
The trio clicked. Number 14 was a big reason why.
Reflecting his selfless nature, Kunitz embraced his new role—which included a turn on the penalty kill—with gusto. Workload pared to around 13 minutes a game, the old battler quickly rediscovered his kamikaze roots.
During a 4-1 triumph over Montreal he dished out four hits. Ten in a pair of contests against the ultra-heavy St. Louis Blues. At his abrasive and inspirational best, he delivered a game-high seven hits during a recent victory against Metro Division rival Columbus. Last night he ran rugged former teammate Deryk Engelland into the wall on at least two occasions.
Classic Kunitz. No matter the size or reputation of his foe, he finishes his checks. Hard.
He's finding the net, too. While no longer the net-front nuisance he once was, the Saskatchewan native's tickled the twine three times in his past nine games, including a third-period tally against Calgary to ignite a Pens comeback. All told, he's amassed seven points over that span. Output that's earned him a second look in an elevated role in the wake of injuries to Malkin, Conor Sheary and now Carl Hagelin.
In the final season of a three-year contract, Chris faces an uncertain future. Given the stockpile of young forwards in the organization and pending salary-cap challenges, it's difficult to envision Pens GM Jim Rutherford signing him to a new pact. Even at a bargain rate.
Then again, warriors like Kunitz don't grow on trees.
Ice Chips
The Penguins lost to Calgary last night, 3-2, in a game that ended with a shootout. Kunitz and Guentzel scored third-period goals for the black and gold. Goalie Matt Murray stopped 28 of 30 shots through regulation and overtime, but yielded the shootout winner to veteran Flames forward Kris Versteeg.
Kris Letang had a chance to pull the Pens even in the shootout, but his forehand attempt hit the right goal post.
Sidney Crosby assisted on Kunitz' goal, leaving him two points shy of 1000 for his career.
*Be sure to check out Rick Buker's books,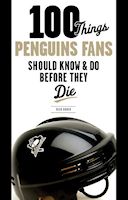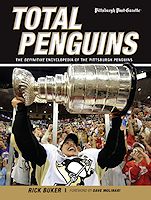 available at TriumphBooks.com, Amazon.com, and BarnesandNoble.com