It was Thursday, April 13. While working the evening shift at Wright's Gym, I intermittently glanced up at the Chicago-Nashville hockey game on the big screen TV behind the front desk. Much to my surprise, the visiting Predators shutout the heavily favored Blackhawks, 1-0.
Like many fans, I'd envisioned the high-flying 'Hawks soaring through the Western Conference playoffs. I was shocked as anyone when the 16th-seed Preds proceeded to sweep their mighty adversary, fueling a stunning run to the Stanley Cup Final.
So who are these guys? And are they for real?
Twelve wins in 16 postseason games tells me they are.
In some ways, the Predators and our Penguins are kissin' cousins. No great surprise, since attack-oriented coaches Mike Sullivan and Peter Laviolette preach an up-tempo style. Both clubs get pucks and bodies to the net and are extremely opportunistic. And both are backed by rock-solid goalies—Nashville's Pekka Rinne (1.70 GAA) and our own Matt Murray (1.35 GAA).
There are differences, too. Perhaps more than any team we've faced, Nashville's defense drives the offense. They join the rush at every opportunity, creating chaos and matchup issues in the other team's zone.
Eleven of the Preds' 47 postseason goals—a whopping 23.4 percent—come from the ultra-mobile backline triumvirate of Ryan Ellis, Roman Josi and former Montreal bad boy P.K. Subban. By comparison, the Pens' defense—shorn of puck-mover Kris Letang—has contributed 13.7 percent (8 of 58) of our goals.
Add in hulking 6'4" 215-pounder Mattias Ekholm (eight assists, plus-10), and it's easy to see why Nashville has such a deadly transition game. They boast a top four on defense that few teams can match.
While not as deep up front, the Preds do possess some talent. Left wing Filip Forsberg—no relation to longtime NHL great Peter Forsberg—employs a gritty style similar to his namesake. He's fourth among non-Penguins in playoff scoring with eight goals and 15 points. Center Colton Sissons and ex-Pens sniper James Neal are next in line with five markers apiece.
With stud center Ryan Johansen on the shelf for the duration of the playoffs, there's a precipitous drop-off. Austin Watson, a mountainous Music City forward who leads all playoff performers with 81 hits, has been a pleasant surprise with four goals. Speedy left wing Viktor Arvidsson—the Preds' leading goal-getter during the regular season—has lots of skill but has yet to catch fire this postseason (two goals). Veteran captain Mike Fisher's still an effective checking forward and faceoff man (52.1 percent), but his days as a scoring threat are long past.
After that it's mostly a cast of fast, gritty guys with tongue-twisting names like Pontus Aberg and Calle Jarnkrok (Harry Zolnierczyk, too) who have the speed and pluck to make life miserable for the Pens' defense.
Indeed, hunger and grit seem to be the Preds' watchwords, which makes them an especially dangerous opponent.
From a Steel City perspective, the Pens' offensive pedigree is beyond reproach. Boasting four of the league's top seven playoff scorers—Evgeni Malkin, Sidney Crosby, Phil Kessel and Jake Guentzel—the black and gold are a handful for any team to contend with. Factor in second-tier scorers like power plant Patric Hornqvist, Bryan Rust and a resurgent Conor Sheary? The Pens have so many weapons.
And good as Rinne is, we've exploited him, big time. In fact, we've beaten him like Mike Lange's poor old rented mule. In eight career starts against the locals—all during the regular season—the rangy Finn's posted a sorry 1-5-2 record to go with a bloated 3.57 goals against average and an equally miserable .880 save percentage. No other NHL club has roughed him up so.
Nashville's lesser used third defensive tandem of Matt Irwin and Yannick Weber—which averages a little over 11 minutes a game—could be a soft spot as well, especially against a foe that rolls four capable lines like our Pens.
Still, the Predators were able to keep Western Conference opponents on their heels. Accordingly, the Pens must avoid a repeat of rounds one and two, when they allowed Columbus and Washington to dictate play and spend an inordinate amount of time in their zone. The black-and-gold defense—black and blue from the long playoff grind—won't be able to withstand the pounding.
It all boils down to which team can impose its will. Given our decided edge in offensive talent—not to mention high-stakes playoff experience—if we have enough gas left in the tank to carry the play to Nashville and pressure Rinne, I like our chances to repeat as Cup champions.
Penguins in six.
American Showdown
Among the more interesting backstories is an intriguing matchup of American-born coaches—the first ever in a Stanley Cup Final.
Sullivan and his Preds counterpart, Laviolette, have a lot in common. They hail from small towns in Massachusetts, situated only 32 miles apart. Both played collegiate hockey in New England—Laviolette at tiny Westfield State and Sullivan at Boston University. The Nashville skipper had a 12-game cameo with the Rangers in 1988-89; Sully carved out an 11-year NHL career. And both won Stanley Cups while coaching under present Pens GM Jim Rutherford.
In fact, when JR hired Sullivan to take over for Mike Johnston in December of 2015, he likened him to the former 'Canes skipper.
By the Numbers
Team
GF
GA
Shots
S%
Shots/PG
SA/PG
PP%
PK%
FOW%
Pens
58
44
574
10.1
30.2
32.6
25.0
85.5
51.0
Preds
47
29
479
9.8
29.9
29.7
14.9
88.1
50.1
*Be sure to check out Rick Buker's books,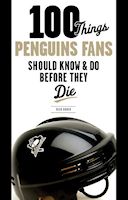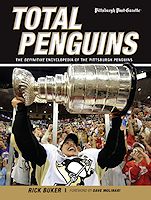 available at TriumphBooks.com, Amazon.com, and BarnesandNoble.com