WHOOSH.
You could almost hear the lid on the can of worms pop open when Penguins coach Mike Sullivan pulled Marc-Andre Fleury in favor of Matt Murray 13 minutes into our disastrous Game Three loss to Ottawa. Sound as a pound and razor-sharp following an extended layoff, Murray stopped 19 of 20 shots.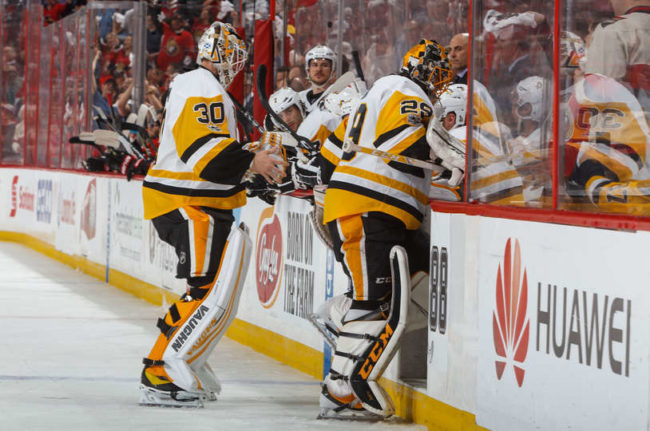 It's sure to spark a reprise of the "Great Penguins Goaltender Debate." One that's raged in varying degrees of intensity around these parts since last spring, when Fleury replaced Murray in Game Four of the Eastern Conference Final against Tampa Bay.
The Pens' unquestioned starter until he was sidelined with a concussion late in the 2015-16 regular season, Fleury made seven saves during his cameo to earn a Game Five start. However, "Flower" faltered following a strong opening period, leaking for the tying goal with 3:16 left and the game-winner in overtime.
Murray returned with Dryden-esque elan to halt the Lightning in Games Six and Seven. While Fleury was relegated to the role of cheerleader, the super rookie backstopped the black and gold to a Stanley Cup.
Now the roles are reversed…eerily so. Murray sustained a lower-body injury on the eve of the 2017 playoffs, opening the door for Fleury. The Quebec native's stepped in and done a terrific job—until Wednesday night.
So who should Sullivan start for tonight's pivotal Game Four?
Although he hasn't officially announced his decision, it sounds as if he's already made his choice. Fleury got most of the work at practice on Thursday.
I hate to second-guess "Sully." He's an excellent coach, adept at handling his troops, and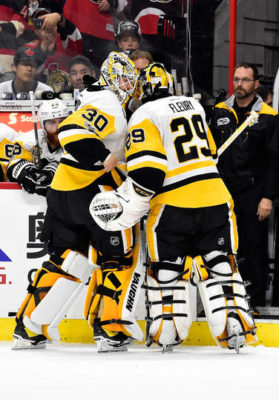 he's no doubt got his finger on the team's pulse. Plus, Sullivan's shown in the past that he'll make whatever move it takes—popular or otherwise—to win.
Still, I'm not altogether sure Fleury's the best choice. Maybe it's me, but it seemed Flower was awfully deep in his net in Game Three, perhaps in deference to the lively boards at Canadian Tire Centre. Did the boards force No. 29 to alter his normally aggressive approach? Has he had problems there in the past?
It got me to thinking about his history against the Sens and, specifically, his career stats in Ottawa. I decided to crunch some numbers on both of our goalies.
The results are eye-opening, to say the least.
Marc-Andre Fleury
At Ottawa
Games
GAA
SV%
Record
Regular Season
13
3.92
.880
4-5-1
Postseason
9
3.29
.891
6-3-0
Total
22
3.64
.884
10-8-1
Matt Murray
At Ottawa
Games
GAA
SV%
Record
Regular Season
3
2.60
.914
1-1-1
Postseason
1
1.28
.950
0-0-0
Total
4
2.33
.920
1-1-1
Although Murray doesn't have a large sample set, his numbers in Ottawa are better. A lot better.
Another hidden stat? Including Wednesday's fiasco, Fleury's been pulled five times in his 21 starts in the Canadian capital (he has one relief appearance). Not an insignificant number.
However, Flower—fiercely competitive despite his easy-going nature—has shown an innate ability to bounce back this postseason. In games immediately following losses he's 4-1 with two shutouts, a 1.80 goals against average and a .946 save percentage. Talk about resilient!
Personally, I'm more comfortable with Murray in goal. That's not a knock on Fleury. It's just that the kid plays a calmer, steadier style, attributes that seem to rub off on the team.
Still, on a purely emotional level, how can you take the starting reins from Flower? Especially after the job he did against Washington. And, honestly, how wonderful would it be if the Pens were to rebound and win another Cup with Fleury as the go-to goalie? A Hollywood script writer couldn't pen a more heartwarming story.
It's a tough choice for sure…one I'll put to our PenguinPoop readers.
Who would you start in goal for Game Four?
Puckpourri
Patric Hornqvist and Bryan Rust skated on their own yesterday. Neither is expected to play tonight.
Justin Schultz is also expected to miss Game Four with an upper-body injury. In addition, Tom Kuhnhackl is dealing with a lower-body injury. His status remains unclear.
An article in the Pittsburgh Tribune-Review indicated that Sullivan is leaning toward a more traditional player mix for Game Four, including twelve forwards and six defensemen. Mark Streit, who helped the Pens to a 13-5 advantage in shot attempts during his 9:37 of five-on-five ice time in Game Three, appears to be the odd-man out.
Despite the team's recent scoring slump, Evgeni Malkin remains the NHL leader in postseason points (20) and assists (14). He's tied for the league lead in penalty minutes (34) with Washington's Tom Wilson.
Jake Guentzel and the Ducks' Jakob Silfverberg are the top goal-getters with nine apiece.
*Be sure to check out Rick Buker's books,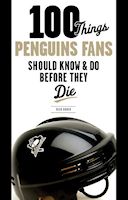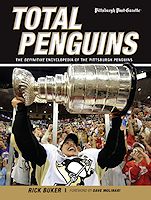 available at TriumphBooks.com, Amazon.com, and BarnesandNoble.com