While serving as Buffalo's goaltending coach in the early 2000s, Jim Corsi sought to devise an accurate barometer for measuring a goalie's true workload. Reasoning that his netminders had to physically react to a broader range of on-ice stimuli than merely shots on goal, Corsi decided to track missed shot attempts and blocked shots as well.
Little did he realize at the time that his calculation would spark a revolution in the field of hockey analytics. Soon his brainchild served as the basis for a number of puck possession stats, including the Corsi for.
Hockey's E=MC2 if you will.
Simply put, Corsi for is a team's total 5-on-5 shot attempts (including missed shots and blocked shots and excluding empty-net shots). Add your team's totals to your opponents (Corsi against) and divide by the total, and you have your club's Corsi for %.
Similarly, a player's individual Corsi is derived from his team's shot attempts while he's on the ice versus shot attempts taken by the opposing team. If his Corsi for is above 50%, chances are good that he's helping his team possess the puck.
Still, strong possession numbers do not guarantee a Stanley Cup, much less a playoff berth. Bubble teams such as Boston, Carolina and Tampa Bay are well ahead of the Penguins in the 2016-17 Corsi rankings. Meanwhile, Chicago, Edmonton and the Rangers all have a Corsi for % below 50 percent.
However, as a general rule, teams that possess the puck experience a greater degree of success than teams that don't.
Last season the Pens finished fourth in the league with a Corsi for of 53.11%. They've slipped a bit this season, currently tied for 12th with Nashville at 50.56%.
Naturally, the downturn is reflected in the Pens' individual numbers. Only four regulars boast of an improvement in their Corsi. Not surprisingly, the emerging defensive tandem of Ian Cole and Justin Schultz are among the upwardly mobile, along with forwards Matt Cullen and Bryan Rust.
Among the most glaring drop-offs? Defenseman Trevor Daley and forward Phil Kessel.
The primary reason? The Pens are allowing more shots. A lot more.
Last season the black and gold ranked second in shots on goal differential. They averaged 33.2 shots on goal per game—tops in the league—and yielded an average of 29.7 (tied for 15th). This season, they've upheld the offensive side of the equation just fine (34.3 shots on goal per game). But they've allowed a whopping 32.3, which ranks among the bottom feeders.
Numbers that seem to indicate the Pens are doing more runnin' and gunnin' this year, while paying less attention to detail.
Hardly cause for panic, given the locals' strong performance (fourth in the overall standings). But something Mike Sullivan and his staff surely will focus on down the homestretch.
Forwards

Corsi for %

 
Defensemen

Corsi for %

Player
2016-17
2015-16
Diff
 
Player
2016-17
2015-16
Diff
Rowney
62.5
—
—
Oleksy
57.0
—
—
Hornqvist
54.8
56.8
-2.0
Letang
53.8
54.9
-1.1
Crosby
53.2
55.1
-1.9
Schultz
52.5
50.1
1.4
Malkin
52.7
55.1
-2.4
Dumoulin
51.8
53.2
-1.4
Hagelin
52.6
57.3
-4.7
Cole
51.3
50.1
1.2
Rust
52.6
51.1
1.5
Warsofsky
50.9
57.4
-6.5
Kunitz
52.2
56.0
-3.8
Maatta
48.5
51.7
-3.2
Sheary
52.0
57.5
-5.5
Ruhwedel
47.7
41.4*
6.3
Wilson
51.7
54.8
-3.1
Pouliot
46.9
58.5
-11.6
Cullen
49.6
48.6
1.0
Daley
46.8
53.7
-6.9
Guentzel
48.7
—
—
Gaunce
46.6
—
—
Kessel
47.6
54.4
-6.8
* With Buffalo
Bonino
47.0
51.5
-4.5
Kuhnhackl
44.9
47.0
-2.1
Fehr
42.4
48.0
-5.6
Sestito
34.5
31.3
3.2
*Be sure to check out Rick Buker's books,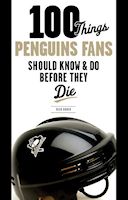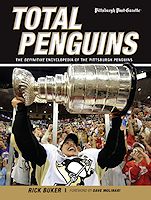 available at TriumphBooks.com, Amazon.com, and BarnesandNoble.com