What a great time of the year, even Las Vegas, Colorado, and New Jersey fans are optimistic. Every team is still in the playoff hunt. It has only been a couple of months since our Penguins hoisted the Cup, now we are only about a month away from raising the banner from that championship–and the curtain to defend that championship.
I am counting down the days until training camp opens, much like I used to count down the days until Christmas. For me, there is electricity in the air already. Last year's repeat championship was the first back-to-back championship since 1997-1998. This year, our Penguins can do something that hasn't been done since the New York Islanders three-in-a-row Cups when they won four in a row from 1979-1983.
Pulling off the "threepeat" will not be easy. Unlike last year, the reality of free agency and expansion has cut deep into the team that brought us so many exciting memories over the last couple of years. Players like Marc-Andre Fleury, perhaps the most storied goalie in Penguins history and Chris Kunitz  (both three time Cup winners with the Penguins), as well as two-time Cup winners Nick Bonino, Matt Cullen, and Trevor Daley are now gone.
The defection of these players has left a gaping hole down the center of the team. If not for the rise of players like Conor Sheary and Jake Guentzel and the return of Kris Letang to full health, the same could be said of left wings and defense. However, herein lies the source of my greatest excitement; Who will replace these players, who will rise to the challenge?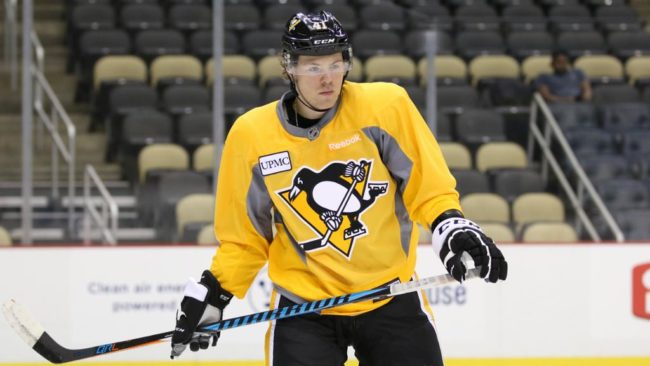 For quite some time I have been wanting to see at least a bit of a youth movement; I have been wanting to see exactly what our Penguins have waiting in the wings. I have been dying to watch Daniel Sprong play again and see Zach Aston-Reese play for the first time.
Just like when I was a kid, sneaking to find what Christmas presents I would get, I was able to get a sneak peek Saturday afternoon, when I was able to watch a bit of the Penguins' Prospects 6 to 2 victory over the Devils' Prospects. I am not ready to gush over what I saw. The number of players on the ice that will play in the NHL on a regular basis is statistically low, and levels of competition make it hard to predict what will happen in little over a week when camp opens. However, I did see some things I liked.
Based upon those 10 minutes of the third period, in which the forwards were effectively employing the "swarming style" of the big club while the defense appeared less crisp and rather sloppy in comparison, I was not disappointed in the least by Daniel Sprong. It looked to me like he was skating with authority and purpose and did get a marker today. Most scouting reports (including the reports on the NHL.com) project Sprong as making the big league roster this year, despite local reports being less confident.
Aston-Reese also looked very good in the time I watched the game. On the same line as Sprong, the two demonstrated some chemistry and drove the offense. Aston-Reese and Sprong were on the ice for a goal against while I was watching the game, but that was more of a question of a defenseman giving the puck away with a bad play up his own slot in combination with a solid shot from the Devils. What may have been a more interesting part of the story yesterday, the young forward showed off his pugilistic skills after a Devils defenseman initiated a bit of a stick joust. Aston-Reese is also forecast by NHL.com and many scouts as having what it takes to make the big league roster this year.
I also liked what I saw from Adam Johnson, who centered Sprong and Aston-Reese in Friday's game against the Bruins but was playing second line against the Devils. Johnson appeared weak in the face-off circle, and (in the brief period I watched) none of the Penguins' centers impressed me on the draw. However, Johnson moved the puck well and cleaned up his own zone during a handful of defensive lapses. He also found himself playing tough in the dirty areas and although taking a beating, he got back up and kept playing. Honestly, with the gaping hole at center, I hope Mike Sullivan gives him a legitimate shot at the third line center position. No, I haven't given up hope on Jim Rutherford prying Andrea Athanasiou away from Detroit, but with the silence in the trade department, I have been trying to focus on in-house answers.
Jordy Bellerive was the real hero of the game picking up the hat trick.
Who is Jordy Bellerive you ask?
He is an undrafted 18 year old left handed center who is 70" tall and 194 lbs who signed an amateur tryout contract.
What has he done?
Besides the hat trick in the last Prospects game, he not only had a marker in the first game but also picked up an assist during this tournament. However, before we all get excited, let's temper our zeal. Bellerive has been playing fourth line and against players who are decidedly not NHL ready.  Wilkes-Barre Scranton, should celebrate this addition to their roster, but I am not yet ready to suggest that he is an answer for the Pittsburgh club.
On defense, the only one who really impressed me was Lukas Bengsston, the right handed defenseman who had an injury/sickness shortened inaugural season in Wilkes-Barre Scranton. He skated well with the puck, making opponents miss as he skated the puck up ice, and showed some ability to jump up into the play. I can't help wonder if the Penguins' defense takes as big of a beating this coming season as it did last year, will Bengsston get a call up?
In the honorable mention category, Freddie Tiffels' speed really impressed me and I did see him get a fairly good scoring chance specifically due to that speed. The Penguins' top pick this year, second round draft choice Zachary Lauzon, made a nifty little play to reverse a breakout.
Ten minutes is hardly enough time to make concrete judgments, but today's sneak peek has certainly whet my appetite for the upcoming season.
The final game of this tournament will be played on Monday at 7 pm against the Sabres' Prospects. Let's Go Pens!