Twenty games being a nice, round number—not to mention roughly a quarter of the season—I thought I'd review the Penguins' performance thus far.
It's been a mixed bag, to say the least. Following two grueling postseasons (and corresponding short summers), it's safe to say the Pens are suffering the effects of a Stanley Cup hangover. They've played in fits and starts, alternating decent stretches with…well…losses of 10-1, 7-1 and 7-1 pretty much tell the story.
No, it hasn't been pretty. Adjectives like tired, uninspired and lethargic have all-too-often come to mind when describing the team's uneven play.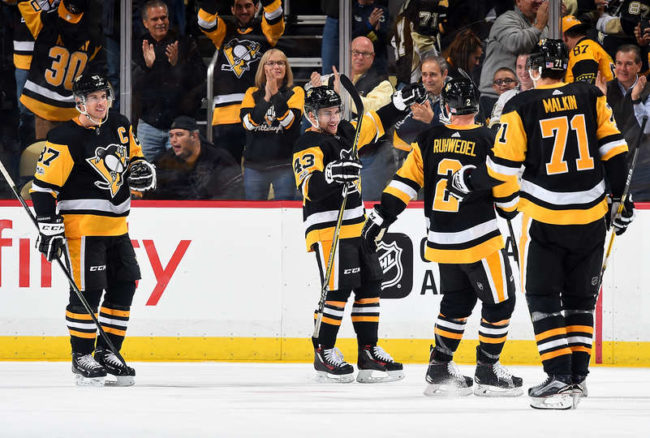 The NHL schedule-makers did us no favors. Personally, I think the Pens' murderous early-season slate, which opened with 13 of 19 games on the road and six back-to-backs, was a thinly veiled attempt to punish the team after GM Jim Rutherford had the temerity to criticize the officiating. A definite no-no in the prevailing "speak-no-evil, hear-no-evil, see-no-evil" culture of the NHL.
Fortunately, the league's ham-handed attempt at an early burial didn't quite succeed. The Pens are smack dab in the midst of the competitive Metropolitan Division race with 23 points. Remarkable when you consider the challenges they've faced.
Not to beat a long-dead horse, but the departures of battle-hardened vets Nick Bonino, Matt Cullen, Trevor Daley, Marc-Andre Fleury, Ron Hainsey and Chris Kunitz altered the team's chemistry and opened gaping holes in the lineup—most notably on the third and fourth lines. The summertime trade for heavyweight Ryan Reaves, which helped from a physical standpoint, further altered the bottom-six mix, at times preventing coach Mike Sullivan from rolling four lines in his preferred style.
The result? The Pens have had difficulty generating their old speed, a key to the dual Cup triumphs. They've also had to rely on their core players, Sidney Crosby in particular, more than they'd like. Indeed, Sid's workload (20:39 ATOI)—his highest since the Dan Bylsma era—may have contributed to his pokey production.
Defense has been a sore spot, too. The poster child for the team's blue-line woes? Kris Letang, who's struggled (minus-13) to regain his pre-injury form. Guilty at times of trying to do too much, he's tied for third in the league with 31 giveaways. Put in perspective, the rest of the black-and-gold defense has 43 combined.
I won't dwell on the failed Antti Niemi experiment. Rutherford's gamble on the former Cup-winning goalie blew up, big time. Thankfully, prospect Tristan Jarry appears to be a capable replacement.
No, the first quarter of the season wasn't kind. Still, it wasn't an unmitigated disaster, either.
On an individual level, Phil Kessel's been terrific. In arguably the best shape of his career, 'the Thrill's' tied for fourth in the NHL with 24 points, including a team-high eight goals. He's been remarkably engaged in the defensive zone and feisty to boot. Perhaps his new pal, Reaves, is rubbing off.
Evgeni Malkin, likewise, has shone. Traditionally a slow starter, 'Geno's' tied for 11th in the league in scoring. With points in 14 out of 20 games, he's been remarkably consistent. Injury free, too, which is huge considering Sid's struggles and the club's lack of depth down the middle.
Goalie Matt Murray's numbers aren't pretty. However, given his heightened workload and the Pens' less-than-stellar team defense, he's been a veritable Rock of Gibraltar. His record (10-4-1) speaks for itself.
There are positives from a team perspective, too. Following hard on the heels of an extended cold snap, the offense busted loose with nine goals over the past two games, including seven at even strength. The Pens even flashed their old resilience, rallying from 3-1 deficits in both contests to earn three out of a possible four points.
Credit Sullivan. After repeatedly juggling his line combinations, he seems to have hit on four winners. In particular, the newly formed unit of Conor Sheary, Riley Sheahan and Patric Hornqvist bonded quickly, tallying three goals and five points against Buffalo.
Although goals have been scarce, Carl Hagelin and Bryan Rust have flashed their old speed and persistence of late, revitalizing the forecheck and cycling game. 'Sully' even scrambled the power play—a bright spot through the early going—in an effort to shed some predictable patterns.
All good signs.
We'll even be reaping backhanded benefits from those darned schedule-makers. Following tonight's north-of-the-border clash with Ottawa, the Pens enjoy a stretch of nine out of 11 at home. Hopefully, we'll make some hay while the sun shines.
If not? Look for changes come the New Year.
*Be sure to check out Rick Buker's books,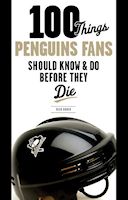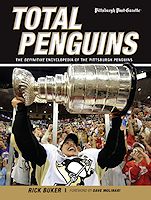 available at TriumphBooks.com, Amazon.com, and BarnesandNoble.com