I'll admit. Writing about (and rooting for) our Penguins has been a pretty dreary affair of late. With the offense colder than those nasty polar vortexes that descend on the 'Burgh each January, hopes for a quick start to the season have pretty much gone up in smoke. So has talk of a three-peat.
A bit depressing, if you're a hockey nut like myself.
Yet last night, amid the gloom of a disappointing 5-4 shootout loss to Nashville, I saw signs of life. Kind of like the first buds of spring popping through the soil following a long, harsh winter.
Granted, some of my enthusiasm is based more on what the Pens didn't do than on any staggering achievement. Like when they blew an early 1-0 lead and leaked for three goals in a span of three-and-a-half minutes, for instance.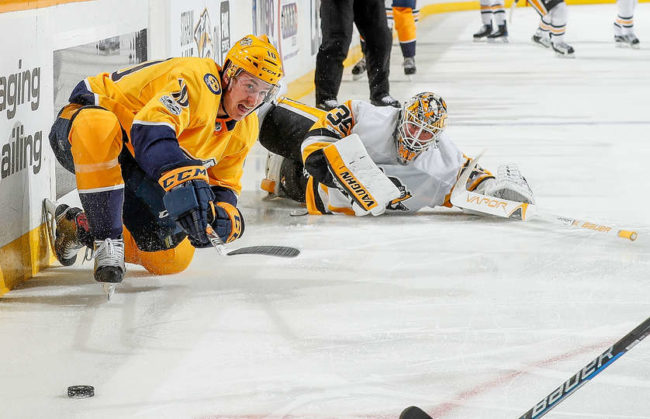 Wincing in despair, a formula quickly came to mind. Sloppy defensive play + undisciplined penalties + second game of back-to-backs + backup goalie = embarrassing blowout loss.
Much to my surprise, the anticipated carnage never occurred. Instead of collapsing like a blob of Jell-O shaken loose from its mold, our guys reacted with some good old-fashioned moxie.
Even Phil Kessel was engaged. During a scrum in front of the Pens' net, the noted non-combatant and lover of hot dogs waded into the fray and exchanged vigorous shoves with man-mountain Austin Watson. For a brief moment, I thought he'd actually challenge the Preds' toughie to a go.
I saw something else. The Pens…especially Evgeni Malkin and Kris Letang…were fightin' mad. "Geno" with his dander up is never a bad thing, unless you happen to be wearing an opposing jersey.
The Pens pushed back on the scoreboard, too. At 12:27 of the second period, Kessel whipped the puck past Pekka Rinne off a nifty feed from Malkin to cut the Predators' lead to 3-2. Refusing to do an el foldo, goalie Tristan Jarry held the Preds at bay, with a little shot-blocking help from his friends.
Then Jake Guentzel manned up. On the receiving end of a brutal mugging from super-sized defenseman Mattias Ekholm, Jake took a lickin' and kept on tickin'. Early in the third period he swooped in on a breakaway, exposed Rinne's five-hole with some shake and bake and slid the puck home.
Much to my dismay, the Preds regained the lead a short time later. Again, the Pens showed some pluck. In a rare display of offense, Brian Dumoulin steamed down the slot and flicked in a perfect pass from Conor Sheary. Sparked by a sublime Malkin toe drag, there was even a stretch late in the period when the Pens flashed their Cup-winning form, firing off shots and controlling play on an extended cycle.
The black-and-gold dominated in overtime as well, but sadly couldn't finish. The Preds put two of three shootout attempts past Jarry to end the game on a sour note.
Still, there were positives. Mike Sullivan saw 'em, too.
"I liked our team tonight," he said. "It was a hard-fought game out there. I really liked our response. I liked our resilience. I think if we play hard like that and execute the way we did tonight, we're going to win more games."
Puckpourri
Bryan Rust scored the Pens' first goal at 11:58 of the first period. The hustling winger picked off an ill-advised pass from Colton Sissons and skated the length of the ice to beat Rinne for a shorthanded tally. It was "Rusty's" second goal of the season…his first since October 12.
Rust and Sidney Crosby each registered a game-high five shots on goal. Sid scored in the shootout, but failed to find the range in regulation play and overtime. He's now goalless in his last 11 games.
Dumoulin enjoyed a strong game on defense. He recorded four hits led the Pens with a game-high five blocked shots. Patric Hornqvist, Letang and Tom Kuhnhackl also had four hits on the night.
Jarry stopped 24 of 28 shots in his third NHL start.
*Be sure to check out Rick Buker's books,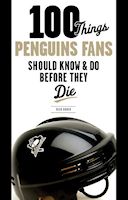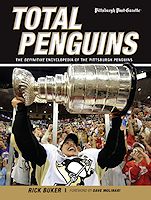 available at TriumphBooks.com, Amazon.com, and BarnesandNoble.com