From opposite sides of the ice, the two players glided toward the faceoff circle. Knees flexed, bent over at the waist, sticks resting across their legs. One clad in Pittsburgh gold, black and white. The other in blue, orange and white.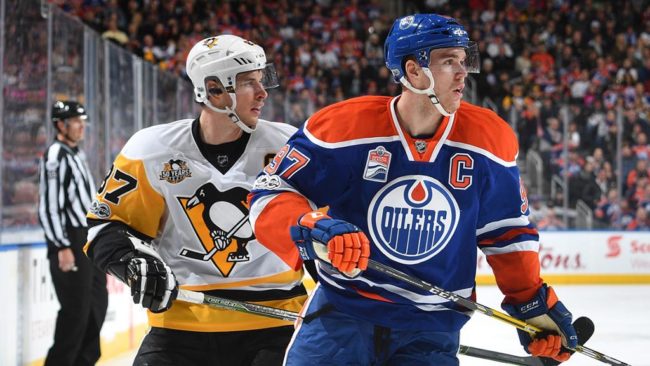 Eighty-seven vs. ninety-seven. The Old Kid vs. the New Kid. Sidney Crosby vs. Connor McDavid.
The much anticipated second meeting (and first on Canadian ice) between the leagues' leading goal-getter (Sid) and top point-producer (McDavid). A marquee matchup made in heaven.
Leave it to a goalie to steal the show.
The star attractions had their moments, for sure. Crosby laced the puck past Oilers netminder Cam Talbot in a blur of precision to open the shootout scoring. McDavid countered with an incredible forehand of his own, measuring Pens goalie Marc-Andre Fleury as if he were sizing him up for a new suit before whipping a shot over "Flower's" outstretched glove.
The Edmonton whiz struck in real time, too, burying a made-to-order rebound on the power play midway through the third period to knot the score at 2-2.
Can't forget Evgeni Malkin. The big Russian scored a decidedly unclassic goal in classic off-the-rush style—his sixth tally in the past four games—to snatch the Pens' point-scoring lead from Crosby and close to within four points of McDavid.
Nick Bonino, too. Ever the opportunist, Bones flipped a short feed from Scott Wilson over a prone Talbot to open the scoring. His fourth marker in two games.
And how about Phil Kessel? Snake bitten of late, "Phil the Thrill" rambled straight down the pike and blew the shootout winner past Talbot with such force that it toppled the Oilers' goalie after it sailed by.
Talk about a tailwind!
For my money, Fleury was the difference. Appearing remarkably cool and calm, No. 29 made 40 saves. As always, many of the spectacular variety. None more than an absolutely unconscious pad save on Ryan Nugent-Hopkins at the right post in overtime—moments after he stoned McDavid on a breakaway—to snatch victory from the jaws of almost certain defeat.
How he had the presence of mind to lift his right pad at the last millisecond while sprawled on his belly, I'll never know. They should bronze the video clip and enshrine it in the Hockey Hall of Fame, post haste.
Fleury at his absolute best.
We've seen a lot of that lately. While de facto starter Matt Murray's experienced some issues, most notably with his nettlesome glove hand, Fleury's quietly put together a run of sparkling performances. Starting with a dynamic 44-save effort against Winnipeg on February 16, he's stopped 137 of the last 145 shots he's faced.
A .945 save percentage. Not too shabby.
Since December 1? Flower's posted a .918 save percentage (well above his .912 career average) and 2.72 goals against average. All the while facing down an ungodly average of 33 shots on goal per game. And fending off an almost constant barrage of questions from reporters concerning his future. Queries that must be as distracting as they are unsettling.
"He's handled it so well… so professionally," marveled teammate Ian Cole. "Away from the ice, you couldn't find a better guy. He's done a fantastic job coming in with limited time and limited reps and played great for us."
Like last night.
Ice Chips
The Oilers dominated everywhere but on the scoreboard. They outshot the Pens, 42-31, including 34-17 over the final 45 minutes. Edmonton held a pronounced edge in hits (30-17) and controlled the faceoff circle by a ridiculous margin (34-11).
Ex-Oiler Justin Schultz picked up an assist in his return to Edmonton. He finished the night a plus-1, with three shots on goal, four blocked shots and two hits.
Wilson has seven points (2+5) in his past 12 games.
Matt Cullen was a scratch. Alberta native Carter Rowney filled his spot. Oskar Sundqvist replaced Tom Sestito, recently suspended for four games. Playing in his first game of the season for the Pens, the big Swede delivered a team-high four hits in 8:06 of ice time.
*Be sure to check out Rick Buker's books,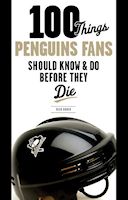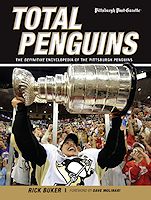 available at TriumphBooks.com, Amazon.com, and BarnesandNoble.com