They say all is fair in love and war. Perhaps in hockey, too.
Two nights after Washington kayoed our captain, Sidney Crosby, in dastardly fashion, the Penguins resorted to a little chicanery in Game 4 to ensure a win.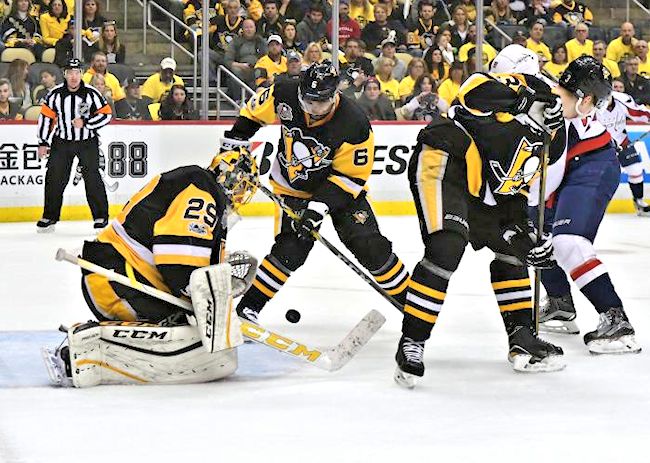 With two minutes remaining and the locals clinging to a precarious 3-2 lead, forward Nick Bonino bought a bogus high-sticking call with a boffo acting job worthy of an Oscar.
Up came T.J. Oshie's stick. Back went "Bone's" head, raising a glove to his bearded face for true thespian effect. Tweet went the referee's whistle. Oshie skated straight to the penalty box without complaint, denying the Caps a last-ditch chance to work with an extra attacker.
Speaking of marvelous work, how about goalie Marc-Andre Fleury? If not for Flower's brilliant 36-save effort, the Pens don't win, plain and simple.
Once again, No. 29 made the near impossible look ridiculously easy. In particular, his stunning rapid-fire pad saves on Evgeny Kuznetsov and Tom Wilson with eight minutes to play in the first period—at opposite posts no less—stood out.
How he traversed his crease so quickly, I'll never know. Sometimes, Flower truly stretches the bounds of reality with his cat-like reflexes and extraordinary athleticism.
My overall impression? All things considered, I was quite pleased with our effort…for the first 25 minutes. Sans Crosby and speedy Conor Sheary, the Pens gave a remarkably good account of themselves through the early going. With hard-rock defenseman Ian Cole and warrior winger Chris Kunitz leading the way (11 hits combined), the black and gold were physical but controlled. Opportunistic, too.
Patric Hornqvist got us off and running. Collecting a pretty feed from Olli Maatta, the spirited Swede split Caps defensemen Karl Alzner and Brooks Orpik and beat Braden Holtby top-shelf at 4:39 of the opening frame for the all-important first goal.
Jake Guentzel padded the Pens' lead early in the second period, thanks to some fortuitous puck luck. Arcing wide in the Washington zone, the rookie sensation fired a cross-ice pass to Carter Rowney. The puck never reached its intended target, instead glancing off the skate of Caps defenseman Dmitry Orlov and in.
Then the Pens unraveled. Error-prone to the extreme, their game dissolved amid a catastrophic cluster of turnovers and defensive gaffes, resulting in a pair of quick-strike goals by Kuznetsov and Nate Schmidt within a ghastly 72-second span.
Aside from Justin Schultz' power-play rocket at 11:24—which proved to be the game winner—and Fleury's mesmerizing play between the pipes, there was little to cheer from a Penguins perspective over the final thirty minutes.
Indeed, while the Caps attacked in waves, the locals virtually ceded the neutral zone, to the tune of a stunning 26-9 deficit in shots on goal during the final two periods. In classic kitty-bar-the-door fashion, the Pens worked like mad to clear the puck, then braced for the next Washington thrust.
Frankly, it was tough to watch. I spent most of the final minutes with a hand clasped firmly to my face in trepidation, peering through spread fingers at the TV. Hoping for the best…fearing the worst.
Somehow, in a game we simply had to win, our guys gutted it out and found a way. Thanks to their indomitable collective will—not to mention heart, grit and resilience—they now hold a 3-games-to-1 lead…and a precious bit of breathing room.
A final thought. No one knows what the future holds for Fleury. Perhaps he'll be traded. Maybe he'll be claimed by Las Vegas in the expansion draft. There's always a slim possibility Flower will remain a Penguin.
The odds are against it.
One thing's certain. In the twilight of his stay in the 'Burgh, Marc-Andre's risen to the occasion like never before. Never have I seen him so razor-sharp, so intent for such a prolonged stretch. It's as if all the elements in his game have, at long last, coalesced in a magnificent display of goaltending excellence.
He's truly been masterful.
Enjoy him while it lasts.
Puckpourri
Washington dominated in shot attempts (72-38) and shots on goal (38-18). The Penguins controlled the faceoff circle (32-26) and outhit the Caps, 40-30.
Maatta and Matt Cullen assisted on Hornqvist's goal. Evgeni Malkin and Guentzel earned helpers on Schultz' tally. "Geno" paces all postseason scorers with 16 points and 12 assists. Guentzel tops the list with eight goals. Phil Kessel leads in plus/minus (+11).
Hornqvist shook off a leg injury to log 15:55 of ice time. He was named second star of the game. Fleury earned first-star honors.
Rowney (plus-1) and Scott Wilson replaced Crosby and Sheary.
*Be sure to check out Rick Buker's books,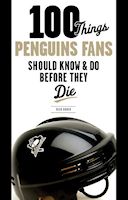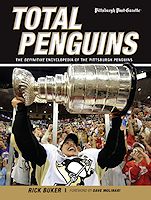 available at TriumphBooks.com, Amazon.com, and BarnesandNoble.com