Ever have one of those mornings when your car just won't start? You insert the key, turn the ignition, and the engine almost turns over…but not quite.
R-u-r, r-u-r, r-u-r…
You try everything in your power to get 'er going, from rubbing the steering wheel and patting the dash, to popping the hood and jiggling the battery cables, to beseeching our maker for His divine help. Heck, I've even resorted to sweet talk and coercion.
"C'mon, baby. Start this one time and I'll change the oil first chance I get. And none of that cheap stuff, either."
R-u-r, r-u-r, r-u-r…
Forgive the clunky automotive analogy. But it reminds me an awful lot of the Penguins' offense these days. With the likes of Sidney Crosby, Evgeni Malkin and Phil Kessel providing high-octane fuel, we should be a humming like a well-oiled machine.
Instead, we're like that poor ol' car trying to start on a frosty winter morning.
R-u-r, r-u-r, r-u-r…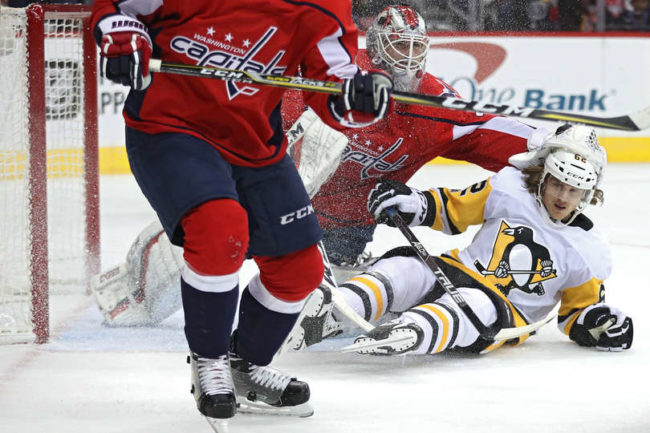 In many ways, last night's 4-1 loss to Washington typified the Pens' recent struggles. We had numerous chances to crack Capitals netminder Braden Holtby, some of them Grade-A.
Like a Formula One racer, Conor Sheary flew down the left side of the ice on a partial breakaway, but was denied by Holtby. Early in the second period Tom Kuhnhackl slipped a beautiful feed off the wall to spring Greg McKegg. Holtby blunted "Kegger's" backhand try as well.
Add Kessel to the list of wannabe scorers. Working on a crucial power play early in the third period, he cruised into the left-wing circle and snapped off his patented wrister. No sale. Patric Hornqvist pounced on the rebound, but slammed it into Holtby's pads.
Speaking of "Horny," he repeatedly engaged former Pen Brooks Orpik in some old-fashioned net-front demolition derby in an effort to score. Crash, bang. But the puck still didn't go in.
Mike Sullivan's tried his best to give the Pens a tune up. He's juggled lines, flopped forwards from side to side, worked on battle drills, reconfigured the power play, encouraged more shooting…the hockey equivalent of replacing the starter, alternator and wiring. He's tried everything short of pulling the spark plugs and installing a shiny new set from Wilkes-Barre/Scranton.
Nothing's working.
Better run some diagnostics. How about total shot attempts percentage? It's 50.7 for the season…51.8 since we started experiencing scoring troubles 10 games ago. That's odd…you'd think our possession numbers would be down a bit.
Shots on goal? We're averaging a healthy 34.9 per game over that stretch. Nothing wrong there.
Faceoffs? Slightly above 50 percent during the scoring slump. Not bad, considering we swapped out our old bottom-six centers for a pair of new ones.
Five-on-five goals? Only eight over the past 10 games. Yikes, that ain't good. Hard to know if it's a cause, effect…or both.
Here's an interesting tidbit. Our missed shots per game are up a bit. An average of 12.7 during the past 10 games versus 10.1 over our first eight. And shots blocked by our opponents are down slightly. Sounds like we're more active, but missing the net. So maybe it's the timing.
Then again, perhaps it isn't the spark plugs at all. Maybe it's the battery…the heart of the engine.
Anyone got jumper cables?
Puckpourri
Kessel scored the Pens' only goal midway through the second period, courtesy of a fortuitous bounce. "Phil the Thrill" attempted a net-front pass to Malkin, but the puck deflected in off Capitals defenseman Dmitry Orlov instead.
Crosby remains locked in an epic slump. The Pens' captain is goalless in his last 10 games. He's collected three assists during that span.
Kris Letang endured another difficult game on defense. He was issued a costly double-minor penalty during a second-period skirmish with T.J. Oshie, which led to the Caps' go-ahead power-play goal.
Ryan Reaves dropped Washington tough guy Liam O'Brien with a volley of heavy rights in a first-period go. He then pointed in the direction of noted bully Tom Wilson, who was seated on the bench. The Caps' enforcer declined the challenge.
Matt Murray stopped 27 of 30 shots in a losing effort.
*Be sure to check out Rick Buker's books,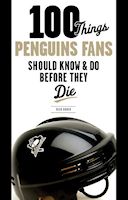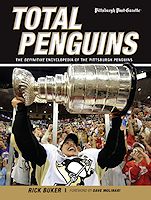 available at TriumphBooks.com, Amazon.com, and BarnesandNoble.com