Bracing as it was, the third period of the Penguins' 4-1 Game 2 triumph over Columbus seemed almost anticlimactic. At least until the Blue Jerkets …er Jackets…tried to extract a pound of flesh in the final minute of play.
The first period?
Heart-attack city.
You see, I was under the misguided impression the teams couldn't possibly duplicate the opening period of Game 1, which Columbus dominated to the tune of 23 hits and a 16-3 edge in shots on goal.
I was right, in a way. Last night was even worse. Intent on mass destruction of Biblical proportions, the visitors piled up a staggering 26-9 advantage in hits, including seven by a Mack truck cleverly disguised as forward Boone Jenner. True, the shots on goal weren't quite as lopsided—the Jackets held a comparatively light 12-7 advantage. But it seemed as though they had the puck in our zone for the entire first eight minutes of play.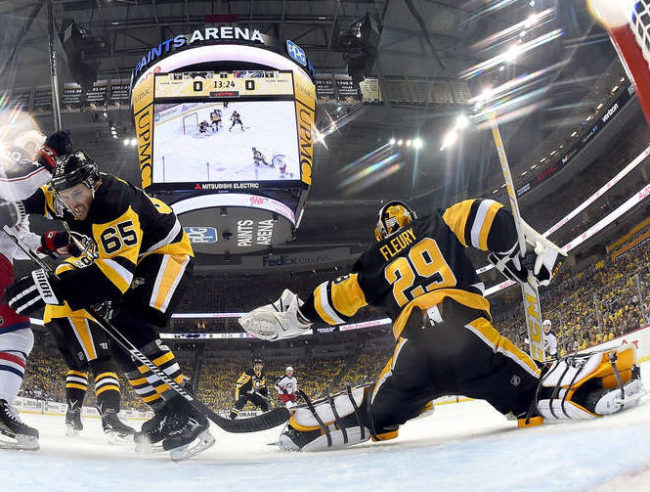 Poor Marc-Andre Fleury. He must've felt like a mechanical target in one of those shooting galleries at Kennywood. "Flower's" jersey might just as well have sported a bullseye on the crest instead of a skating Penguins logo.
We somehow managed to clear the puck. It sailed all the way to the end boards behind the Columbus cage. Venturing from his net at a leisurely pace, Jackets goalie Sergei Bobrovsky—cold as a frozen mackerel from the prolonged inactivity—seemed a casual bystander as hustling Conor Sheary zoomed in and stole the rubber out from under his nose.
In the blink of an eye the puck was in the net, courtesy of Sidney Crosby.
Forgive Bobrovsky if he'd forgotten what a puck looked like. It was literally the first time he'd seen one all evening.
Surviving another 12 minutes of mayhem and peril, the Pens carried a 1-0 lead into the first intermission. I exhaled in relief, hoping we'd find the on-switch to our game in the second period.
Foolish man.
The action picked up right where it had left off. Wishing to help in some small way, I hollered something about puck support in the general direction of the big screen TV, as if my sage bit of advice might cosmically filter through to our boys. But Columbus continued to dominate, doling out checks in road-grader fashion.
Then rookie Carter Rowney stepped up. Or, more appropriately, stepped into. During a delicious 10-second sequence just past the six-minute mark, he flattened not one but two Blue Jackets—Brandon Dubinsky and Jack Johnson—at opposite ends of the ice.
These weren't love taps. Like a heat-seeking missile, Carter blew 'em up with hard, clean checks.
Yes, Brandon Saad struck for the equalizer moments later. But, thanks to Rowney, the momentum shifted as audibly as if he'd taken a phonograph needle and dragged it across a vinyl record.
On the heels of Saad's tally, Jake Guentzel finished off a classic two-on-one with Sidney Crosby to reclaim the lead for the Pens.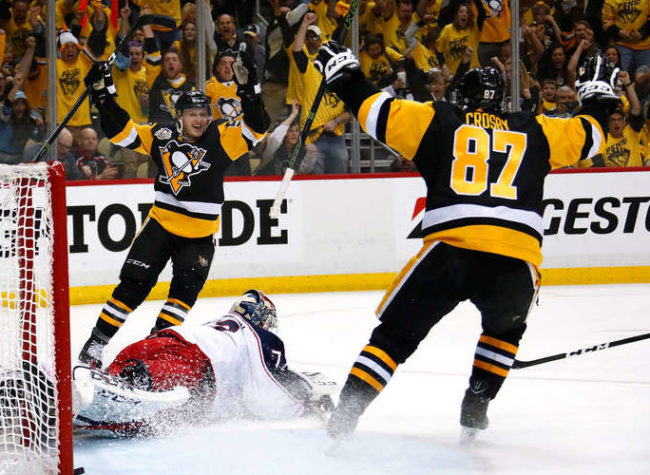 PPG Paints Arena erupted. I gulped my first real breath of air since the opening faceoff.
As the Blue Jackets faded, the Pens put their resilience and Stanley Cup moxie on display. Taking full advantage of a dopey roughing penalty to Dubinsky, Evgeni Malkin beat Bobrovsky like announcer Mike Lange's proverbial rented mule two minutes into the final frame. With 46 ticks remaining and "Bob" perched sheepishly at the end of the Blue Jackets' bench, Patric Hornqvist escorted the puck into an empty net.
I hoped for my blood pressure's sake the closing moments would pass without incident.
Wrong again.
Matt Calvert, ironically one of the Blue Jackets' better players, went berserk. He crashed into Rowney and recoiled. Then, as if drawn by an invisible magnet, he approached Tom Kuhnhackl with equally bad intentions. Calvert crosschecked Kuhnhackl up high, breaking his stick and driving the unsuspecting Pens' winger to the ice. An unprovoked, blindside assault, as vicious as it was gutless.
In a typical display of postseason justice, referees Dan O'Halloran and Ian Walsh banished the offender for a whole two minutes.
So much for the punishment fitting the crime. Here's hoping the league office gets it right and suspends Calvert for a couple of games, if not more.
Emboldened by their teammate's light sentence, Jenner and former Pen Scott Harrington gooned it up at the final horn. That is, until Malkin stepped into the fray and Harrington promptly melted away.
A little unsolicited advice, Scott. Riling No. 71 is a bad move. Bad.
Hopefully, John Tortorella gives Harrington more ice time in Columbus than the piddling 19:15 allotted in Games 1 and 2.
We can use the goals.
Puckpourri
Crosby paced the Pens' attack with a three-point night. Sid registered five shots on goal and finished a plus-three to earn first star honors.
Fleury, the number two star, made 39 saves, including a potential game-saver on Saad's breakaway with nine minutes to go. Guentzel (a goal and an assist) was the third star.
Columbus outshot the Pens, 40-32, and led in hits by a wide margin (51-30). The locals won 57 percent of the faceoffs and blocked 23 shots to the Blue Jackets' 13.
Jenner recorded a game-high 10 hits. Kuhnhackl (six) and Rowney (five) topped the black and gold.
Still no official word on Matt Murray's status. The Pens' goalie is nursing a lower-body ailment, possibly a groin injury.
*Be sure to check out Rick Buker's books,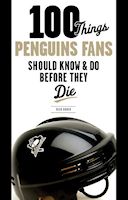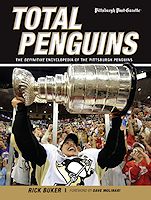 available at TriumphBooks.com, Amazon.com, and BarnesandNoble.com