And so comes the day of reckoning.
During the off-season, Nick Bonino and Matt Cullen jumped from the Penguins in free agency. From the moment Cullen jumped the buzz around the 'burgh has been who will be the Penguins third line Center, the Center that would have to step up and fill either Sidney Crosby or Evgeni Malkin's skates should one of them have to miss a hockey game. Well my friends, we are about to find out how the "next man up" will do. Malkin is slated to miss Wednesday's game against the Vancouver Canucks with an upper-body injury.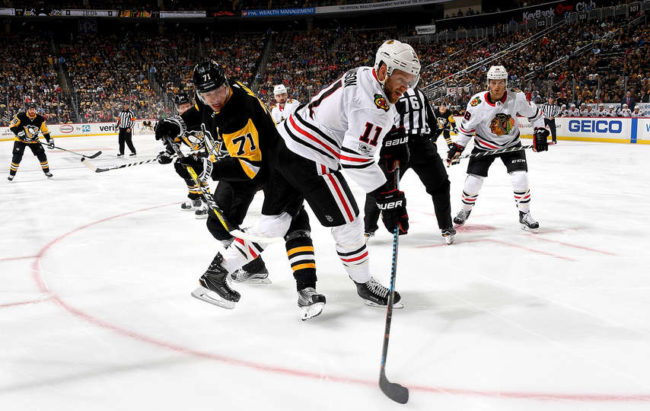 Last Season, an injury like this would see a seamless shifting of Bonino to second line and Cullen to third line. Using the same strategy, this season, would mean shifting Riley Sheahan up to second line and Greg McKegg who had started the season as the third line Center back up to that position. The biggest problem here is that Carter Rowney is on Long Term Injury Reserve (LTIR). Therefore the Penguins only have 3 Centers on their Roster.
At practice today, Jake Guentzel, slid back into the Center role as the third line Center. According to an article on the NHL website, Guentzel playing third line Center against Vancouver is predicated on Rowney not coming off of LTIR. If Rowney comes off of LTIR, the website suggests that Sheahan would move up to 2nd line with McKegg going to 3rd and Rowney taking 4th. I am not all that sure about that. Given Sheahan's lack of offensive production, I personally would be reluctant to shift him up to 2nd line. I would think that regardless of whether Rowney comes off LTIR, Guentzel moving to 2nd line center is the best "next man up" option for Mike Sullivan; that is if the team is looking to actually try and score goals.
Of course moving Guentzel to Center also presents its own problems. The Penguins are blessed with a lot of talented Forwards, but most of that talent is at Right Wing. Moving Guentzel to Center  deplete the Left Wing spot. Yes, Conor Sheary is scoring goals; he is on pace to score roughly 30 goals this season but he is a defensive nightmare right now; opponents are scoring 4.48 goals/60 minutes of even strength ice time when he is on the ice. Carl Hagelin is the opposite. He is a defensive gem; opponents are only scoring 1.14 goals/60 minutes of even strength ice time, he is on the ice, but then again, the team is only scoring goals at the same rate when he is on the ice. (Data does not include the last game).
Other than that, the Penguins have been manning Left Wing spots with Tom Kuhnhackl, a left handed Winger who, like a lot of European skaters, naturally plays his off wing (Right Wing) and Mr. Utility, Brian Rust, who is a right-handed natural right wing.
Perhaps if Rowney isn't ready to come off of LTIR, the Penguins could call up Dominic Simon, who is a natural Center, or has played Center for most of his career so far, but who has seen some limited Left Wing duty last year and during preseason this year and who is having himself a pretty good season so far down in Wilkes-Barre Scranton.
According to Cap Friendly, with Rowney on LTIR, the Penguins have a little over $1 million under the Cap to bring him up. Or they could bring up Daniel Sprong. Perhaps the biggest problem the Penguins would face is if either of these kids come up and really produce, what does the team do when healthy?
However, a more interesting long-term thought may be this: I was reading an article a couple of weeks back that suggested that Jim Rutherford is evaluating to see if he needs to make a deal for a legitimate 3rd line Center. This injury may force Rutherford to accelerate his timetable for finding that Center, particularly if this injury to Malkin turns out to be a protracted one. There still are some rumors about Alex Galchenyuk being traded this year, and we are approaching the time of the year when Rutherford historically has made moves. Could the Penguins swing a deal?
Regardless of what happens off of the ice, the one thing that Sullivan's Penguins always seem to do is step up and be counted in the face of adversity. Let's hope that Sullivan has some more magic up his sleeve and can add to our Thanksgiving against Vancouver.