It's hard to decide who looked more morose.
Never one to hide his emotions, Mike Sullivan did a slow, sullen burn on the Penguins' bench as he watched his team collapse in the late stages of an embarrassing 6-3 loss to Detroit last night.
"We didn't play the right way again; we are trying to outscore teams instead of outplaying them," said the black-and-gold skipper, fairly biting off his words. "When we do that, we are an ordinary team."
Slumped in front of his locker, goalie Marc-Andre Fleury appeared positively distraught. Running his long, slender fingers through his sweat-soaked hair—anguish pooling in his dark brown eyes—he struggled to explain to reporters what went wrong.
"I fumbled the puck behind the net, and that caused the goal," he said, referring to Thomas Vanek's gift tally that knotted the score at 2-2 and negated an early Pens lead. "That was a big mistake. But we were still fine."
Fine until the Red Wings pumped four goals past a shaky "Flower" in the final 21 minutes. Including Frans Nielsen's gut-wrencher to tie the score at 3-3 with 54 ticks left in the second period. And an equally debilitating marker by No. 1 star Andreas Athanasiou, who skated unfettered through the entire Penguins team in Malkin-esque fashion before beating Fleury to the glove side 1:46 into the final period.
Throw in some bad luck in the form of a disallowed goal midway through the frame, and the recipe for disaster was complete. In the final 10 minutes, the Pens displayed all the tensile strength of an earthen dam crumbling in the midst of the monsoon season.
Adversity has, indeed, arrived in the Steel City. With a pronounced thud.
A quick recap of the recent road trip says it all. The Pens lost three in a row in regulation for the first time since December 2015, when Sullivan assumed the coaching reins from Mike Johnston. By a combined score of 15-6.
Two bugaboos continue unabated. The Pens were typically dreadful in the faceoff circle, winning only 44 percent of their draws over the three-game trip. On the penalty kill? They yielded five power-play goals in 13 tries. For good measure, the locals were out-hit, out-shot and out-blocked. Out-hustled, too.
It wasn't like they were facing a murder's row of NHL elite. Sure, Washington's a top-notch team and the Sens aren't bad, either. But Detroit—an Eastern Conference bottom feeder—is a foe we should take to the proverbial woodshed.
Even more alarming is a tendency to unravel when opponents grab the lead. Especially on the road.
The list of lopsided losses reads like a gruesome passage straight from The Book of Nightmares. Montreal 4-0. Nashville 5-1. Minnesota 6-2. Washington and Columbus, 7-1. And now the recent three-game skid.
Defeats that reveal a disturbing lack of fiber?
Sullivan seems to think so.
"When I look at some of the goals that were scored, we have opportunities to be harder to play against. With numbers. With commitment. With awareness," he said. "Those details are important."
It's not going to get any easier. Our boys have a critical return engagement with the Caps tomorrow night at PPG Paints Arena. Then it's back to the road for contests with Atlantic Division kingpin Montreal and vastly improved Carolina, who bombed the Islanders last night. Followed by home-ice matchups with Boston and St. Louis.
Did I mention that Kris Letang left the game last night and appeared to favor his left leg?
No sir. It's not going to get any easier.
Alumni Tie
While the real black and gold struggled, a team of Penguins alumni fared better at the far end of the state. Powered by two goals from Ryan Malone and Tyler Kennedy's game-tying tally, the ex-Pens rallied to tie the Flyers' alumni, 3-3, before a packed house at Wells Fargo Center.
"Well you got to shorten the bench there a little bit and add a little speed," Pens coach Eddie Johnston joked, explaining his decision to play the 30-year-old Kennedy for a good chunk of the third period.
The Pens' lineup featured a host of popular former players, including Kennedy, Malone, Troy Loney and Bryan Trottier, along with the "Ol' Two-Niner" Phil Bourque.
Flyers luminaries included Bobby Clarke, Bill Barber and Reggie Leach (the "LCB Line"), as well as Eric Lindros and "Legion of Doom" linemates John LeClair and Mikael Renberg.
*Be sure to check out Rick Buker's books,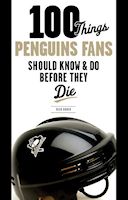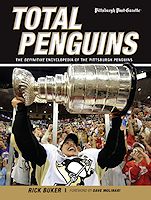 available at TriumphBooks.com, Amazon.com, and BarnesandNoble.com