I was standing in front of a big screen TV last night at Wright's Gym, celebrating Toronto's shocking Game 3 overtime victory over Washington when an unnerving thought popped into my head.
Be careful what you wish for because you just might get it.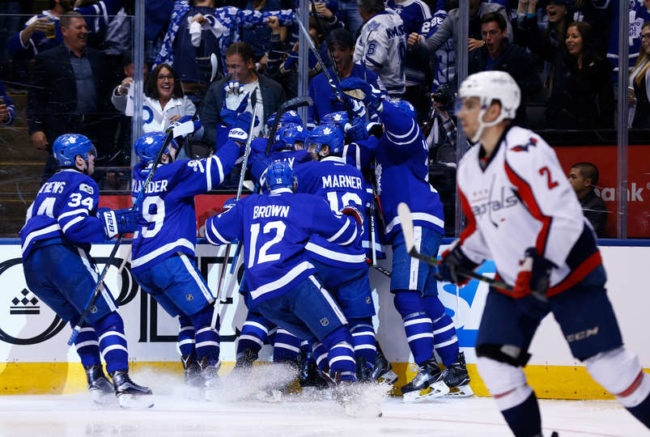 You see, I've been pulling like mad for the Maple Leafs to knock off the Capitals, thus sparing us a second-round clash with our archrivals. I suspect I'm not alone among Penguins fans.
However, the more I watch the hungry young Leafs—powered by super rookie Auston Matthews and a host of rising stars—the more uneasy I feel. In addition to being a marvelously talented bunch, they simply don't quit. They're either too young, or too naïve, to know they're not supposed to win.
Each time Washington gains an advantage, Toronto rallies to overtake them. The Leafs' intriguing blend of youth, skill and speed—not to mention plain old exuberance—is proving too much for the talented but aging Caps to handle.
They remind me an awful lot in style and substance of a nefarious foe from our distant past, one that authored the most painful (and unforeseen) playoff upset in the Pens' 50-year-history.
Let's travel back in time to the spring of 1993. Fresh off back-to-back Stanley Cups, the Pens were far and away the best team in hockey. They'd made mincemeat of the competition during the regular season, piling up a stunning 56-21-7 record and capturing the Presidents' Trophy.
Armed like a nuclear submarine, the locals boasted four future Hall-of-Famers—Mario Lemieux, Ron Francis, Joey Mullen and Larry Murphy—and a surefire fifth in Jaromir Jagr. The Pens were so deep, in fact, that Jagr—a 94-point scorer and emerging tour de force—often skated on the third line. Let that sink in for a moment.
Mario, treated midseason for Hodgkin's lymphoma, made perhaps the most valiant and stirring comeback in sports history to score 69 goals and win the scoring title. Burly Kevin Stevens struck for a career-best 55. Power-forward pal and current Pens assistant Rick Tocchet had 48. Jagr and Mullen scored 30-plus; Francis, Murphy and speedy Calder Trophy candidate Shawn McEachern each topped 20 goals.
Murphy and the Samuelsson boys—Ulf and Kjell—anchored a stout, veteran defense. Tom Barrasso was a fortress in net. Oh, and head coach Scotty Bowman (nine Stanley Cups) knew a thing or two about running a bench.
The Pens tuned up for the postseason in grand style, reeling off a 17-game winning streak, an NHL record that still stands. In the first round of the playoffs, they annihilated the physical but outclassed New Jersey Devils in five games.
Sound familiar?
Up next, the New York Islanders. Although the Isles had upset the Capitals (yes, the Caps) in their first-round matchup, there was nothing to suggest that they posed a serious threat to the Pens. Not on paper, anyway.
True, they'd taken three of the seven regular-season meetings between the two clubs, a monumental achievement. And a trio of 30-goal scorers—Benoit Hogue, Derek King and Steve Thomas—provided some pop. But New York had finished a distant third in the Patrick Division, a whopping 32 points behind the front-running Pens.
Adding injury to insult, their best player—budding superstar Pierre Turgeon—was the victim of a vicious assault by Capitals hatchet man Dale Hunter. He wouldn't be available for the upcoming series.
The Islanders, green as they were, looked like easy pickins'.
Then the series began and the underdogs served notice right away, besting the Pens, 3-2, in Game 1. Although the black and gold fought back to take three of the next four, the determined young Isles proved to be a most prickly foe.
Completely unawed, New York consistently beat us to the loose pucks. Pounded us physically, too. Hip-checking future Pen Darius Kasparaitis was the chief antagonist.
Each time we seemed to gain a clear-cut edge, the Islanders responded. It was as if we'd accidentally stepped on an especially sticky wad of chewing gum and couldn't scrape it off the sole of our shoe, no matter how hard we tried.
Determined to finish the upstarts off, the Pens knotted Game 6 at 2-all on a blast by Lemieux. At long last, the tide seemed to turn in our favor.
Then Francis drew a high-sticking major and we crumbled, losing 7-5. Shorn of Stevens, who suffered a gruesome facial injury in the opening moments of Game 7, the Pens dropped an overtime heartbreaker in the series finale.
A dynasty-in-the-making, abruptly stopped in its tracks by an inferior foe.
I know what you're probably thinking.
Buker, it's awfully early to be fretting about the next round. After all, we haven't officially dispatched the Blue Jackets yet.
True.
Just thought I'd share a little cautionary tale about not counting our Stanley Cups before they hatch.
*Be sure to check out Rick Buker's books,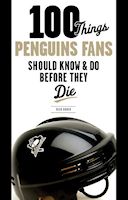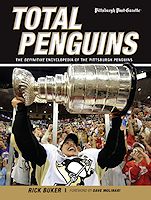 available at TriumphBooks.com, Amazon.com, and BarnesandNoble.com