What do Brian Boyle, David Desharnais, Sam Gagner, Martin Hanzal, Dominic Moore and Joe Thornton have in common?
If you answered all were free-agent centers who recently signed with other NHL teams, you'd be correct.
Indeed, the days slip by. And the list of external candidates to fill the Penguins' vacant third-line center spot keeps dwindling.
The latest to be scratched from the list? Montreal's Alex Galchenyuk. The 23-year-old Milwaukee native signed a three-year deal yesterday with the Canadiens worth $4.9 million per season.
While the Pens still appear to be in the hunt for Colorado's Matt Duchene, talks for now have cooled. In fact, GM Jim Rutherford hinted yesterday that he could be looking at internal options to fill the voids down the middle.
Prompted by a question from Mike, one of our regular PenguinPoop commenters, I thought I'd take a peek at those options.
Matt Cullen (6'1" 200, 40)
It's possible the venerable vet—nicknamed "Team Dad"—will be back for another go with the Pens. He's also being pursued by his home state team, the Minnesota Wild, rumored to have offered him a two-year deal.
Despite his advanced age—Cullen turns 41 on November 2—he can still play. Remarkably quick and competitive for his years, Matt scored 29 goals over the past two regular seasons and six more during the postseason. Still an excellent penalty killer, he won 51.2 percent of his faceoffs in '16-17.
Cullen's also capable of filling in on the top two lines, or at left wing, in a pinch. Which, in a way, makes him an ideal No. 3 center.
Chances are good that Cullen won't announce his decision until later in the summer. He signed his initial deal with the black and gold on August 6. Last summer he came to terms on August 17. So there's liable to be a bit of a wait.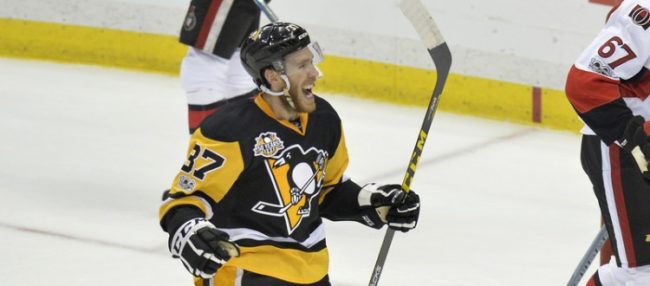 Carter Rowney (6'2" 208, 28)
Rutherford suggested that he and the coaching staff would be more than comfortable moving ahead with Rowney as the club's fourth-line center. In fact, he seems committed to it.
Rowney, who also can play right wing, was a revelation during the recent Cup run. The 28-year-old rookie won 51 percent of his draws and finished tied for second among playoff performers with 80 hits. He's defensively diligent, skates well and is ultra-responsible with the puck (only two giveaways during the postseason).
While scoring could be an issue, Rowney has a documented history of hiking his output at each level over time.
All-in-all, he fits the profile of a fourth-line center to a T.
What If?
Okay. So what happens if Cullen elects to retire or sign with another team, and JR's unable to trade for a suitable replacement?
A major concern, no doubt. However, the Pens aren't totally bereft of internal options.
While it's highly unlikely coach Mike Sullivan would move Jake Guentzel from his perch on Sidney Crosby's portside, Jake is a natural center.
Here are some other candidates to fill the third-line center spot.
Jean-Sebastien Dea (5'11" 175, 23)
A right-handed shot like the great Mario Lemieux, Dea is a speedy, clever playmaker who excels in open ice. With 38 goals at Wilkes-Barre/Scranton over the past two seasons, he also possesses a nose for the net. Dea can contribute on special teams as well.
Size and strength…or a lack of…could be an issue at the big-league level.
Dominik Simon (5'11" 176, 22)
Simon and Dea have a lot in common, from their smallish builds to offensive flair. In particular, Simon excels as a playmaker. A 46-point scorer with the Baby Pens in '16-17, he's especially adept at making short, crisp passes in traffic. Given his diminutive frame, the Czech native's surprisingly effective along the wall. Versatile, he's also capable of playing left wing.
Again, his comparatively small stature and lack of physical prowess could mitigate his overall effectiveness in the NHL.
Teddy Blueger (6'0" 185, 22)
Hailing from Riga, Latvia, Blueger probably fits the traditional mold of a classic third-line center more closely than Dea or Simon. He's a little bigger, for one. And his plus-24 rating—seventh best in the AHL last season—indicate a strong defensive conscience.
He's good on faceoffs, isn't afraid to bump and grind, and can be used in a variety of situations. With 31 points in 54 games, Blueger possesses some skill, too.
Most likely, he'll require more seasoning with the Baby Pens.
Thomas DiPauli (5'11" 188, 23)
A former fourth-round choice of Washington, DiPauli was a teammate of Bryan Rust's at Notre Dame. He plays a similar style, too. That is, fast, aggressive on the forecheck and tenacious on the puck.
Could he enjoy similar success in the NHL?
A tough call. DiPauli's first pro season at Wilkes-Barre/Scranton was virtually ruined by back surgery and a thumb injury, which limited the Italian-born center to a paltry two goals in 21 games.
Still, the attributes are there.
Nikita Pavlychev (6'7" 211, 20)
Although he won't be joining the black and gold anytime soon, the kid's worth mentioning on the basis of size alone.
Best described as a raw talent, Pavlychev provides an obvious physical presence that the other young centers don't. Not surprising, skating and foot speed are possible hindrances, especially if the former seventh-round pick hopes to progress up the hockey ladder.
For now, he's honing his skills at Penn State.
*Be sure to check out Rick Buker's books,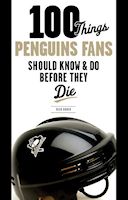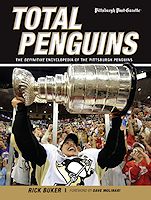 available at TriumphBooks.com, Amazon.com, and BarnesandNoble.com