Back in the 1930s, the Philadelphia Athletics had a Hall-of-Fame catcher named Mickey Cochrane. By all accounts, he hated to lose. Whenever the As tasted defeat, he was transformed into a mood so foul that his teammates dubbed him "Black Mike."
It might be an appropriate nickname for Mike Sullivan, too.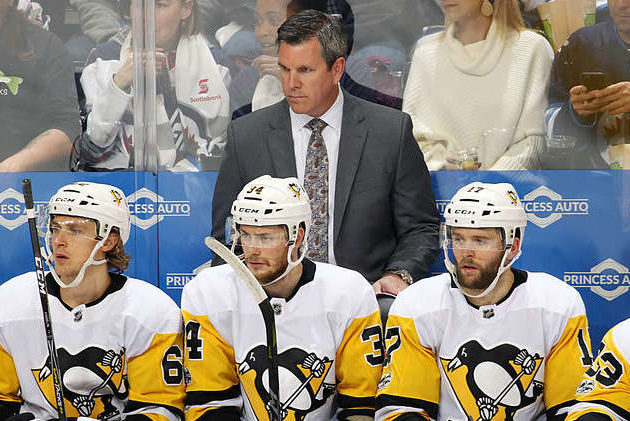 I'll put it another way. If looks could kill, there'd be a lot of dead Penguins today. The absolutely chilling expression in Sully's eyes following another first-period meltdown last night told the whole story. No need for words or translation.
Forced to endure another disgraceful no-show to begin the second of back-to-back games—a horrific 7-1 loss to Winnipeg—I thought Sullivan might explode in righteous anger right there on the bench. He would've been perfectly justified. His team let him down again, in inglorious fashion.
This time, there was no Antti Niemi to blame. Like a young bull thrown on the sacrificial altar, Matt Murray got strafed for four goals—three within a 4:09 span—before he was mercifully pulled with two minutes left in another first period as rife with disaster as it was embarrassing and humbling.
Playing no favorites when it comes to hanging goalies out to dry, the Pens' butter-soft defense promptly allowed Winnipeg's Blake Wheeler unimpeded access to backup Casey DeSmith to consummate a first-period hat trick.
Welcome to the NHL, Casey.
I don't know what was said between periods. I do know this. If I'd been wearing a Penguins jersey when Sullivan entered the dressing room, I'd have ducked into the nearest toilet stall. Since the players displayed considerably more juice to open the second period, I'm guessing they received the verbal scalding they so richly deserved.
To digress, the schedule-makers did us no favors with all these brutal back-to-backs. And we're obviously a flawed hockey team, one that'll require retooling before all is said and done if we're to re-emerge as Stanley Cup contenders. But in no way, shape or form does that excuse our abject lack of compete. There were times, especially during the first period, when the Pens didn't show the slightest interest in battling for loose pucks, let alone backchecking or protecting their goalie.
It's almost as if they require an engraved invitation to show up these days. Heck, GM Jim Rutherford could scrape together a team of castoffs and ham-and-eggers and at least get some sweat equity for his hockey dollar.
Sadly, after achieving the unthinkable and thrilling us with back-to-back Cups, the fire no longer seems to burn. Understandable in a way. It's human nature to become satisfied or complacent after tasting so much success. And our boys have endured a long and grueling grind, to say the least. I'm sure they're worn down, emotionally and physically.
Yet somewhere inside this group beats the heart of a champion. What it's going to take to reach that heart, is anybody's guess. In the meantime, the players need to take a long, hard look in the mirror.
Puckpourri
Evgeni Malkin scored the Pens' lone goal, a power-play tally at 17:02 of the second period. One of the few Penguins to show some scrap, "Geno" tussled with Patrik Laine in the third period.
Despite the lopsided outcome, the Pens bested Winnipeg in shots on goal (32-24) and total shot attempts (58-46). The Jets controlled the faceoff circle (31-26). The black and gold had 15 giveaways.
The Pens have scored only seven goals over the past five games; four at even strength.
*Be sure to check out Rick Buker's books,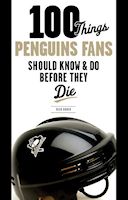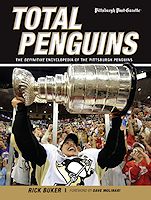 available at TriumphBooks.com, Amazon.com, and BarnesandNoble.com