The Penguins wrapped up the 2016-17 regular season last night by dropping a 3-2 decision to the Rangers at Madison Square Garden.
The result came as no great surprise, given that coach Mike Sullivan once again chose to rest a passel of regulars. Sidney Crosby and kids Jake Guentzel, Bryan Rust and Conor Sheary were among those who had the night off, along with top-pairing defenders Ian Cole and Justin Schultz and both regular goalies.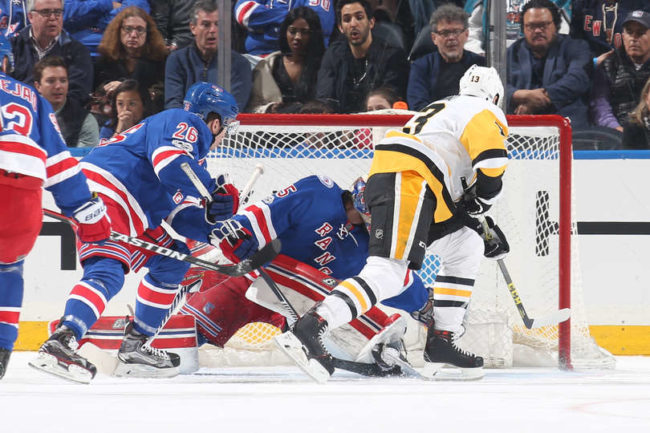 Considering the Pens' lineup consisted of eight players who began the season at Wilkes-Barre/Scranton and 10 who spent a considerable amount of time with the Baby Pens, they acquitted themselves quite well. Especially since Rangers skipper Alain Vigneault pretty much went with his regulars.
Indeed, the black-and-gold JV squad—powered by goals from Nick Bonino and Carter Rowney—was competitive on the scoreboard and the stat sheet, generating 24 shots on goal (one less than their hosts) while keeping the ledger fairly balanced in other key categories.
With so much youth on display, I thought I'd depart from posting a more traditional game summary and share my thumbnail impressions of the youngsters.
Josh Archibald, 24, right wing

I love this kid. An intriguing bundle of hustle, heart and supersonic speed, blended with some underrated skills. I liken him to Rust. While not a huge scorer, the former Hobey Baker finalist definitely has some pedigree. He's a good bet to stick at the NHL level.

Baby Pens: 69 GP, 16 G, 13 A, 29 PTS, +25      Pens: 10 GP, 3 G, 0 A, 3 PTS, +3
Jean-Sebastien Dea, 23, center

I didn't get a good enough look at Dea to form an opinion. Typical of most Pens prospects, he can skate and showed some flair yesterday in open ice. Roughly the same size as Archibald (5'11" 175), I'm not sure if Dea's as effective in the dirty areas.

Baby Pens: 70 GP, 17 G, 15 A, 32 PTS +14       Pens: 1 GP, 0 G, 0 A, 0 PTS, even
Tristan Jarry, 21, goalie

Again, it's tough to make an evaluation based on one game. However, Jarry made a favorable first impression. He seemed poised, positionally sound and cool under fire. In particular, his spectacular, acrobatic save to thwart ex-Pen Tanner Glass midway through the first period demonstrated Fleury-esque athleticism.

Baby Pens: 45 GP, 3 SH, 2.15 GAA, .925 SVPCT      Pens: 1 GP, 3.06 GAA, .880 SVPCT
Derrick Pouliot, 23, defenseman

After struggling during previous action with the Pens, I thought Pouliot showed improvement yesterday. A decent puck distributor with some deception to his game, Derrick also possesses the ability to skate the puck out of danger a la Kris Letang. However, he winds up on the wrong side of the puck too much—especially in his own end. And his battle level, while better, still leaves something to be desired.

Baby Pens: 44 GP, 7 G, 16 A, 23 PTS, +15       Pens: 11 GP, 0 G, 0 A, 0 PTS, -4
Dominik Simon, 22, center

A future contributor in the NHL. I've been impressed by Simon during his brief cameos with the Pens. Although undersized, he's shifty, clever and handles the puck well in traffic and along the wall. Dominik's also adept at making the type of short, crisp passes that generate scoring chances and dirty goals.

Baby Pens: 67 GP, 14 G, 31 A, 45 PTS, +11      Pens: 2 GP, 0 G, 1 A, 1 PTS, -1
Oskar Sundqvist, 22, center

Frankly, a disappointment. Especially after Sundqvist impressed during stints with the Pens last season with his overall play and ability to shield the puck. This time around, I thought Oskar appeared a bit awkward and out of sync, as if he's still growing into his 6'3" frame. Not to mention a step slow.

Baby Pens: 60 GP, 20 G, 25 A, 45 PTS, +13     Pens: 10 GP, 0 G, 0 A, 0 PTS, -4
While they're hardly kids, I thought I'd mention Rowney and defenseman Chad Ruhwedel, too.
Although responsible and reliable, the former didn't show much offense upon his arrival at the end of January. However, since being teamed with Archibald and Scott Wilson on a surprisingly effective fourth line, Rowney's sprung to life with two goals and four points in his past five games.
Given his speed, size (6'2" 200) and versatility, he could possibly fill a bottom-six role moving forward. Especially with Bonino and Matt Cullen set to become UFAs this summer.
Likewise, I thought Ruhwedel did a solid job of filling in on the Pens' blueline this season. While nothing in his game jumps out at you, he's mobile and makes a good first pass. And, unlike Pouliot, Chad seems to be in proper position and on the right side of the puck most of the time. Kind of a poor man's version of Trevor Daley.
With Daley and big gun Schultz and approaching free agency, expect Ruhwedel to fill a depth role—perhaps as a sixth or seventh d-man—next season.
Puckpourri
The Penguins finished the season in second place in the Metropolitan Division with a record of 50-21-11. They led the league with 282 goals and finished second to Washington, the Presidents' Trophy winner, with 111 points.
Crosby led the league with 44 goals to earn his second Maurice Richard Trophy. Sid finished in a tie for second in scoring with Chicago's Patrick Kane with 89 points, 11 behind Edmonton phenom Connor McDavid.
Olli Maatta returned to the lineup after missing 25 games with a hand injury. Paired with Pouliot for most of the evening, the 22-year-old defenseman logged a healthy 20:15 of ice time and registered three shots on goal, along with a hit and a blocked shot.
The Pens begin their quest for a second-straight Stanley Cup against Columbus on Wednesday night at PPG Paints Arena.
*Be sure to check out Rick Buker's books,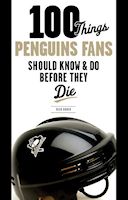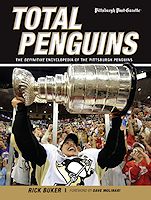 available at TriumphBooks.com, Amazon.com, and BarnesandNoble.com