It's taken a little while. Over a third of the season, to be precise. But it looks like the Penguins' newcomers are finally beginning to feel at home.
Indeed, Matt Hunwick, Ryan Reaves and Riley Sheahan are showing definite signs that they've grown more comfortable with their new surroundings, not to mention coach Mike Sullivan's up-tempo style. And while the numbers don't necessarily reflect it, they're gradually making their collective presence felt.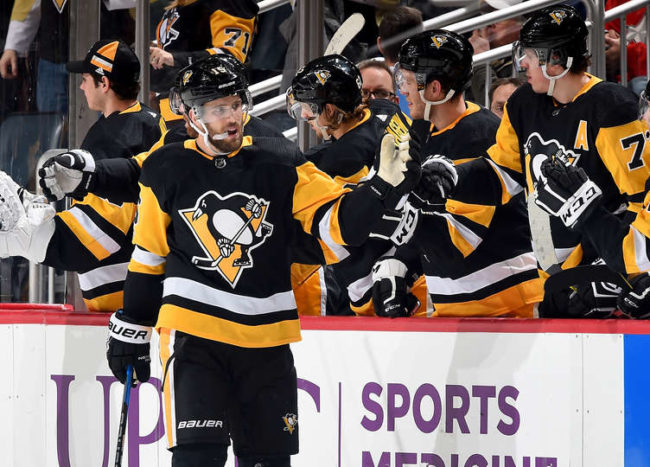 Take Thursday's 4-3 overtime victory over the Islanders, for example. Sheahan celebrated his 26th birthday in grand style, pouncing on a turnover and beating Isles goalie Jaroslav Halak with a beautiful top-shelf wrister to stake the Pens to a 3-1 lead, snapping an eight-game goalless drought to boot.
"Empty-netters are nice, but it's not the way you picture your first one," he said, referring to his initial black-and-gold tally against Ottawa on November 16. "So to get one tonight definitely felt good."
The big center also paced the Pens in shorthanded ice time (4:14) and helped snuff out four Islanders power plays, while winning 10 of 17 faceoffs. All told, the Notre Dame grad's won an impressive 56.5 percent of his draws since arriving from Detroit in a trade for Scott Wilson on October 21. Not too shabby.
Heck, he's even put together a nice little scoring run. Over his past 11 games, Sheahan's registered a highly respectable seven points, fueling hopes that he may, indeed, be extricating himself from the black hole he'd stumbled into over the past year.
Fellow newbie Hunwick also seized the spotlight on Thursday night. Filling in for the injured Justin Schultz during overtime, the speedy defender jetted to the front of the net and whacked a loose puck past Halak…with a little help from Islanders forward Joshua Ho Sang.
Hunwick's game-winner—not to mention seven shots on goal—earned him first-star honors, one notch ahead of No. 2 star Sheahan.
Matt's Steel City start, rocky at best, was interrupted by a five-week stint on IR due to a concussion. Since returning to the lineup on November 18, he's tallied two goals and an assist to go with a plus-3. Along the way, the Michigan native's nudged his Corsi from the low 40s to a more palatable 47.8 percent, mitigated to an extent by the lowest number of offensive-zone starts (43.5 percent) among the Pens' regular defensemen.
Although Hunwick has a way to go before he matches his exemplary postseason play with Toronto last spring, he's gradually finding his game.
Likewise, it's been a bit of adjustment for Reaves, the larger-than-life heavyweight whose taste for the rough stuff is eclipsed only by his rollicking sense of fun. Early on, he bore more than a passing resemblance, in both form and function, to another fellow who wore No. 75 around these parts, Steelers legend 'Mean Joe' Greene. Skated about as well, too. Now he seems to be catching on.
While his output (three points) leaves something to be desired, the Winnipeg bomber's effectively neutralized foes who might otherwise feel emboldened to take liberties, just as Jim Rutherford anticipated when he acquired Reaves last the summer. He's even helped our boys display a little swagger.
Off the ice? The prank-playing bruiser may be an even bigger hit, especially with his relentless teasing of Phil Kessel.
Who knows? Maybe the Pens' scoring ace is rubbing off on his tormentor as well. Did you see the burst of speed Reaves put on when he steamed in on a breakaway the other night, to say nothing of the release on the shot?
Thriller-esque!
Puckpourri
In the wake of injuries to Schultz and forward Tom Kuhnhackl, the Pens recalled left wing Dominik Simon and defenseman Kevin Czuczman from Wilkes-Barre/Scranton.
Simon, who also plays center, was a fifth-round pick of the Pens in 2015. He ranked second among WBS scorers with 16 points in 20 games. A former Islander with 13 games of NHL experience, Czuczman paced all Baby Pens defenseman with 14 points.
To make room, center Greg McKegg and defenseman Frank Corrado were sent to the Baby Pens.
*Be sure to check out Rick Buker's books,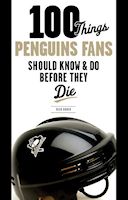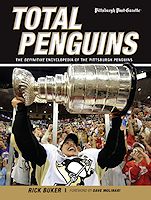 available at TriumphBooks.com, Amazon.com, and BarnesandNoble.com