Rail-thin and timid as a kid, I often was the target of a neighborhood bully named Tommy S (I'll withhold his last name). Beefier by far and a year or two older, he picked on me mercilessly, often causing me to retreat to the safety of my bedroom.
During those moments of isolation and despair I became fixated on those old Dynamic Tension ads that ran in the comic books of the day. For the unfamiliar, the illustrations depicted a skinny fellow named Mac enjoying a pleasant day at beach with his girlfriend. The bucolic scene is suddenly interrupted by a boisterous lout who kicks sand in Mac's face. When Mac protests, the bully returns, shakes him down and steals his girl to boot!
Angry and frustrated, Mac sends away for the muscle-building system. As advertised, in one week he transforms from 98-pound weakling into a veritable he-man, rippling with muscles. Bursting with new-found confidence, he confronts the bully, puts him down, and reclaims his girl.
"Oh Mac, you are a real man after all," she cooed.
I'd close my eyes and dream of one day exacting similar revenge…
A long-winded lead in, I know. But somehow appropriate.
You see, Penguins' foes are liable to notice a not-so-subtle change in our collective demeanor this fall. Similar to Mac, when shoved we're liable shove back…hard.
Following several seasons of playing the patsy, there seems to be a pronounced shift in the Pens' mind set when it comes to physical play. Not just at the big-league level, but on an organizational basis.
Jim Rutherford suggested as much shortly after the postseason ended. After watching antagonists like Washington's Tom Wilson regularly kick ice chips in our faces during the team's Cup run, the Pens' GM vowed to take the steps necessary to protect his players.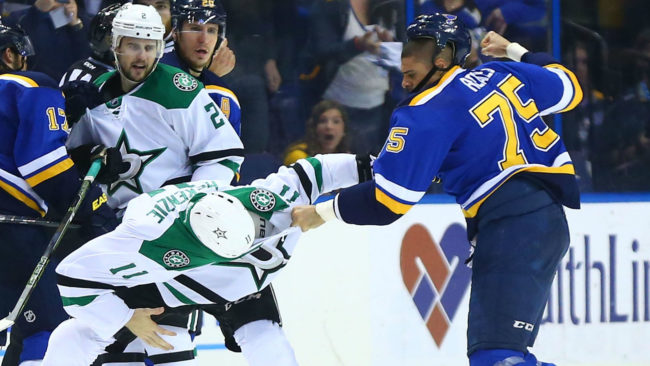 True to his word, Rutherford swung a deal with St. Louis on draft day for Ryan Reaves, a burly right wing widely regarded as the NHL's reigning heavyweight champ.
Turns out, it was only the beginning of the Pens' muscle-building spree. Faster than you can say Charles Atlas, JR re-signed hulking enforcer Tom Sestito and added brawny defensemen Jarred Tinordi and Zach Trotman on the first day of free agency. He also re-signed Garrett Wilson, an aggressive left wing who notched 11 goals in 59 games with the Baby Pens last season.
The moves already have had a ripple effect. The Capitals quickly added heavyweight contender Anthony Peluso in an effort to keep pace in the arms race.
Still, don't expect our Pens to morph into the second coming of the Broad Street Bullies…or our games to dissolve into WWE-style battle royals. On the contrary, I anticipate the newcomers—Reaves in particular—will have a settling effect on proceedings. Much in the way folks mind their manners with a policeman walking the beat. However, it's nice to have options, especially on defense.
With the notable exception of Steve Oleksy, a gritty but undersized bull terrier dealt to Toronto last spring, the Pens had almost no organizational punch from the backline. The landscape changed dramatically with the dual additions of Tinordi and Trotman.
The son of former NHL defenseman Mark Tinordi, Jarred inherited his dad's size (6'6" 230) and taste for the rough stuff. A junior teammate of Olli Maatta's with the London Knights, Tinordi showed enough promise to be taken 22nd overall by Montreal at the 2010 Entry Draft. The native of Burnsville, Minnesota skates fairly well for a big man, although with six points in 53 NHL games he's not much of an offensive threat.
A reclamation project of sorts, the 25-year-old was socked with a 20-game suspension in 2015-16 after testing positive for PEDs. He was unable to crack Arizona's lineup last season, spending the entire year with the Coyotes' AHL affiliate. Still, Tinordi remains an intriguing option should Pens coach Mike Sullivan elect to beef up his backline.
Trotman, who goes 6'3" 219, may have an even better shot at spot or semi-regular duty. A seventh-round pick of Boston in 2010, the 26-year-old scored 11 goals his senior year at Lake Superior State. Since then, he's worked hard to bring his skating and overall game up to pro standards. With a career Corsi of 50.6 percent (Tinordi's is 50.9), he's capable of supporting a puck-possession style.
Although not known for dropping the gloves, Trotman makes good use of his frame. He dished out 71 hits in 38 games with the Bruins in 2015-16, including a career-high 10 hits against Ottawa on December 27, 2015. And, the Indiana native's a right-handed shot, an attribute in short supply among black-and-gold defenders.
Oh, whatever happened between me and Tommy S? One summer day he turned his nefarious attention to my younger brother, Dan, who was peaceably slurping on a Black Cow sucker. Without warning or provocation, Tommy violently shoved poor Dan to the ground.
At the sight of my brother…a really sweet kid…choking on his sucker and writhing in pain, I snapped. Fists clenched, yelling at the top of my lungs, I flew at his attacker with a blind rage I never knew existed. Shocked by my reaction, Tommy ran for his life.
Never had trouble with him again.
Tocchet on the Move?
Our players and executives aren't the only ones in demand. According to reports, Pens assistant Rick Tocchet appears to be the front-runner for the vacant Arizona head coaching slot.
Tocchet certainly has the credentials. The three-time Cup winner (once as a player, twice as a coach) served as an assistant from 2002-06 with Colorado and Phoenix before moving on to Tampa Bay. Assuming the head coaching duties from Barry Melrose early in the 2008-09 campaign, Tocchet guided the Lightning to a 53-69-26 record before being dismissed on April 12, 2010.
A fiery power forward during his playing days, Rick rejoined the NHL coaching ranks as part of Mike Johnston's staff in 2014. Working primarily with the Pens' forwards, he developed a special rapport with Phil Kessel, the popular superstar who travels to the beat of his own drum.
"He just gets it," Kessel said. "He understands what it's like to play the game, to be a player. He makes it fun. If he gets that opportunity, it would be unbelievable for him. I don't want to see him go, right? Because he's a great guy and a great coach."
All Quiet on the Free-Agent Front
No further word on the status of restricted free agents Brian Dumoulin and Conor Sheary, who opted for arbitration. If deals aren't struck in the meantime, hearings for the two players will be scheduled in Toronto later this month or early in August.
Also, there's been no official announcement regarding fellow RFAs Josh Archibald, Jean-Sebastien Dea and Derrick Pouliot.
In other free-agent news, center Kevin Porter signed a two-year, two-way deal with Buffalo on July 1. The 2007-08 Hobey Baker winner tallied three assists in 43 games with the Pens over the past two seasons.
*Be sure to check out Rick Buker's books,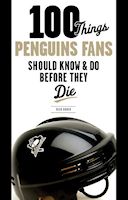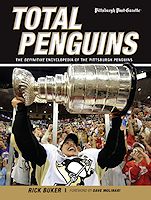 available at TriumphBooks.com, Amazon.com, and BarnesandNoble.com