Who's going to play third-line center?
It's been the hot-button topic for Penguins fans. Liable to be all summer, too, or at least until Pens GM Jim Rutherford makes a move.
Last week we looked at some internal candidates. Today we'll glance at potential trade options, or at least the ones who've churned through the rumor mill. For lack of a better description, we'll call 'em the Sexy Seven.
Keep in mind…just because a player's name pops up, it doesn't necessarily mean he's on the block.

Artem Anisimov (Chicago)

6'4" 198, 29, $4,550,000 AAV (+ future signing bonus), expires 2020-21

A contemporary of countryman Evgeni Malkin, Anisimov's a big, skilled two-way forward. Versatile, too, able to play left wing and center—areas of comparative Penguin need. While not a huge scorer, he's reached the 20-goal mark three times during his NHL career, including the past two seasons with Chicago.

Although not a shot-blocking demon like the departed Nick Bonino, Anisimov won't bail out, either. Possession wise, his career Corsi is adequate (50 percent), but he's weak on faceoffs (46 percent). According to The Hockey News, consistency is a major concern.
Tyler Bozak (Toronto)

6'1" 195, 31, $4,200,000 AAV (+ $2,000,000 signing bonus), expires 2017-18

The fact that Bozak's shown good chemistry in the past with Pens' sniper Phil Kessel—coupled with Toronto's cap issues—makes him a natural trade target. Solid two-way center and point producer who can contribute on special teams, Bozak shines in the faceoff circle (53.6 percent). Good skater, too.

A drawback? He's scheduled to earn $6.2 million in the coming year (including signing bonus), a hefty sum for a third-line center. Then he'll become a free agent at the end of the season.
Matt Duchene (Colorado)

5'11" 195, 26, $6,000,000 AAV, expires 2018-19

Everyone's darling. Possessing blazing speed and superior skills, Duchene is a dynamic offensive performer with goal-scoring pedigree. Plays the game with fire and intensity. Matt's outstanding on draws (62.6 percent in '16-17) and—while not quite in Bonino's class—blocks shots with gusto. Can also play left wing, which enhances his value.

Problem is, everyone else—including Columbus and the Rangers—wants him, too. Which means the price tag is liable to be steep. At $6 million/year, he's not cheap, either.
Zemgus Girgensons (Buffalo)

6'2" 200, 23, $1,150,000 AAV (RFA)

A potential low-cost sleeper. Big, strong two-way center with a penchant for physical play, Girgensons is a bit of a diamond in the rough. After a solid start in Buffalo (15 goals in '14-15) he regressed the past two seasons under former Pens coach Dan Bylsma.

Although he's improving (a career-best 47.2 percent in '16-17) Girgensons needs work on faceoffs. Likewise, his possession numbers aren't so hot (career Corsi of 44 percent). Perhaps too much of a project for a Pens team with designs on a three-peat.
Nazem Kadri (Toronto)

6'0" 195, 26, $4,500,000 AAV (+ $2,000,000 signing bonus), expires 2021-22 (MNTC)

The rumors surrounding Kadri likely are a by-product of wishful thinking more than reality. A solid producer throughout his seven-year NHL career, the feisty center took his game to new heights last season, notching 32 goals. Courageous, fearless and a strong two-way player to boot, he also comes with a heavy price tag—$6.5 million (including bonuses) for the next five years.

Probably overqualified for the role of third-line center. And perhaps too rich for the Pens' blood. But definitely an attractive player.
Ryan Nugent-Hopkins (Edmonton)

6'0" 196, 24, $6,000,000 AAV, expires 2020-21

In the wake of Connor McDavid's mammoth contract extension, whispers surfaced that Edmonton may be shopping Nugent-Hopkins. A 24-goal season in '14-15 aside, the "Nuge" has never developed into an offensive dynamo as expected. However, the vision, poise and supreme playmaking ability that made him a No. 1 overall pick in 2011 are still most decidedly in his tool kit.

While the six-year pro assumed more of a two-way role over the past couple of seasons, there remain sizeable holes in his game. He's not physical, for one. And he's downright dreadful in the faceoff circle (43.3 percent for his career). In short—a Beau Bennett with elite skills.
Jordan Staal (Carolina)

6'4" 220, 28, $6,000,000 AAV, expires 2022-23 (NMC)

It seems every time the need for a center arises, Staal's name pops up. With good reason. Prior to his 2012 trade to Carolina (has it been that long?) Jordan was regarded as the game's quintessential No. 3 center. Big as a horse and blessed with a decent scoring touch (five 20-goal seasons), he's an excellent defensive center who regularly earns Selke consideration.

Staal's developed into a master on draws as well, winning 59.1 percent of his faceoffs last season. Despite heavy feet, a possession monster, too. Everything considered, perhaps the best all-around candidate out there.

A shame Jordan's probably not for sale.
Sarge in Charge
The locals made another coaching move, again involving a former Pens great. A day after naming Mark Recchi as Rick Tocchet's successor, Sergei Gonchar was promoted to a full-time assistant.
A popular and revered member of the Pens' 2009 Cup winners, Gonchar served as the organization's defensive development coach the past two seasons. He'll be tasked with viewing games from the press box and passing along his observations to the bench, a role he filled most ably during the club's recent Cup run.
"Sarge" will likely be groomed as an eventual replacement for Jacques Martin, the 64-year-old whiz who presently coaches the Pens' defense.
Pens Sign Two
The Pens re-upped two of their restricted free agents yesterday. Right wing Josh Archibald and defenseman Derrick Pouliot each agreed to terms on one-way contracts.
A feisty former Hobey Baker finalist, the speedy Archibald signed for two seasons with an average annual value of $675,000. Pouliot, the team's top draft pick in 2012, inked a one-year deal worth $800,000.
*Be sure to check out Rick Buker's books,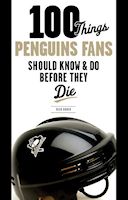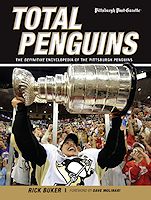 available at TriumphBooks.com, Amazon.com, and BarnesandNoble.com