Coach Mike Sullivan likes to use a simple catchphrase when the Penguins pay attention to the details. He calls it "playing the right way."
Six games into the new season, the Pens have lived up to Sully's standards twice by my humble estimation. Namely, last Saturday's shutout victory over Nashville and the scintillating follow-up triumph over Washington on Wednesday night.
Notice I didn't include last night's win over Florida, a 4-3 nail biter played before a packed house at PPG Paints Arena.
Yes, we secured two points, albeit with an escape that would've done Harry Houdini proud. And a win is a win is a win, to coin an oft-used phrase. But, at least through this admittedly early stage of the season, the Pens appear to be experiencing a post-Cup funk.
Honestly, I was surprised when our guys didn't stumble out of the blocks last year. The fact that they didn't was an amazing feat all by itself. And it's perfectly understandable, to a degree, that the Pens aren't firing on all cylinders, following on the heels of another glorious Cup run and abbreviated summer.
Perhaps I'm guilty of setting the bar too high. I keep expecting the black and gold to snap back to their form of 2015-16, when they dominated foes with a lethal combination of skill and speed.
Truth be told, the Pens haven't been that team for quite a while. Roughly coinciding with Kris Letang's neck injury last February, their share of shot attempts began to dip, and quite dramatically. The fall-off continued right on through last spring's playoffs, when we accounted for only 46.4 percent of total shot attempts as compared to a healthy 52.1 percent the previous postseason.
Forced to stand and defend on a frequent basis, the Pens became more of a counterpunching team. The fact that we won a Cup playing a style we're really not cut out for makes last spring's triumph all the more remarkable.
Unfortunately, the trend seems to have carried over. While our shots on goal are virtually even with the opposition, the Pens have mustered 49 percent of the total shot attempts through six games; 47.5 percent in their last five. Which means, once again, we're losing the possession battle. It's a key indicator that something's amiss, especially for a team that's built to play in the far end of the rink, instead of vice versa.
Our performance in the faceoff circle hasn't helped. With a success rate of 46.8 percent, the Pens are lodged squarely in the bottom third of the league. Although Sidney Crosby, Carter Rowney and newcomer Greg McKegg have generally acquitted themselves well, the team absorbs a huge hit when Evgeni Malkin takes the draws (35.9 percent). And we definitely lack a go-to guy like Matt Cullen, who won 56.4 percent of his faceoffs during the recent Cup run.
Not by coincidence, we've had to work much harder in our own end. Factor in the league-wide crackdown on stick infractions, which serves to hinder a team that favors stick-on-stick defense like the Pens, and it's easy to understand why we're off to a bit of a rough start.
So how do we regain our championship form? That's a tough question, with no easy answers. To my untrained eye, it's starts with better attention to detail in the defensive zone. Our guys just don't seem to compete with the same zest on their side of the red line. Sullivan has often stated that offensive opportunity starts with good defense, and he's right. Take care of business in your own end, and the goals will come. Especially true for a highly skilled bunch like the Pens.
Concerns persist over our mix of players, scrambled to an extent by off-season turnover. When push comes to shove, the Pens seem to lack the requisite size and sand to thrive in the dirty areas. A case in point…the final minute of last night's contest. With the game on the line, the Pens couldn't gain possession of the puck or make even a simple clear. We certainly could use a couple more guys with, say, Patric Hornqvist's competitive fire, not to mention a little more bulk.
On the plus side, it was good to see fourth-liners Tom Kuhnhackl and Carter Rowney get more ice time. Sullivan needs to make full use of his bottom six, first to help those players find a rhythm, but also to guard against maxing out stars like Crosby and Malkin. He'll also need to sort out how best to employ bruiser Ryan Reaves, who's struggled to keep pace thus far.
While I'm handing out plaudits, Matt Murray seems perfectly capable of carrying the load in goal, barring injury of course. The power play's red hot. And Olli Maatta continues to channel his rookie season, when he wowed us with his heady play and potential.
To sum up, it's a long season and we have a long way to go. However, with 11 of our next 15 games on the road, the Pens face a murderous stretch that may well define their season.
Let's hope they're up to the challenge.
*Be sure to check out Rick Buker's books,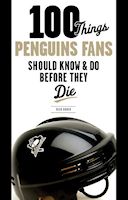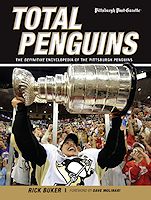 available at TriumphBooks.com, Amazon.com, and BarnesandNoble.com