I confess…I arrived at The Pennsbury Pub and Grille a little late last night, so I didn't view the first 35 minutes or so of the Penguins-Lightning game. After bellying up to the bar and glancing at one of the big screen TVs, maybe it was all for the best.
The second-period highlights (or lowlights, depending on your perspective) confirmed my worst fears. I grimaced as replays showed pucks sailing past our beleaguered goalie, Antti Niemi, from every conceivable angle.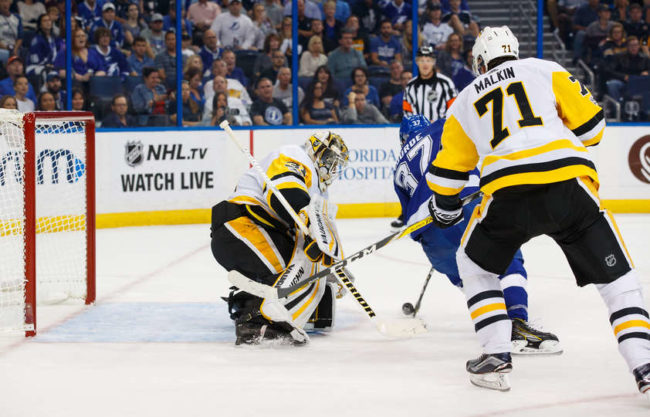 Trying to lighten the mood, a buddy joked that we should've signed the real Niemi instead of the anti-Niemi. It didn't help.
No need to dissect the gory details of our embarrassing 7-1 loss to Tampa Bay. The lopsided score speaks for itself. Let's just say it was a miserable night for our guys and leave it at that.
As I watched the third period play out, I kept searching for a silver lining amid the pervading gloom. With about 15 minutes left, I spotted one. Crashing the net with his customary spirit and verve, Patric Hornqvist attempted to jam the puck past Bolts goalie Andrei Vasilevskiy while absorbing a liberal dose of whacks, hacks and crosschecks from defenseman Jake Dotchin.
A scrum ensued following the whistle involving Hornqvist and every available member of the Lightning squad, including ex-Pen Chris Kunitz. Evgeni Malkin half-heartedly joined the fray on behalf of the black and gold to make it two against six.
It spoke volumes about our battle-readiness, a genuine source of concern. Yes, Niemi stunk out the joint in perhaps his last start in a Penguins jersey. However, with the notable exception of Hornqvist, who was still breathing fire six goals down, the Pens offered about as much resistance as a soggy Kleenex.
Back-to-back games are tough. And I know we've had a brutal schedule thus far. The bottom line? There are a lot of really good hockey teams out there–Tampa Bay for one–each jonesing for a shot at the Cup. If the Pens can't muster any more passion or purpose than they displayed last night, they'll be scheduling early tee times for sure.
"I think right now we're a flawed hockey team," coach Mike Sullivan said. "We've got to shore up a lot of areas. I don't think it has anything to do with back-to-backs. I think it has to do with a mindset and willingness to play the game the right way."
Penguins Get Sheahan
The wait for a third-line center is over. General Manager Jim Rutherford pulled the trigger on a much-anticipated deal yesterday, acquiring Riley Sheahan and a fifth-round pick in the 2018 Entry Draft from Detroit for left wing Scott Wilson and a third-round pick in the 2018 Entry Draft.
In Sheahan, the Pens get a prototype No. 3 center, albeit one who's been in a prolonged funk. A first-round pick of the Red Wings in 2010, Sheahan played college hockey at Notre Dame, where he skated with Ian Cole and Bryan Rust. The 6'3" 226-pounder possesses good size and defensive instincts and, until last season, a bit of a scoring touch. However, after notching 27 goals over a two-year span, he managed just two last season and none thus far in 2017-18.
"You just look at his overall record and he's done it more than one year," Rutherford said. "He's dropped off the one year, but there's a good sample size there. He's still a young guy (25), he should just be coming into his prime. He's going to play with good players here. I know he's a real good guy, a real good pro. He can strengthen our center-ice position."
In the faceoff circle? Don't expect another Matt Cullen. He's decent but not dominant on draws.
Sheahan, who earns $2.075 million, can become a restricted free agent in July. Wilson, also in the final year of his contract, makes $625,000.
*Be sure to check out Rick Buker's books,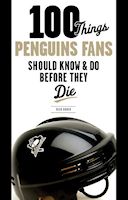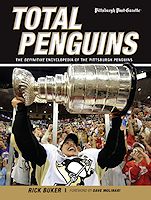 available at TriumphBooks.com, Amazon.com, and BarnesandNoble.com