It's the matchup I've dreaded since early in the season. Starting Wednesday night at PPG Paints Arena, the Penguins square off against the bristling Columbus Blue Jackets in the first round of the Stanley Cup playoffs.
I'll begin my post with an affirmation. I believe the Pens have enough skill, speed and grit to beat Columbus. I firmly believe we're the better team. Have been for some time.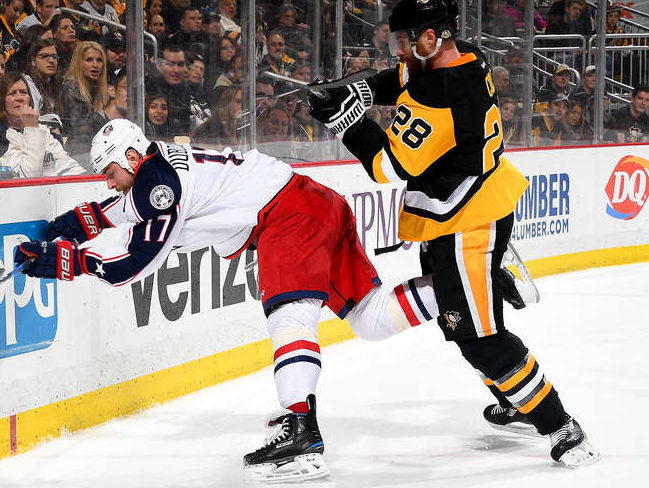 True, the Blue Jackets finished right behind us in the ultra-tough Metropolitan Division with an impressive record of 50-24-8 and 108 points—the best in franchise history. But looks can be deceiving. Following their incendiary 16-game winning streak, the Jackets were a very ordinary 23-19-4 the rest of the way.
Mind you, I'm not dismissing them. The Blue Jackets may not equal our guys in terms of pure front-end talent, but they're physical, deep and oh-so determined. A very dangerous foe, one that played us tough all season, especially at Nationwide Arena.
In many ways, the series represents a classic clash between boxer and slugger. As we're all aware, a slugger is most capable of scoring a knockout, as Columbus did during a frightful 7-1 bludgeoning of the Pens back on December 22.
Reasons to Worry
An intriguing blend of muscle and skill, Columbus relies on a relentless forecheck to grind its opponents down. Much like a fighter committed to a body attack in the ring, the Jackets hammer away at your core in hopes of weakening your legs. Thus, wearing you down in the later rounds.
In many ways, it's the perfect approach for beating our speed-driven Pens, who rely so much on their wheels.
And make no mistake. John Tortorella's crew possesses plenty of pounders, especially up front. Josh Anderson, Brandon Dubinsky, Boone Jenner and ex-Flyers villain Scott Hartnell tip the scales at 215 pounds or better. Captain Nick Foligno—a comparative lightweight at 205 pounds—plays a snarling, in-your-face game.
They all can score, too. Each of the aforementioned bruisers produced double-figures in goals. Foligno notched 26, nine behind speedy club leader Cam Atkinson and two ahead of Pittsburgh native Brandon Saad, another wide-bodied forward.
Add to that mix talented center Alexander Wennberg (59 points), reclamation project Sam Gagner (18 goals) and hustling fourth-liner Matt Calvert? You have a very capable offensive club (sixth-most goals in the league) that embraces a score-by-committee approach.
Columbus is equally adept on defense. Rangy Seth Jones (12 goals) is an emerging star. Likewise, 19-year-old Zach Werenski—presently nursing a shoulder injury—excels at moving the puck (11 goals, 47 points). Heavyweights Jack Johnson and David Savard (plus-33) play a solid all-around game.
The Jackets' Achilles heel? Perhaps goalie Sergei Bobrovsky, who ironically led the NHL in goals-against average and save percentage. Known to unravel from time to time despite sparkling stats, "Bob" lost his last four regular-season starts, including a 4-1 drubbing at the hands of the Pens on April 4.
Reasons to Believe
The Penguins possess a quick-strike ability like no other team. Even when they're being outplayed, the locals are capable of snatching the momentum at any given moment with a goal or two. Much as they did in their most recent set-to with Columbus, when the black and gold pulled away with a pair of tallies within a three-minute span.
The line of Sidney Crosby, Jake Guentzel and Conor Sheary is key. Recently formed and deadly as snake venom, the nimble trio is the perfect antidote to the Jackets' heavy defense, particularly if lumbering ex-Pen Scott Harrington suits up.
Lest we forget, the Pens have tons of other weapons in their burgeoning arsenal. Evgeni Malkin (33 goals) should be well rested and rarin' to go. Phil Kessel has a history of rising to the occasion on a big stage. Tortorella's World Cup snub should provide extra fuel for the fire.
Abrasive Patric Hornqvist could be particularly nettlesome to the Blue Jackets, especially Bobrovsky. Expect No. 72 to draw some penalties, especially early on.
Nick Bonino's caught fire at just the right time. With Crosby, Kessel and a (hopefully) healthy Malkin creating matchup nightmares, look for "Bones" and his linemates to enjoy some prime scoring chances. And don't forget Matt Cullen, Tom Kuhnhackl and Scott Wilson. They've all played well of late.
My wild card? Speedy Bryan Rust. The Notre Dame grad has a penchant for scoring big goals in crucial situations. Expect a few more before all is said and done.
Between the pipes, Matt Murray's as mentally tough as they come. No worries there.
My one concern? The Penguins' defense. Hard rock Ian Cole and silky smooth Justin Schultz (51 points) emerged as a true top tandem. Behind them it's a jumble, an unsolved jigsaw puzzle. The second pairing of Trevor Daley and Brian Dumoulin failed to regain last season's luster, although each missed a significant chunk of time with injuries.
The third pairing is anybody's guess. Perhaps veteran Ron Hainsey and youngster Olli Maatta team up for starters. Look for Chad Ruhwedel or Mark Streit to step in if they falter.
Conclusion
The Penguins, the defense in particular, need to dodge the Blue Jackets' forecheckers and avoid smash-mouth collisions. Move the puck quickly to the forwards. Avoid standing and defending for too long.
On the flip side, the Pens have demonstrated an ability to catch Columbus in between with their speed. Keep 'em guessing and off balance, and score on the power play when the opportunity arises. Steer clear of extracurriculars.
Health is critical. If we can avoid swapping bodies for wins, I like our chances.
Prediction
Penguins in six.
*Be sure to check out Rick Buker's books,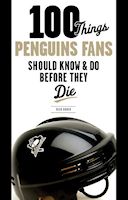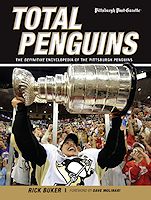 available at TriumphBooks.com, Amazon.com, and BarnesandNoble.com