Has it really been ten years since Ottawa schooled an up-and-coming Penguins team in the opening round of the 2007 playoffs?
I guess so. Heck, Colby Armstrong, Ryan Malone, Max Talbot and Ryan Whitney—young guns back then—have all retired from the NHL. That doesn't seem possible, does it?
Enough musing.
Suffice it to say, there's a wee bit of history between the Pens 'n' Sens, not all of it confined to the postseason, where the locals hold a 3-1 edge in series victories.
Remember when Matt Cooke ran Erik Karlsson into the boards with a seemingly innocuous check in February 2013 and accidentally cut his Achilles tendon? Ottawa owner Eugene Melnyk screamed for Cooke's hide.
The Pens received a comeuppance of sorts ten months later when Sens defenseman Marc Methot belted Sidney Crosby with a clean hip check. Sid careened into linemate Pascal Dupuis, buckling "Duper's" knee and speeding the end of the popular winger's career.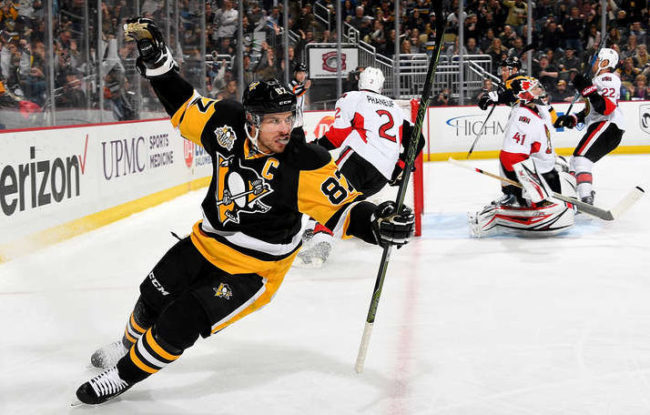 In an unrelated incident in March, Crosby slashed Methot on the left hand and sliced off the tip of his pinky. The rugged blueliner missed the final nine games of the regular season and required 10 stitches to repair the mangled digit.
You get the idea. While the rivalry lacks the raw hatred of…say…the Pens and Flyers, there's enough bad blood to fuel a barnburner of a series. A potentially hazardous one for the locals.
True, Ottawa isn't as freight-train physical as either Columbus or Washington…good news for our banged-up boys. But while the Sens lack a loose cannon like the Caps' Tom Wilson, they do feature thumpers like Methot and fellow hard-rock Dion Phaneuf. Forward Zack Smith's no stranger to the penalty box. And look for the physical play to intensify if wrecking-ball defenseman Mark Borowiecki (a league-high 364 hits) returns from a leg injury.
In tactical terms, the Senators play a pesty 1-3-1 trap under coach Guy Boucher. If you recall, Boucher's Tampa Bay Lightning beat a crippled Pens squad—shorn of Crosby and Evgeni Malkin—back in 2011 while employing a similar style.
Fortunately, the black and gold have an anti-venom of sorts. Assistant coach Jacques Martin, a defensive mastermind, understands the nuances of the trap and how to exploit it. With the aid of the "Black Aces," the Wilkes-Barre/Scranton call-ups who mimicked Ottawa during a recent practice, Martin should help the Pens navigate the neutral-zone mine field.
It's not as if the Sens are the second coming of Martin Brodeur's Devils. They finished 11th in the league in goals allowed during the regular season. Thus far in the postseason, they've yielded 2.75 goals per game, hardly the stuff of Georges Vezina. Goalie Craig Anderson—courageously playing through his wife's battle with cancer—is solid, but doesn't handle the puck especially well. A plus for our Pens.
Still, the Senators are a spirited club that never quits. They can score, too. Karlsson, a two-time Norris Trophy winner who channels our own Kris Letang, paces all defensemen by a wide margin with 13 points. However, the quicksilver Swede's skating on a bad right wheel, an injury that could hamper his effectiveness. Look for countryman Patric Hornqvist to give him a rough ride.
Although lacking a true game-breaker up front, the Sens' forwards are energetic and capable. Speedy Mike Hoffman (26 goals) can snipe. Bobby Ryan, Mark Stone and Kyle Turris possess pedigree. Checking center Jean-Gabriel Pageau erupted for four goals in Game Two against New York. Former Ranger Derick Brassard is a noted thorn, especially come playoff time.
The bottom line? Ottawa's no pushover.
Fortunately, the Pens boast an array of firepower not seen since the days of the Spanish Armada. The underdog Sens must deal with a Murder's Row of Crosby, Malkin, Phil Kessel and Jake Guentzel, to say nothing of complementary scorers like Game Seven heroes Hornqvist and Bryan Rust. A daunting task, to say the least.
While hardly a brick wall, our much-maligned, stick-on-puck defense—spearheaded by Brian Dumoulin, Olli Maatta and Justin Schultz—held the fort at least reasonably well under extreme duress. Schultz is tied for third among defensemen in postseason scoring with eight points.
What can you say about the work of Marc-Andre Fleury? He's been superb.
"If it wasn't for our goaltending, we wouldn't have won the (second round) series," GM Jim Rutherford duly noted, paying "Flower" the ultimate compliment.
My fear? In the wake of ultra-physical clashes with Metro rivals Columbus and Washington, is there any juice left? Or are we primed for a letdown similar in scope to 1993, when we ran out of gas and fell to an inferior Islanders bunch?
Hopefully, the fire still burns.
Penguins in six.
*Be sure to check out Rick Buker's books,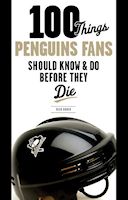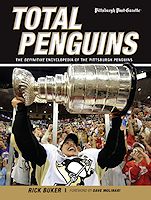 available at TriumphBooks.com, Amazon.com, and BarnesandNoble.com