Few moves in recent Penguins history earned more criticism, or drew a more divided reaction among the fan base, than GM Jim Rutherford's acquisition of Ryan Reaves over the summer. While it remains to be seen whether the heavyweight forward can measure up, he went a long way toward proving his worth last night.
Determined to make a statement, Reaves gave a clear demonstration of what he brings to the table. At his body-thumping best, the burly right wing dished out a game-high seven hits during the Pens' 4-0 victory over a chippy Nashville squad at PPG Paints Arena.
Dropping the gloves not once but twice, he scored unanimous decisions over Predators toughies Austin Watson and Cody McLeod. When old nemesis Scott Hartnell had the temerity to high stick Sidney Crosby, No. 75 challenged him, too.
Reaves even contributed on the scoreboard. Midway through the contest he deflected a rising Olli Maatta blast past Predators goalie Juuse Saros to make the score 3-0 and provide a little breathing room.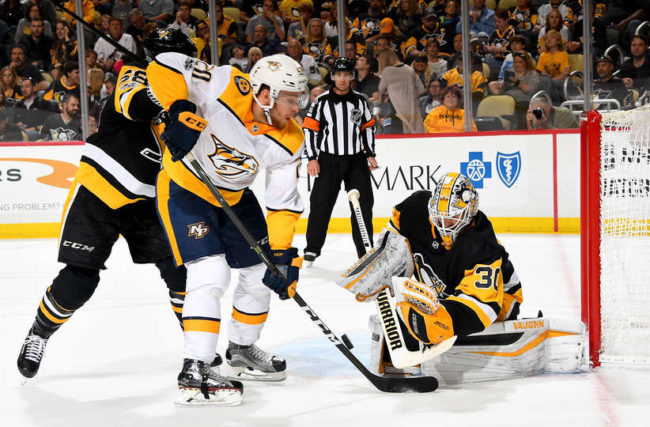 In fact, it's safe to say that no Penguin aside from Sid (two assists) and goalie Matt Murray had a bigger hand in the victory. Or in Reaves case, two hands. All packed into a modest 6:23 of ice time.
Accordingly, the husky newcomer earned the game's No. 1 star, not to mention the undying respect of his new teammates.
Give Murray a ton of credit, too. Two nights after yielding six goals during a humiliating loss to Blackhawks, the 23-year-old netminder regrouped to post a shutout. It was his third-consecutive whitewashing of the Predators, dating back to last spring's Cup Final.
Unlike the debacle in Chicago, he had a little help from his friends. Heeding Mike Sullivan's instruction, the locals checked with more fervor, limiting the Preds to 26 shots on goal and a fairly modest 55 shot attempts.
"We were playing in their face all night," Murray said. "We didn't give them any time and space. That's key for us. I don't think we gave them a chance tonight. We were just dominant."
Remarkably, the Pens accomplished the feat with only five defensemen. While killing a penalty to Brian Dumoulin late in the first period, Ian Cole took a puck squarely in the mouth and did not return. Afterward Sullivan said the gritty defenseman lost some teeth and will likely be out for a while.
Cole's injury aside, he liked what he saw.
"I just think we were harder to play against," Sullivan said. "As long as we're playing the right way, we believe we have a good group."
Puckpourri
Evgeni Malkin, Jake Guentzel and Maatta also scored for the Pens. Malkin beat Saros with a 60-foot blast from center point at 1:06 of the opening period to stake the black and goal to an early lead. Guentzel barreled into the slot to swat home a rebound midway through the first period. Maatta capped the scoring on the opening shift of the third period with a rocket from the left point. Olli leads the club with two goals.
Sullivan juggled his line combinations, shifting Bryan Rust (two assists) to the top unit and dropping Conor Sheary to the third line with Greg McKegg and Scott Wilson. Carl Hagelin, slotted alongside Malkin and Phil Kessel, assisted on the game-opening goal.
Around the League
The Vegas Golden Knights won their second game in a row, defeating Arizona 2-1 in overtime. Once again former Pens led the way, as James Neal scored the game-winner thanks to a nifty setup by David Perron. Marc-Andre Fleury made 27 saves.
Alex Ovechkin scored four goals to pace the surprising Capitals to a 6-1 rout of Montreal. "The Great Eight," who has seven goals in two games, became the first player in NHL history to open the season with back-to-back hat tricks.
Chicago continued its hot hand, whipping Columbus, 5-1.
*Be sure to check out Rick Buker's books,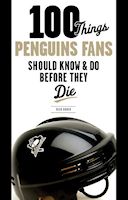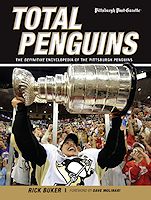 available at TriumphBooks.com, Amazon.com, and BarnesandNoble.com