It wasn't supposed to happen this way. Not according to my admittedly flawed crystal ball.
Starting with a physical clash with the revenge-minded Winnipeg Jets, the Penguins by all rights should be struggling on this road trip. Not thriving.
Road weary, rather than road warriors.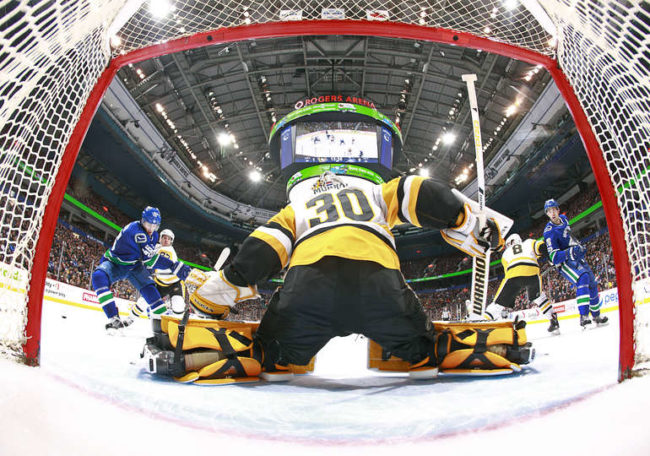 Instead, they've won five in a row to pull within a point of the slumping Washington Capitals in the Metro Division race. Not to mention the top spot in the overall NHL standings.
Shows you how much I know.
The Pens shook off more grim news on the injury front (Carl Hagelin will miss four weeks) and a stubborn effort in goal by Vancouver's Ryan Miller to shut out the Canucks, 3-0, at Rogers Arena last night.
Like Timex watches, our guys take a lickin' and keep on tickin'.
"The will our team showed was huge," said Pens defenseman Ian Cole, who broke a scoreless tie with a long-range wrister late in the second period. A timely tally that proved to be the game winner.
Indeed, the black and gold hardly seemed fazed by the latest health setback. Playing their second of back-to-back games, the Pens appeared to be the fresher of the two teams, rather than the one that jetted into town following a 500-mile flight from Edmonton.
They started well and got progressively stronger as the game unfolded, piling up a 36-16 edge in shots on goal over the final 40 minutes and 48-27 for the evening.
Go figure.
While Miller did his best to frustrate our guys, flashing the form that earned him a Vezina Trophy back in 2009-10, Matt Murray did a pretty fair imitation of a brick wall. The Pens' goalie shook off recent troubles with a redemptive 27-save performance. Including a big-time glove save on Henrik Sedin early in the third period to preserve his fourth shutout of the season.
"You see how dominating (Murray) can be," noted Cole.
Mighty mite Conor Sheary continued to play a large role. The diminutive winger fired off eight shots while collecting a goal and an assist. The latter on a nifty backhand feed off the end boards to set up Jake Guentzel's insurance tally with three minutes left.
Linemates Guentzel and Sidney Crosby also contributed with two-point games. Powering the Pens' gritty effort, the trio combined for 21 shots on goal, including a game-high nine by Sid.
Mike Sullivan seemed pleased.
"We're playing back to back, we're a little depleted, we have to make sure we play a smart, efficient game," the Pens' coach said. "Sometimes when you go through these adversities it can galvanize a group."
Ice Chips
Ron Hainsey paced the locals with a plus-3. Cole finished the game a plus-2, with four hits and two blocked shots. Justin Schultz was tops in ice time (24:01).
Sheary's scoring rate of 3.39 points per 60 minutes ranks third on the Pens, behind only Evgeni Malkin (3.82) and Crosby (3.58). Sixth in the league among players who've appeared in a minimum of 10 games.
Tom Kuhnhackl assisted on Cole's goal—his 10th point of the season. Scott Wilson has an assist in each game on the road trip.
Hagelin's lower-body injury resulted from blocking a shot against the Oilers on Friday night. He was replaced by defenseman Cameron Gaunce.
Matt Cullen missed his second-straight game with an undisclosed injury. His spot was filled by Oskar Sundqvist (three shots on goal, plus-1).
The Pens won 56 percent of the draws.
*Be sure to check out Rick Buker's books,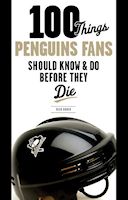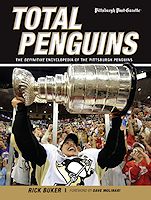 available at TriumphBooks.com, Amazon.com, and BarnesandNoble.com