"You can't expect to win games getting a start like that, especially in the playoffs," Sidney Crosby said following last night's Game Three debacle in Ottawa.
Truer words were never spoken.
While the voracious young Senators opened with a buzz-saw intensity, the Penguins slogged out of the starting gate at a snail's pace. It cost them, big time.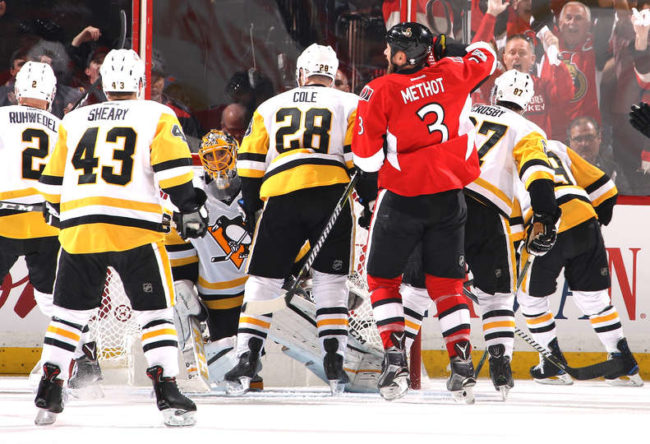 For once, Marc-Andre Fleury wasn't able to bail his teammates out. On the contrary, No. 29 was part of the problem. In stark contrast to his recent form, "Flower" was deep in his net, off his angles and uncharacteristically slow to react.
After being victimized early on a sharp-angle goal by Mike Hoffman—courtesy of a lively bounce off the end boards at Canadian Tire Centre and sloppy coverage by his teammates—Fleury fell apart. During a horrific two minutes and change, he yielded three goals on three shots.
It wasn't all his fault. On the Sens' second goal (first of the nightmare sequence), the puck glanced off the skate of defenseman Ian Cole and past Fleury's left pad. At 12:28 Derick Brassard—left unattended by Mark Streit—circled off the boards and rifled home Clarke MacArthur's nifty cross-crease feed.
Twenty-four seconds later Fleury—clearly in shock—remained frozen at the far post as Zack Smith wheeled around the net and stuffed in a wraparound.
Exit poor Flower, who yielded four goals on nine shots. Enter Matt Murray, who hadn't played since backstopping the Pens to a 7-4 victory over New Jersey on April 6.
"Muzz" proved to be the lone bright spot during an otherwise dismal 5-1 defeat. Sharp as the proverbial tack, the Thunder Bay native stopped 19 of 20 shots during 46:57 of work. On the lone exception—a backhand tally by Kyle Turris late in the second period—No. 30 was hung out to dry by his teammates, an all-too-familiar theme.
Murray's fine play did little to mask a dispirited effort by the black and gold. When Ottawa's Dion Phaneuf buried Phil Kessel with a huge hit along the boards—then hovered over him in defiance—they pretended not to notice. The same held true when a cadre of Sens bowled Murray over at the first-period horn.
"The Penguins aren't built that way," offered NBCSN analyst Mike Milbury in an almost apologetic response to the team's appalling lack of pushback.
Even worse was studio sidekick Jeremy Roenick's proclamation that "this game is over." While it annoyed me to no end, Roenick was spot on. The Pens pretty much were toast following the opening 20 minutes. Or, to quote former NHL tough guy and noted puck philosopher Dave "Tiger" Williams, "them guys is done like dinner."
With the notable exceptions of fourth-liners Carter Rowney and Scott Wilson, the Pens displayed about as much tensile strength as a limp dishrag. They lost faceoffs and puck battles with remarkable facility. While they managed 26 shots on Ottawa goalie Craig Anderson, precious few came on second-chance attempts.
Indeed, the locals spent the majority of their offensive zone time trying to make the perfect play, rather than getting pucks to the net. The Senators' sticky, lane-clogging defense contributed mightily to our woes.
Needless to say, it was tough to watch.
While I'm not throwing in the towel, it's even tougher to imagine us winning the series.
Sully Sez
"I just think we've got to be more ready to play from the drop of the puck," Pens coach Mike Sullivan said, trying to make sense of the loss. "I think, when you give up a goal that early in the game (48 seconds in) against a team that's playing at home, it gives their team a lot of energy. So I think we've got to be ready right from the drop of the puck, and we simply have to be better. We've got to be playing on our toes."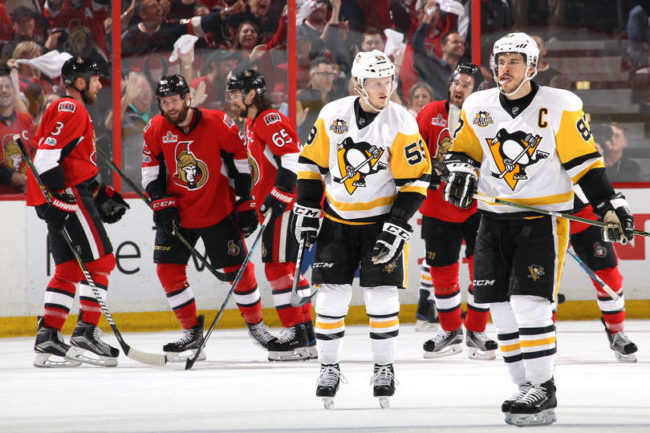 Puckpourri
Crosby's power-play goal at 6:07 of the third period was his first point of the series. Sid was a minus-3 for the evening, as were linemates Jake Guentzel and Conor Sheary. Cole also finished a minus-3.
The Pens dressed seven defensemen. Streit (an assist, minus-1) and Trevor Daley replaced Bryan Rust and Justin Schultz, who were injured in Game Two. Patric Hornqvist sat out as well.
Ottawa dominated the faceoff circle, winning 65 percent of the draws. Brassard won 14 of 16 faceoffs. On the flip side, Evgeni Malkin lost 10 of 11.
The Senators held the edge in shots on goal (29-26); the Pens had more shot attempts (62-52).
*Be sure to check out Rick Buker's books,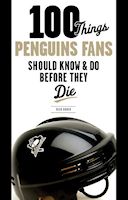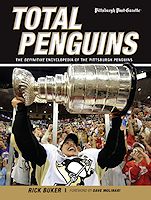 available at TriumphBooks.com, Amazon.com, and BarnesandNoble.com