"He's done three things tonight I've never seen him do before."
Those words were uttered by good friend and Wright's Gym member Dave Karpinski, shortly after Penguins superstar Sidney Crosby narrowly missed cashing in last night with an improbable, corkscrewing effort.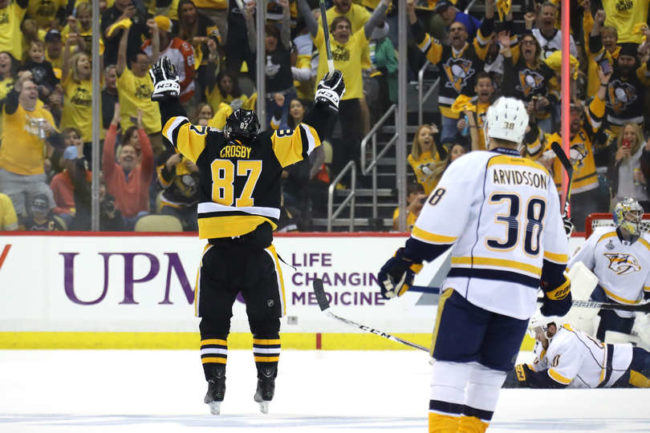 I readily agreed. It seemed to me Crosby was inventing a new move nearly every shift.
In fact, I've pretty much run out of superlatives to describe our captain.
Talk about a general leading his troops. In what pretty much amounted to a must-win Game Five for the Pens, Crosby set the tone with an impassioned performance unlike any I've ever seen. And I've watched a lot of hockey over the years.
With little choice but to follow Sid's exemplary lead, his teammates poured out an equally inspired effort to power a 6-0 pasting of the thoroughly outmatched Predators.
Number 87 served notice of what was in store on the very first shift. Splitting Preds defensemen Ryan Ellis and Roman Josi like a human torpedo, Sid nearly beat Pekka Rinne with a backhander that rang off the post.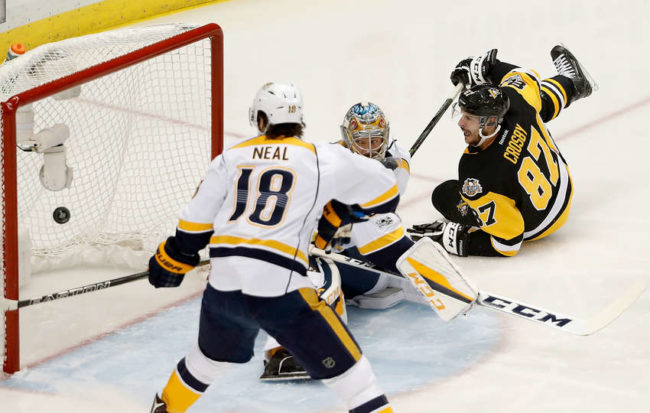 Equally determined, his linemates swarmed like bees around a hive, forcing Ellis to take a penalty. Moments later, Justin Schultz uncorked a seeing-eye blast from center point that rocketed between the legs of penalty killer Austin Watson and Rinne.
The roof nearly blew off PPG Paints Arena in celebration.
The Pens quickly padded their lead. Channeling former black-and-gold great Larry Murphy, Trevor Daley found Chris Kunitz with a beautiful bounce pass off the glass. "Kuny" slipped the puck to Bryan Rust, who buried a top-shelf backhander to make the score 2-0.
In a pattern reminiscent of Game Three, the momentum slowly began to swing in favor of the Preds. James Neal flattened Ian Cole near the eight-minute mark and promptly tested Matt Murray twice from in tight. The Pens' goalie held firm.
The period appeared to be drawing to an uneventful conclusion when Evgeni Malkin struck for a lightning bolt of a goal with 10 seconds left. Ron Hainsey, who earned a well-deserved third star, sprang Phil Kessel with a long lead pass. Toying with the puck in one-on-one fashion against Preds forward Viktor Arvidsson, "Phil the Thrill" bought time and space for an onrushing Malkin at the left faceoff dot. On a shot eerily reminiscent of his goal in Game Two, "Geno" beat Rinne with a blistering drive to send the shell-shocked Preds to the locker room down 3-0.
His club clearly in distress, Nashville coach Peter Laviolette elected to replace Rinne with Juuse Saros to begin the second period. The 22-year-old Finn was afforded the same rough treatment as his countryman. Barely a minute into the frame, "Sid and the Kids" scored off a classic figure-eight cycle, with Conor Sheary doing the honors.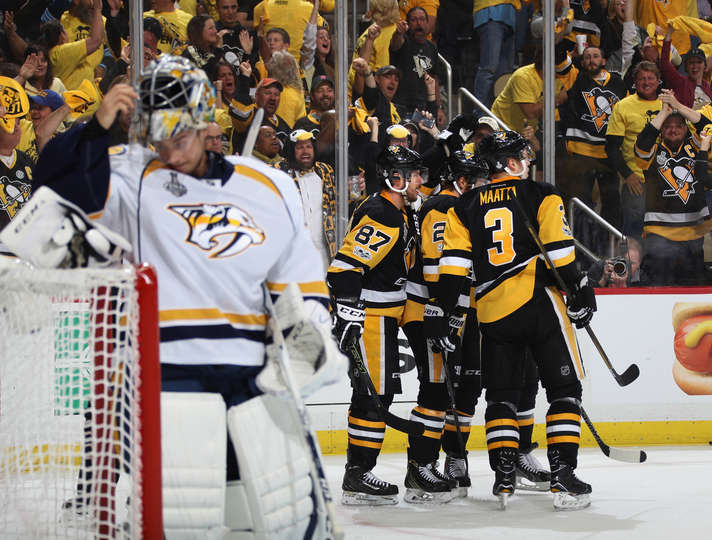 That, ladies and gents, was pretty much all she wrote. Kessel converted midway through the period off a beautiful set up from defenseman Olli Maatta, his first goal in seven games. Hainsey capped off a gorgeous passing sequence with Malkin and Kessel at 16:40 to close out the scoring.
Displaying a surprisingly feisty edge, the Pens withstood a predictable physical assault by the Preds and even dished out some lumps of their own. Kunitz destroyed Mattias Ekholm with a bristling body check behind the Nashville net seven minutes into the second period and fought Yannick Weber late in the game. Malkin flexed his muscles, too, pile driving Josi into the ice during a third-period scuffle.
As the final seconds of a delicious victory drained from the clock, the faithful stood in unison and chanted "We Want the Cup."
Gave me goosebumps just watching it.
Stand by Your Man
In the wake of a pair of tough losses in Nashville, Pens coach Mike Sullivan elected to stand by his man. Resisting the urge to switch to Marc-Andre Fleury, who'd sparkled earlier in the playoffs, "Sully" named Murray as his Game Five starter.
His faith was duly rewarded. "Muzz" made 24 saves in a redemptive performance. The Thunder Bay native became only the third rookie goalie in NHL history to record a shutout in the Stanley Cup Final, behind Patrick Roy and Cam Ward.
Sid Settles a Score
In addition to his sterling three-point effort, Crosby extracted a pound of flesh from noted thorn P.K. Subban. After the two collided behind the Pens' net late in the first period, Sid fell to the ice atop his tormentor.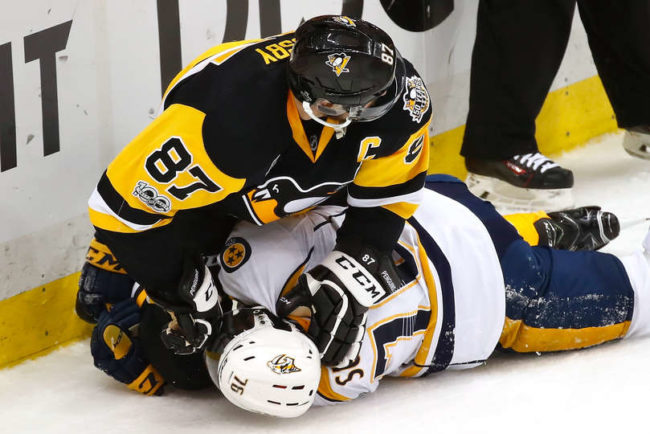 Stick wedged beneath the mouthy defenseman, Crosby took advantage of the opportunity to deliver a little frontier justice, forcefully grinding Subban's head into the ice. As the antagonists clambered to their skates, the Nashville defender returned the favor by applying a headlock. Both landed in the sin bin.
"He had it coming," said NBC analyst Mike Milbury, noting that Subban had needled Sid mercilessly in Games Three and Four.
To his credit, Subban took his comeuppance in stride. When questioned about the incident, he replied, "It's hockey, man."
Oh Ye of Little Faith
Three days ago, an anonymous commenter to PenguinPoop chided me for expressing doubts about our Pens. I snapped off a rather churlish reply, stating that I had every right to be concerned.
Well, Anonymous, I'm happy to admit that you were absolutely right about our guys and I was wrong. Displaying a ton of character, the Pens came up with a huge, big-time effort, just as you said they would.
I tip my hat.
Still, being a soul of caution, I'm compelled to mention that back in '09, the Red Wings blasted us, 5-0, in Game Five to take a 3-2 series lead.
Call it a warning. Don't count your Cups before they're won.
Puckpourri
Nashville held the edge in most statistical categories, including shot attempts (50-37), faceoffs (28-27) and hits (41-37). Each team registered 24 shots on goal.
Kessel (a goal and two assists) and Crosby (three assists) paced the Pens' attack with three points apiece. Malkin and Hainsey each registered a goal and an assist. Geno, the No. 2 star behind Sid, led all black-and-gold skaters with five hits.
The Pens' defense collected five points on the evening, including goals by Hainsey and Schultz. Nashville played much of the game with five defensemen after Ellis suffered an apparent hip injury.
Scott Wilson returned to the lineup following a one-game absence, replacing Josh Archibald. Nick Bonino sat out his third game in a row with an ankle injury.
*Be sure to check out Rick Buker's books,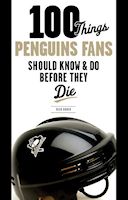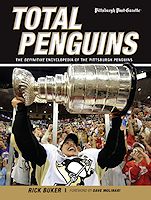 available at TriumphBooks.com, Amazon.com, and BarnesandNoble.com