Say this for our Penguins. They're consistent.
While Columbus charged out of the starting gate in Game 4, snorting and blowing like the proverbial bull in search of a china shop, the Pens once again seemed content to shuffle along like their Antarctic namesake. Hoping, no doubt, to overtake the Blue Jackets in tortoise vs. the hare fashion, as they'd done in Games 1-3.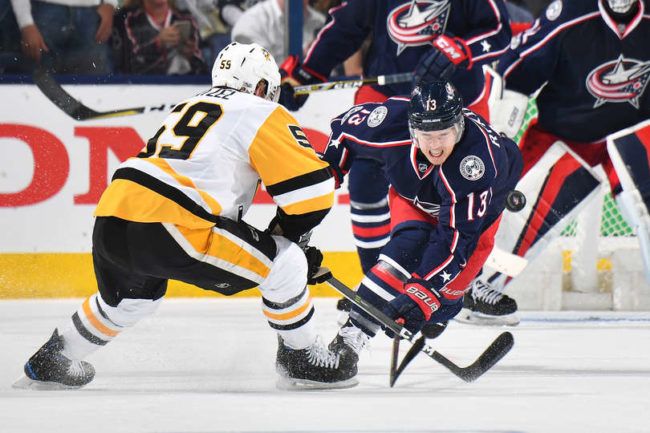 This time the formula didn't work. Although the Pens pulled to within one on a late tally by rookie scoring sensation Jake Guentzel, they weren't able to play catch up this time around.
"It's hard to score your way through the playoffs," noted Pens coach Mike Sullivan following last night's 5-4 loss. "You've got to play the game the right way. You've got to defend. You have to make good decisions. You have to be hard to play against. I don't think we were as committed tonight as our team is accustomed to."
Indeed, the Pens produced a surprisingly sloppy, ragged effort. The type that won't result in postseason success of any kind, let alone another Stanley Cup.
Playing mostly in spurts, the black and gold struggled to possess the puck and establish any significant zone time in the Columbus end. Passes were anything but crisp and sure. With the exception of an all-too-brief surge following a Ron Hainsey goal four minutes before the second-period horn, the legs weren't there, either.
In short, it wasn't our night.
Credit the Blue Jackets. Deserving winners, they played a strong all-around game. They kept us off balance and pressured our defense with their patented heavy forecheck while activating their own 'd'—remarkably effective in the wake of a gruesome season-ending injury to talented puck-mover Zach Werenski.
His replacement, rookie Markus Nutivaara, played particularly well, notching the third Columbus goal and assisting on Boone Jenner's game winner at 5:37 of the final period. Ditto ex-Red Wing and Devil Kyle Quincey, who supplanted Scott Harrington and made his presence felt with four hits and a game-high four blocked shots.
A tip of the cap to Blue Jackets coach John Tortorella, too. "Torts" pushed all the right buttons. He made crucial personnel adjustments, none savvier than inserting Lukas Sedlak on the Jackets' revitalized fourth line. A key possession driver and all-around nuisance, Sedlak—recovered from a shoulder injury—helped Columbus dominate in the faceoff circle, winning all six of his draws.
Tortorella even went against the series grain, deploying a 2-1-2 trap in the closing minutes to clog the neutral zone. The move succeeded in slowing the Pens' attack until Sullivan pulled goalie Marc-Andre Fleury in the late stages for an extra skater.
Searching for positives? Courtesy of earlier efforts, our guys still hold a sizeable 3-games-to-1 stranglehold on the series. The venue shifts to the comfy confines of PPG Paints Arena for Game 5, where the locals forged a stunning 33-6-4 mark this season, counting the playoffs. And Columbus goalie Sergei Bobrovsky (.891 SV%) still looks a bit shaky.
The negatives? While no team wins 'em all, the Pens violated a cardinal rule. Never allow a dying foe—especially a tough one like Columbus—to wriggle off the hook. Which I fear the Pens did with their lukewarm performance.
Coupled with the fact that Tortorella seemed to hit on the right mix of players and tactics? The Blue Jackets could make some noise before all is said and done.
Serious noise.
Puckpourri
Phil Kessel paced the Penguins with three assists. He and Evgeni Malkin (two assists) finished the game a plus-2. Patric Hornqvist and Tom Kuhnhackl scored for the Pens, along with Guentzel and Hainsey.
Malkin leads all playoff scorers with eight points (2+6). Guentzel is tops with five goals.
Sidney Crosby and Conor Sheary struggled in Game 4. Sheary finished a minus-3 with two shots on goal. Sid (minus-2) was held without a shot on goal. Wearing a full shield to protect a facial injury, Nick Bonino was 2-9 in the faceoff circle.
On defense, Ian Cole and Justin Schultz each registered an assist. Trevor Daley and Olli Maatta both were minus-2.
Matt Calvert returned to the Blue Jackets' lineup after serving a one-game suspension. He assisted on William Karlsson's goal at 0:27 of the third period and finished a plus-two.
Columbus outshot the Pens, 34-31, and outhit them, 27-23. The Blue Jackets won 36 of 57 faceoffs, a 63 percent clip.
*Be sure to check out Rick Buker's books,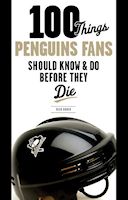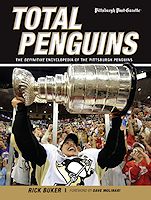 available at TriumphBooks.com, Amazon.com, and BarnesandNoble.com