It seems a local columnist has stirred up a lot of noise recently with rumors of a trade. My guess is that I really don't have to mention any names for anyone but the most casual of fans to know of whom I mean. Soon after that particular columnist article appeared, first CBS sports picked it up, then Yahoo Sports, and NHL.com. In the wake of that article Jim Rutherford was forced to publicly disavow the likelihood of any such trade. The media frenzy even caused the object of those rumors, Phil Kessel, to comment on them. Yet I am still seeing this trade rumor popping up, including one blog suggesting that Kessel is expendable.
If anyone has ever read anything I have written or heard me discuss any trades, they know I am not one of those types that feel there are players you should never trade. On the contrary, to use a sales axiom, I would even consider the chair I am sitting on is for sale for the right price. And I further recognize that there really aren't a whole lot of new, exciting things to talk about right now except trade rumor, at least until training camps open and we can start evaluating what the players are looking like. In fact, even I have proposed several trade ideas. So, the least I could do in all fairness is examine the trade.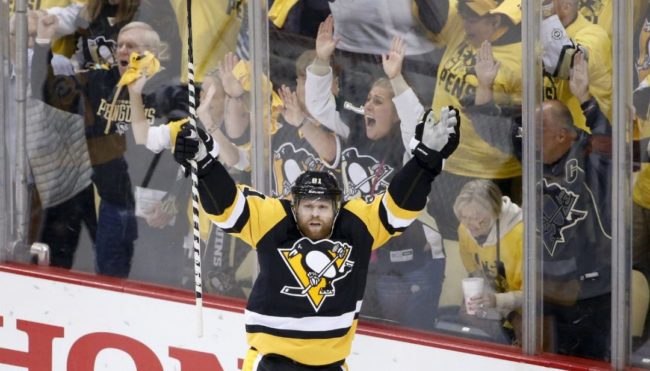 Over the past two regular seasons Kessel has not missed a game; a rarity indeed on a team that has players dropping like flies. He has scored 49 goals 80 assists and 129 points; all top marks for Pens Right Wings. His 49 goals represent nearly 40% of all goals scored by Penguin Right Wings.
Those numbers are also good enough for the 5th best mark among RWs in the league, only behind Patrick Kane, Blake Wheeler, Nikita Kucherov, and Vladimir Tarasenko; not bad company.
Kessel's playoff performance over the past 2 years puts him in a class by himself, over these last two years when talking about Right Wings. Without going back over all the numbers that another writer brought up here on this site, the next closest Right Wing to Kessel has less than half the number of points he has and even his P60 statistics are tops among players with more than 20 playoff games over the last 2 years.
What seems to me to be laughable was one particular on-line article I read where the author of that article tried to suggest that Bryan Rust, Tom Kuhnhackl, Josh Archibald, Carter Rowney, Ryan Reaves and Conor Sheary were roughly equivalent to Kessel. Yes the Penguins are overloaded with Right Wings but only Patric Hornqvist can be thought of as anywhere near equal to Kessel.
Who knows what some of these players will look like in training camp, let alone what the team will be looking like at the trade dead line. Maybe Daniel Sprong will show the same type of scoring prowess that Kessel has, but no veteran player has. If Sprong does show that pedigree, certainly Kessel's value to the team will depreciate and trading him may start to make more financial sense.
However, even if Sprong and Zach Aston-Reese force their way on to the NHL roster, the more likely trade bait at the trade deadline still would not be Kessel. To make a trade the Penguins would need to find a team that is interested in acquiring a Right Wing, then that team would need to be able to not only afford Kessel right then and there, but for several more years down the road. Next the team would need to either be acceptable to Kessel or one of the teams that his limited no trade contract would allow.
A more tradable Right Wing, should Sprong and Aston-Reese show they are NHL ready, would be Hornqvist. He is a made to order rent-a-player. His contract ends at the end of the season and is fractional compared to Kessel's. Teams looking for a Right Wing for a playoff run would be more attracted to Hornqvist
Please do not misunderstand me, I am not looking to trade either player; just pointing out some of the gaping holes in all of the trade rumors talk instigated by a sports columnist who may not really have thought too deeply about what he was writing. I do feel that all players are tradable at the right price but Kessel's value to this team is probably higher than any team would be willing to pay.