This is the off-season. Not much is really going on around the league, nor have the Penguins done much either. However, that doesn't mean that there is nothing to talk about. With little else to do many people talk about the "what ifs" and the possible moves a team could make.
So it is with our boys of winter; the Great Third Line Center debate goes on.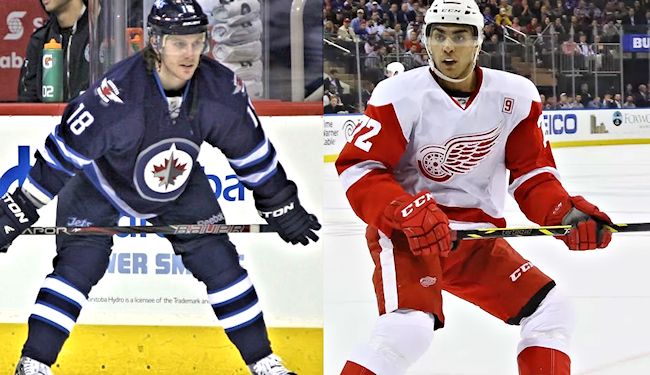 While fastidiously sifting through all the hockey news, rumors and other opinions, on-line or in print, I came across a couple of new names thrown on the fire of this debate; Bryan Little of Winnipeg and Andreas Athanasiou of Detroit.
I know, just because there are rumors, it doesn't mean anything is going to come of it. However, these two names do intrigue me. I am somewhat familiar with Bryan Little from when the Jets were the Thrashers in Atlanta. I had spent several years living in Atlanta before moving back to the 'burgh and got to see him play and practice fairly regularly. We used to skate at the Thrashers practice rink and my older boy took skating lessons there and played in their youth league for a season or two as well.
Little isn't young anymore, 29yrs, and he has been suffering from Penguin flu; he hasn't played 70 or more Games since 2014-2015. On the plus side he is not without a scoring touch. He topped the 30 Goal mark in his second season and has been a regular 20+ scorer. This past season he posted 21 Goals 26 Assists for 47 Points in 58 Games. That is not bad at all and should even get better with Sidney Crosby and Evgeni Malkin eating up the bulk of the opponent's attention.
Little is also no stranger to defensive situations; he has 7 career Short Handed Goals and 5 Short Handed Assists. And over the last couple of years, he seems to have developed into a pretty good face-off man with a Face Off Percent (FO%) of 51.3% and 55.6% in 2015-2016 and 2016-2017 respectively; taking over 1,000 FO in each of those seasons.
No, he is no Nick Bonino when it comes to shot blocking. In his career he has only blocked 220 shots; Bonino block over 160 in just two seasons with the Penguins, however, Bonino really only added offense in the stretch run and post-season.
So what is the cost of Little? The author of this particular article suggests that it would cost the Penguins a Defensemen, a Prospect, and a High Draft pick. In terms of money, the cost would be $5 mil in salary and a $4.7 mil cap hit. Little also has a modified No Trade Clause (NTC), meaning the Penguins would need to be on his list of teams he would accept a trade with or that he would waive the NTC. Furthermore Little is in the last year of his contract and at his age he will be an Unrestricted Free Agent at the end of the season. The Penguins would need to resign him or lose him at the end of the season.
I am not going to lie, I do like Little or at least I did back in my days in Atlanta. I thought he was going to develop into a decent Center and he did. In terms of cash/cap hit he is very similar to what Tyler Bozak would cost the Penguins, but I think he brings more to the table. However, I don't know that I would give up a Defenseman, a Prospect, and a High Draft Pick.
Athanasiou, to me is the more interesting name here. I must confess here that I really paid little attention to him so far in his career, so I had to do a little research on him. He is still young, only 22yrs old, 6'-2", and 188lbs. In his two NHL seasons in Detroit he has scored 27 Goals and posted 16 Assists, his +/- is –6, his Shooting Percentage is a respectable 15.6% in a 101 Games.
The scouting reports on him say he has the speed and hands to be dangerous. However, the reports I read were not quite as glowing on his defensive work, in a creative writing master piece the reports read that defensively he needs to work on his consistency. However, considering his age, that should not be a surprise. His CORSI numbers aren't all that good 48.9% in his first 101 NHL Games. But then again, as good as Bonino was defensively, his two-year CORSI numbers were only 48.6%, effectively the same.
What intrigued me most here was considering the "what ifs" of putting Athanasiou along side Carl Hagelin and Phil Kessel. The author who suggested these players asked to consider what Little would look like with Kessel, but I think Athanasiou is the more interesting. Yes, there would be a high risk playing a young kid with a more offensively minded Kessel but then again Kessel's CORSI numbers are better than Bonino's. Kessel's CORSI numbers over his 2 seasons in Pittsburgh are 50.9%.
Athanasiou certainly wouldn't be learning much about defense from Kessel but then again, the high reward of putting Athanasiou with Kessel may mean very little defensive zonetime.
If the Penguins were to acquire Athanasiou, I would think that it would be even more important for Jim Rutherford to talk Matt Cullen into playing one more year to try and teach Athanasiou how to be more defensively responsible. Maybe he could also teach him how to take a draw as well Athanasiou is roughly as ineffective as Malkin in the face-off circle only winning 44.6% of his draws.
I am not sure what it would take to get Athanasiou from Detroit; his 18 Goals in 64 Games last year suggest he wouldn't be cheap, Detroit may ask a fair amount for him. If there is enough pressure on the team to turn around quickly, it may be a little easier to get him but again it still wouldn't be all that cheap.
Another stumbling block would seem to be that Athanasiou, like Connor Sheary, is a Restricted Free Agent. With that in mind, I would suggest that this might be where the Penguins begin their packaging to acquire Athanasiou.
Do I think either of these two players are the answer to the Great Third Line Center Debate? Maybe, maybe not, just like playing the lottery when all the numbers look good until the actual numbers are drawn, all the names that are swirling around for third line center can be made to look good if you spin them the right way. Only after the season starts will we know if at least one of them, the one that Rutherford and Mike Sullivan choose to go with, will work out or not.
In the mean time the Great Debate goes on among all of the arm chair GMs.