In the wake of the Penguins weak home stand (2-3-0), GM Jim Rutherford was quoted as saying "We have a team that could've done better at this point." Following that admission, he then added, "We're coming to a critical period, where we'll make a decision whether we need to shake things up or not," and "We are at a point where we're slipping in the wrong direction. We have to watch that real close."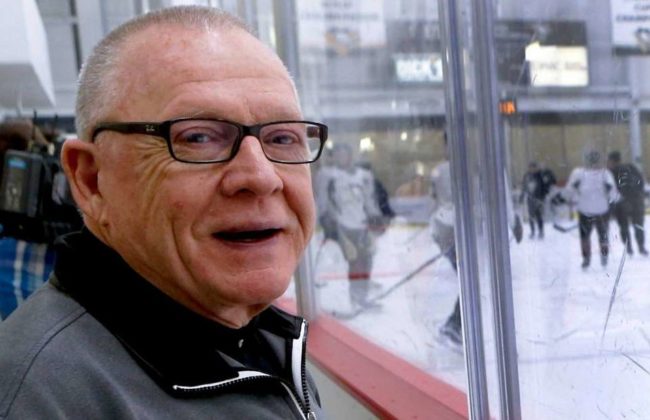 I know some may think that I am a bit of a reactionary this year. I have been banging the drums of change since pretty much early November while others have preached patience. It sort of reminds me of the Gambler; "You got to know when to hold'em, know when to fold'em, know when to walk away, and know when to run" (Thank you, Kenny Rogers). It can be easy for arm-chair GMs to throw out unsolicited advice, but it is a totally different story if we are the one(s) held accountable if wrong.
Even after the decision is made to make a trade, there comes the question of which position and/or player is the key to the puzzle and which cards/assets are expendable, at least in context of who the team is getting in return.
In the interview that I quoted above, Rutherford echoed the sentiments of many of you Penguin Poop readers that a true quality 3rd line Center who could provide the kind of offense that Nick Bonino and John Cullen gave us should head the list. While Riley Sheahan has been finding his name on the score sheet lately, the Penguins third line really hasn't been that big of a threat to cause any real match up problems for other teams. Opposing teams can focus their best defense on the top 2 lines, making it all the harder for those 2 lines to find the range as well. In fact, the lack of respect being shown the Penguins bottom 6, with regards to their scoring ability, may be the only reason Sheahan has been picking up points lately.
Perhaps our Penguins do have the answer for next year. During the prospect tournament Jordan Bellerive took the team by storm He came to the prospects camp and impressed the organization enough to earn himself a contract. Also, he apparently is lighting it up right now in Lethbridge (17 goals and 23 assists in 30 games). Maybe the team could conceivably get away with a rent-a-Center. Unfortunately, right now, the team needs that Center.
On the minus side for Bellerive, he too is a diminutive player at only 5'-10". He is also only in the Juniors and not really available this year. Furthermore, as fun as it is to look at his numbers so far this year, they may not really translate into NHL numbers.
Like many of you readers (and apparently Mr. Rutherford), I would like to see more production out of the bottom 6 centers. After all, the center is the center of the play making. Wingers are important but they need that lynchpin. The Penguins are blessed enough on the Wings, particularly Right Wing, but with the way Dominik Simon is playing, if he can continue, they may also have some only now tapped Left Wing depth too. In the end though, if those Wingers do not have a Center capable of getting them pucks, the bottom 6 will still find rough going.
However, I would also suggest that the team needs, emphasize needs, to do more than fill an inside straight, they need to draw at least 2 new cards to get a winning hand. Not only do they need a center, they still need a Defenseman who can clear his own crease and strike a little fear into opposing forwards, cruising through the Penguins zone. Watching players like the Islanders' Anders Lee crashing into Tristan Jarry with impunity a couple of games back was sickening. And then the next game to see—was it Tyler Bozak?– banging away at Jarry, a lá Patric Hornqvist, until he knocked the puck into the net should be a wake-up call for the need of a Defenseman who will knock these players on their wallets.
Perhaps, here again, the answer may be in the system, if the team is willing to make the move. There are a couple of Defensemen down in Wilkes Barre – Scranton (WBS) big enough to fill this role; Andrey Pedan and Jarred Tinordi, and Pedan has shown the inclination to do just that. Neither of these players have been able to crack an NHL line-up for other teams, but they are still pretty young for Defensemen and they may just not have fit those teams. Here in Pittsburgh, where the team is loaded with smaller puck moving Defensemen, a more bruising style may be the perfect compliment. You never know if you don't try.
And if the team takes a look now, they will still have time to make a trade later.
Regardless of how the Penguins address their defensive concerns about a lack of physical presence in their own zone, this area does need to be addressed if they truly want to try for a 3-peat.
I really don't envy you Mr Rutherford; it is great when you make the right decisions and are the hero but when you don't make the right call you are the goat and sometimes people forget when you made the right call. It really isn't easy to know when to hold'em and when to fold'em.
Odds and Sods
WBS seems to be back to their winning ways; Daniel Sprong is rolling again. He had 2 goals last night, including the game winner as the Baby Penguins beat Springfield 6 -3. Sprong's 2 goals give him 14 for the season.
Zach Aston-Reese had 3 assists during the game to give him 10 in 22 games. Aston-Reese also seems to be providing a physical presence up front with 40 PIM. Defensively, he would also appear to be playing responsibly, his +/- is +9.
Andrey Pedan also had a solid game for our Farm associates; he opened up the scoring with his second goal of the season and picked up an assist, giving him 2 goals and 9 assists in 21 games. The big Russian blue-liner also has spent 33 minutes in the Sin-Bin.