Here's a glance at how former Penguins are faring around the NHL heading into the New Year. Stats are updated for games played through January 1.
Leading the pack in scoring are Vegas forwards David Perron (30 points) and James Neal (27). Carolina's Jordan Staal is third with 22 points, one ahead of New Jersey forward Brian Gibbons and Kings defenseman Jake Muzzin.
Neal paces the Penguins' alum with 17 goals, followed by Gibbons (12) and Staal (10). Washington defenseman Matt Niskanen leads the former Pens with a plus-15, with Gibbons next in line at plus-12.
Among the rearguards, Muzzin tops the list with 21 points, followed by Arizona's Alex Goligoski (20) and Ron Hainsey (16) of Toronto.
Other notables include Derrick Pouliot (Vancouver) with 11 points and Chris Kunitz (Tampa Bay) with 10. Nashville's Nick Bonino and Minnesota's Matt Cullen have eight points apiece. Jaromir Jagr has one goal and seven points in 22 games for Calgary. Trevor Daley has six points, including a pair of goals, for Detroit.
After missing significant time with a concussion, Marc-Andre Fleury (Vegas) leads the expatriate goalies by a wide margin in goals against average (1.96) and save percentage (.938).
SCORING
Player
Team
Pos
GP
G
A
PTS
PIM
+/-
David Perron
VEG
LW
31
9
21
30
30
7
James Neal
VEG
LW
37
17
10
27
18
4
Jordan Staal
CAR
C
38
10
12
22
14
2
Brian Gibbons
NJD
C
38
12
9
21
10
12
* Jake Muzzin
LAK
D
39
3
18
21
24
7
Alex Goligoski
ARI
D
41
4
16
20
16
-18
Mark Letestu
EDM
C
39
8
8
16
8
-12
Blake Comeau
COL
LW
38
7
9
16
22
1
Ron Hainsey
TOR
D
40
3
13
16
14
7
Deryk Engelland
VEG
D
36
3
9
12
14
8
Matt Niskanen
WSH
D
27
3
8
11
14
15
Derrick Pouliot
VAN
D
36
2
9
11
8
-10
Chris Kunitz
TBL
LW
38
5
5
10
23
4
Daniel Winnik
MIN
LW
39
3
7
10
19
1
Dominic Moore
TOR
C
31
4
5
9
10
1
Nick Bonino
NSH
C
27
6
2
8
10
-6
Matt Cullen
MIN
C
38
2
6
8
12
-11
* Joe Morrow
MTL
D
23
3
4
7
18
-3
Jaromir Jagr
CGY
RW
22
1
6
7
10
6
Trevor Daley
DET
D
36
2
4
6
20
-11
Brandon Sutter
VAN
C
23
2
4
6
4
0
Jussi Jokinen
EDM-LAK
LW
30
1
5
6
6
-2
Robert Bortuzzo
STL
D
38
1
4
5
29
-1
Brooks Orpik
WSH
D
40
0
5
5
41
-5
Ben Lovejoy
NJD
D
17
1
3
4
8
4
Taylor Chorney
WSH
D
22
1
2
3
6
7
Oskar Sundqvist
STL
C
29
0
3
3
12
-3
Chris Thorburn
STL
RW
23
0
3
3
17
-4
* Kasperi Kapanen
TOR
RW
6
2
0
2
0
0
Josh Archibald
PIT-ARI
RW
8
1
1
2
15
-4
Scott Harrington
CBJ
D
18
1
1
2
8
-1
Adam Clendening
ARI
D
5
0
2
2
2
-1
* Kenny Agostino
BOS
LW
5
0
1
1
4
-1
Mike Condon
OTT
G
14
0
1
1
0
0
Antti Niemi
PIT-FLA-MTL
G
9
0
1
1
0
0
Scott Wilson
PIT-DET-BUF
LW
28
0
1
1
0
-2
Beau Bennett
STL
RW
6
0
0
0
0
-2
Eric Fehr
TOR
C
4
0
0
0
2
-1
Marc-Andre Fleury
VEG
G
9
0
0
0
0
0
Tanner Glass
CGY
LW
7
0
0
0
5
-2
Thomas Greiss
NYI
G
19
0
0
0
0
0
* Chad Johnson
BUF
G
13
0
0
0
0
0
Paul Martin
SJS
D
3
0
0
0
0
-4
Jayson Megna
VAN
C
1
0
0
0
0
0
* Matt Moulson
BUF
LW
14
0
0
0
2
-9
Cal O'Reilly
MIN
C
1
0
0
0
0
0
Mark Streit
MTL
D
2
0
0
0
0
-2
GOALTENDING
Player
Team
GP
GA
SH
AVE
SV%
W-L-OT
Marc-Andre Fleury
VEG
9
18
1
1.96
.938
7-1-1
Mike Condon
OTT
14
39
0
3.29
.899
3-5-4
* Chad Johnson
BUF
13
43
0
3.78
.881
1-6-3
Thomas Greiss
NYI
19
65
0
3.82
.884
9-5-2
Antti Niemi
PIT-FLA-MTL
9
29
0
4.85
.865
0-5-1
Italics—Draft pick or free agent who began his NHL career with the Penguins
Asterisk—Draft pick who didn't appear in a regular season or postseason game for the Penguins
*Be sure to check out Rick Buker's books,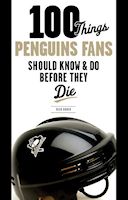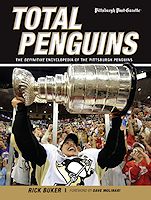 available at TriumphBooks.com, Amazon.com, and BarnesandNoble.com