When I learned Jaromir Jagr had passed through waivers last week and returned to his native Czech Republic—effectively ending his NHL career—I started to tap out some memories as a comment to an earlier post. As the recollections came flooding back, I decided to pull my comments and honor 'Jags' with a full-blown post. My timing's a bit off, but better late than never.
Most fans, the younger ones especially, probably don't remember Jagr as a Penguin. They likely recall the post-KHL version of the past few seasons…the hulking guy with a shock of dark, curly hair (and sometimes salt-and-pepper beard) who was tough to play against down low, kind of like a big center in basketball posting up.
Folks, you shoulda' seen him when he was young. Jagr was…in a word…brilliant. In my humble opinion, he was a shade below Mario Lemieux in terms of ability and impact. Perhaps not as technically skilled as Sidney Crosby, but more dynamic. Kind of a souped-up version of Evgeni Malkin.
When he first came into the league as a mullet-topped 18-year-old back in 1990-91, he showed tantalizing flashes of the monster player and record-setter he'd eventually become. Even then, he lugged the puck like nobody else…often with one or two guys hanging on him. He could skate for a big man and possessed incredible balance and strength, thanks in part to his huge legs and glutes.
Yet early on, Jagr had one great flaw. Like many Europeans, he tended to shoot almost exclusively from the backhand, which made him somewhat predictable. Determined to improve, he spent many hours after practice, honing his soon-to-be lethal wrist shot under the tutelage of then-Pens assistant Rick Kehoe.
In terms of style, there were striking similarities to Lemieux, whom Jagr idolized. Each possessed a mouth-watering array of attributes—size, strength, skill, power and deception. Jagr, whose first name was an anagram for 'Mario Jr.', no doubt learned a lot by watching his teammate and mentor.
There were dramatic differences as well. While each seemed spontaneous, Lemieux's brilliance was more calculated, based on his extraordinary vision and hockey sense.
"He just holds the puck out there on his forehand and dares you to commit yourself," said Raymond Bourque, one of hockey's all-time great defensemen. "If you do, he slips it past you, and if you don't, he controls the blue line and has time to make the play."
Jaromir was more raw, instinctual.
"He reminds me of Maurice (Rocket) Richard," said Hall-of-Fame coach Scotty Bowman. "They both played the off wing and had so many moves. I don't think either of them knew which moves they were going to make until they did them. Totally unpredictable."
As charismatic as he was dynamic, for a time Jags held the Penguins' faithful in the palm of his hand like few other players before or since. Deeply emotional, he also was given to fits of brooding and petulance, which ultimately diminished his standing among teammates and Steel City fans and set the stage for his untimely departure in 2001.
Still, warts and all, I've never seen a more electrifying player, one-on-one, than No. 68. As a farewell, I'll share my top two Jagr moments…you can watch them on YouTube.
April 5, 1991 vs. New Jersey (Game 2: First Round)
It's a must-win game for the Pens, who trailed New Jersey 1-0 in the series. Nine minutes into overtime, Jagr took a pass from Phil Bourque as he crossed the blue line and fought through a check by John MacLean without breaking stride. MacLean then grabbed Jagr as he cut below the right circle, but No. 68 broke free and glided through the crease. Displaying impressive patience for one so young, Jags forced Devils goalie Chris Terreri to commit and snapped the puck home for the game winner.
May 26, 1992 vs. Chicago (Game 1: Stanley Cup Final)
With less than five minutes remaining and the Pens down by a goal, Jagr picked off an outlet pass high in the Chicago zone. Dangling the puck like a carrot on a stick, he eluded Brent Sutter along the boards and skated through the left circle, turning countryman Frantisek Kucera inside out with a dazzling, lunging move. Then he slipped past defenseman Igor Kravchuk and beat goalie Ed Belfour—who seemed spellbound—with a backhander through the five hole to tie the game.
Lemieux called it the greatest goal he'd ever seen.
*Be sure to check out Rick Buker's books,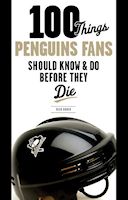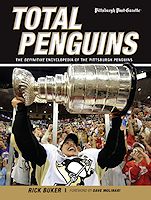 available at TriumphBooks.com, Amazon.com, and BarnesandNoble.com