I was going about my business last Tuesday when a good friend, Tom Blanciak, reminded me that it was the 44th anniversary of one of the most epic games in Penguins history. Given that it's All-Star weekend and there isn't a whole lot to write about, I thought I'd take a trip down memory lane. So step into the WABAC Machine with me and enjoy the ride!
The NHL was a far different place in 1974 than it is today. There were only 16 teams, separated into two divisions—the East and West. Most players were Canadian and had come up through the junior hockey ranks. Many hailed from small towns and farms, where they endured numerous hardships. Not surprisingly, the league reflected their hardscrabble roots.
The 1973-74 season marked the dawn of a particularly lawless era, dominated by hit squads like Boston's 'Big, Bad Bruins', Philadelphia's 'Broad Street Bullies', and the equally nasty St. Louis Blues.
From the start the Penguins-Blues rivalry was a heated one, strewn with bench-clearing brawls, wild melees and rivers of bad blood. During a particularly venomous game on April 4, 1971, Pens goalie Al Smith—no shrinking violet—battled St. Louis swashbuckler Bob Plager. As the battle intensified, Smith told Plager, "I'll be back," skated to the bench to dump his pads and equipment, and returned to center ice to re-engage his nemesis.
Thus, it was no great surprise when the lid blew off of a preseason game at Brantford, Ontario on September 29, 1973. Although the Penguins won the game, they lost the war. Stocked with a veritable rogue's gallery of marauders, the boisterous Blues pounded their smaller, less combative adversaries in battle after battle, with wild man defenseman Steve Durbano destroying spunky but overmatched Pens policeman Bryan 'Bugsy' Watson in the main event.
The game set the tone for the upcoming season. Although a reasonably talented bunch that featured scorers like Syl Apps, Lowell MacDonald and Jean Pronovost, the Pens were easily bullied. They plummeted toward the bottom of the West Division standings.
With fan support dwindling with each passing game and finances a constant concern, owner Tad Potter fired GM Jack Riley on January 13, 1974, and replaced him with long-time assistant Jack Button.
The new GM wasted little time. Acutely aware of his team's shortcomings, Button sent Watson and former All-Star winger Greg Polis to St. Louis on January 17 for skilled defenseman Ab DeMarco, left wing Bob 'Battleship' Kelly and…of all people…Durbano. Later that day he acquired giant defenseman Ron Stackhouse from Detroit for goalie Jim Rutherford.
The effect was immediate. Transformed in an instant from timid underachiever into a club with some bite, the Pens whipped Vancouver, 6-2. Displaying a flair for the dramatic, Durbano punctuated the win with a goal and a lopsided win over the Canucks' Dave Dunn, breaking his foe's beak with a roundhouse right. Two nights later—with 'Demolition Durby' serving a one-game suspension and Kelly riding shotgun—the Pens thumped the Flyers, 5-3, in Philly.
"You can play this interview in their locker room," boasted Kelly, who wasn't nicknamed Battleship for nothing. "I don't care. I'm not afraid of anyone."
As fate would have it, the Pens came home to face the hated Blues. Predictably, tensions escalated as the bitter rivals prepared for battle. The Blues hinted at bringing up slugger John Wensink from their AHL farm club. The Pens countered by claiming they'd summon forward Steve Andrascik, reputed to have beaten Wensink in a fight.
Anticipating fireworks, a then-record throng of 13,324 jammed the Civic Arena to witness the proceedings. They didn't have long to wait.
During a stop in play early in the second period, a donnybrook erupted. While Kelly squared off with Barclay Plager, Durbano swapped punches with Bob Gassoff, a tousle-haired defenseman with a fearsome reputation who'd replaced him as the Blues' chief enforcer.
According to an account in the Beaver County Times, Durby schooled his young protégé.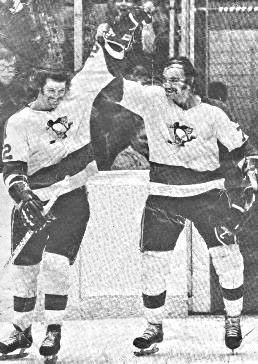 "I don't think Gassoff landed too many punches," Durbano told a reporter after the game. "But I know I sure did."
"That fight?" Kelly chimed in. "Are you kidding me? It's a good thing the glass wasn't a little lower or Stevie would have thrown that goon into the stands."
Sparked by the fights, the Pens won, 4-1. Named co-number one stars—a first in franchise history—Durbano and Kelly emerged side-by-side from the runway leading from the locker room. Flush with emotion in a shared moment of glory, Durbano grabbed Kelly's sleeve and hoisted his pal's left arm in triumph.
The crowd went wild. Tough hockey had, at long last, arrived in the Steel City.
So had two new heroes.
*Be sure to check out Rick Buker's books,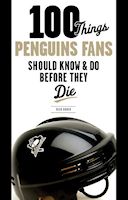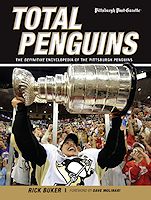 available at TriumphBooks.com, Amazon.com, and BarnesandNoble.com