The Penguins ended their West Coast road trip with a 2 – 1 loss to the San Jose Sharks. They went 1 – 2 on the road trip. Truth be told, even though the Penguins didn't play perfect hockey, the offense, backed by rookie Goalie, Casey DeSmith, did play well enough to win.
However, there were actually 2 teams on the ice last night and the Sharks Goalie Aaron Dell, with the help of some good defensive positioning team "D" played better; Dell rejected 31 of 32 shots, while the skaters in front of him block 28 shots by the Penguin shooters. San Jose's "D" didn't always exit their zone very well (giving up a total of 78 shot attempts; 32SOG, 28Blks, plus 18MSs by the Penguins), but they did get into the shooting lanes.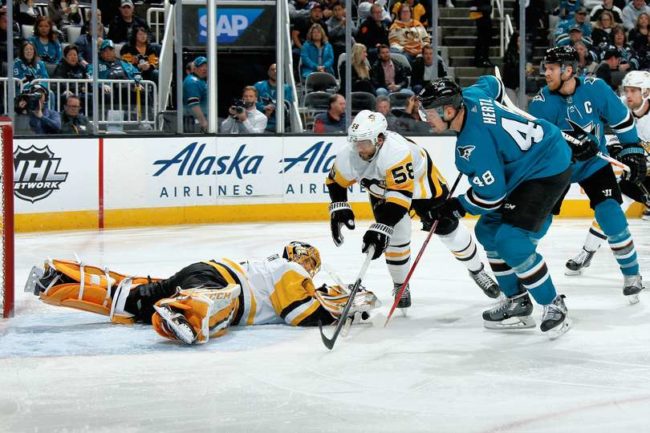 So, even though the Penguins did have a losing road trip, ending it with a loss, they need not hang their heads. There were some bright spots and some highlights to the game last night:
• 78 shot attempts
• Casey DeSmith had another solid game between the pipes stopping 34 of 36 shots.
• The "Big Rig" Jamie Oleksiak was a physical force out there on the ice. He dished out 7 of the team's 21 hits.
• Jake Guentzel made a spectacular save/blocked shot in the closing seconds of the game, in front of an empty, with DeSmith on the bench in favor of an extra-attacker.
In the end, I was not all that disappointed in the play of the players as a whole, on the ice. So, I am seeing a glimmer of hope that our Penguins do still have a reasonable chance of getting the opportunity to defend their title this April. Watching the game progress and then wind down, I still cannot help but think if there is blame to be laid upon the Penguins, this game was lost by the coaching staff. More precisely, the coaches' line-up decisions.
Reading across some newer, advanced stats discussing player's effectiveness at clearing their own defensive zone, it was shown that Matt Hunwick is pretty much near or at the bottom of the team when it comes to this. During this game against the Sharks I counted 6 times in which I saw Hunwick standing still (not Skating) with the puck during breakout attempts (there may have been more).
First of all, watching this, it doesn't come as any surprise to me that he occupies the bottom portion of the team in his zone exit stats. Since Hockey is a game of skating, it will always be easier to defend and break up all plays, including break-outs of teams that have to stop skating to look the scene over.
Second of all, with the amount of times I see Hunwick standing still, I have to wonder how some people consider him a good puck moving Defenseman. Hunwick doesn't skate the puck out of his zone. He stands there looking over the fore-checkers, and he has such a horrible zone exit stat. By definition, if you can't move the puck out of your own zone you are not, repeat, NOT a good puck moving Defenseman.
It is well past time to give Hunwick press box time. If Mike Sullivan truly doesn't like Ian Cole (I can see why, Cole's zone exits are about as bad as Hunwick's), start trying guys like Andrey Pedan and Jarred Tinordi while trying to trade for that serviceable Defenseman. If Pedan or Tinordi do work out, then great, stop looking for one. If neither works out, let's face it, they really won't do to much worse than Hunwick.
To repeat a response I made to one of our more frequent commenters here on previous posts, my vote would be to try Pedan first. (Keep in mind I don't get a vote!) Although I haven't really seen him play, scouting reports say he is a good skater and has good offensive skills. He also is having a pretty good defensive year down in Wilkes Barre Scranton WBS (He is +12 right now). And he is very big (6'-5", 215 lbs according to WBS's official site) with a mean streak (407 PIM in 214 AHL games).
Furthermore, I would pair Pedan with Kris Letang. Opposing teams are always trying to take runs at Letang. I would be willing to bet that with Pedan out there, paired with Letang, many of those players would reconsider trying to take runs at the Penguins' 2018, Metropolitan Division, All Star Defenseman. I am not saying it would stop them all, there will always be the true cement-headed goon out there, until the league truly does start suspending players like Dustin Brown, but it should cause a significant drop in the dirty hits Letang is currently taking.
I also wonder, with the defensive stats and skating ability that the scouts allege Pedan has, maybe he could cover up more of those defensive guffaws that Letang has always had a penchant to make. To date the only player that I have seen that was ever really able to effectively mask that hole in Letang's game was Paul Martin.
The other glaring error in the Penguins line-up is Mike Sullivan's refusal to sit Conor Sheary. Yes, Sheary had a goal against the Sharks but that is just one game and if Sullivan truly wants to use Jean-Sebastian Dea as a 4th line Center and remove a Winger, Sheary should be the odd man out. Below is a head to head comparison of Sheary and Daniel Sprong during the 8 games that Sprong played.
| | | | | | | | |
| --- | --- | --- | --- | --- | --- | --- | --- |
| Name | G | A | Pts | +/- | SOG | S% | TOI |
| Sheary, Conor | 1 | 1 | 2 | -2 | 11 | 9.1 | 108:20 |
| Sprong, Daniel | 2 | 1 | 3 | 2 | 22 | 9.1 | 111:50 |
There isn't that big of a difference in Goals scored and Assists, but there is a 4 Goal difference in +/- and a 22 shot difference in Shots on Goal, with  Sprong getting the edge here.
| | | | | | | | |
| --- | --- | --- | --- | --- | --- | --- | --- |
| Name | G/60min | Pts/60min | MPD | SF | SA | Diff | % |
| Sheary, Conor | 0.55 | 1.11 | 1 | 98 | 81 | 17 | 53.85 |
| Sprong, Daniel | 1.07 | 1.61 | 3 | 114 | 67 | 47 | 66.67 |
In the Advanced Statistics, Sprong has a much more distinct edge. He scores way more goals per 60 minutes of ice time, gets more points, draws more minor penalties (MPD), and the team gets more Shot Attempts (SF) with Sprong on the ice while giving up far, far less Shot Attempts (SA). The SA is even more impressive when you look both at the difference in terms of raw numbers and consider that Sprong played more minutes.
| | | | | | |
| --- | --- | --- | --- | --- | --- |
| Name | Hits | Blks | MSs | Tk | Gv |
| Sheary, Conor | 3 | 3 | 4 | 3 | 4 |
| Sprong, Daniel | 9 | 4 | 8 | 0 | 2 |
Looking at what the NHL web site calls the Real Time Statistics, Sprong dishes out 3 times as many hits, Blocks (Blks) a little more shots and Gives (Gv) the puck away only half as often. Furthermore, the Gvs may not tell the whole story of how weak Sheary is on the puck. The NHL doesn't really record the number of times the puck is stripped off of a player and this happens a lot to Sheary. He is so small and light, opposing players toss him around like a rag doll and take the puck away from him like bullies on the playground stealing candies from babies.
The only category Sheary wins here is the TKs.  Even here, though, I have seen the puck taken right back off of his stick by the bullying opponents almost immediately after he got the steal.
If someone wants to argue that the 8 game time frame is a small sample size, well there is something to that position. The sample size may be a little weak. However, Sprong has only been allowed to play 8 games, this 8 game sample was against the same 8 opponents on the exact same nights (so the conditions were the same), and there really isn't a whole lot of room now, with only 33 games to play to get a better sample size if the Penguins truly want to have Guentzel play wing rather than Center, as Sullivan has suggested, to get a better sample size.
If the team truly wants a shot to defend their title in April, Sheary needs to sit and Sprong needs to play, at least until Bryan Rust comes back. There is no Objective evidence to support Mike Sullivan's decision to sit Sprong in favor of Sheary.