I admit. A month ago, I wouldn't have given a plugged nickel for the Penguins' chances of making the playoffs, let alone making any significant noise if they got there. After logging so many hard miles over the past couple of seasons, it truly appeared as if our boys were running on fumes. They'd simply played too much high-stakes hockey, crammed into too short a span to have anything left in the tank, emotionally, physically and psychologically.
In a way, they reminded me of an everyday Joe who, instead of getting ready for work on a chilly Monday morning, keeps hitting the snooze button on the alarm while staying burrowed beneath the sheets.
Then…seemingly out of nowhere…the Pens began to compete. There was a palpable rise in the team's focus and intensity, not to mention execution. It's almost as if our guys glanced at the calendar, saw that the second half had begun, and—like everyday Joe—decided to rise from bed.
Time to go to work.
Man, have they ever. Since a dismal 4-1 loss to Detroit on New Years' Eve that seemed to bring the final curtain down on any lingering Cup hopes, the Pens are on a 10-3 tear and gathering momentum with each passing game. Kinda like those nascent storms that soak up moisture over Lake Erie before dumping a lake-effect blizzard on poor Buffalo.
Put another way, crème always rises to the top. And the Pens possess a lot of crème.
Powered by the big three of Sidney Crosby, Evgeni Malkin and Phil Kessel, the Pens are scoring in bunches. During last night's 'chili game' destruction of arch-rival Washington, the "Three-Headed Monster" piled up nine points, including four goals.
With each anchoring a line in coach Mike Sullivan's favored fashion, they created matchup nightmares of hideous proportions for the overmatched Capitals. Roughly akin to battling Chucky, Jason and Freddy Krueger all at once. If one don't getcha, the others surely will.
Since being placed on separate lines—which coincided neatly with the beginning of our hot streak—the trio's been on fire. Skating between Swedish sidekicks Carl Hagelin and Patric Hornqvist, Malkin's piled up an astonishing 14 goals and 23 points in 13 games, an incendiary romp that earned him NHL First Star honors for January. 'Geno' hasn't dominated like this since the days of the 'Steel City Line.'
By comparison, Crosby's more than held his own. Flanked by rookie Dominik Simon and Conor Sheary (replaced last night by Bryan Rust) Sid's equaled his Russian counterpart in points, while compiling a nifty 11-game point-scoring streak. In the midst of a career season, Kessel has seven goals and 20 points during the black-and-gold's lucky 13-game roll.
It isn't just the stars who are shining. The Pens are getting the depth scoring so vital to a team's success. Virtually comatose for the better part of the campaign, Hagelin's awoken from the dead in a Lazarus-like bolt to tally three goals and 10 points over his last 10 games. Best bud Hornqvist has four goals in eight games. The ubiquitous Rust…three in his past two.
Riley Sheahan, maligned by some for his lack of offensive chops, has four assists in his past four games and seven points during the recent 13-game run. In all, he's totaled 18 points—six more than the guy he replaced, Nick Bonino.
Best of all, we're scoring at even strength. Since January 1, we've struck for 30 goals in 5-on-5 play, an average of 2.3 per game, compared to an average of 1.4 over our first 40. That's nearly a one-goal jump per game. All the while, the power-play has stayed piping hot.
The defense—notoriously uneven at best during our rocky first half—seems to be solidifying, too, especially since Ian Cole emerged from Sullivan's doghouse. In particular, Cole's steadying presence has enabled partner Jamie Oleksiak to take some risks and flash the latent offensive skills that prompted Jim Rutherford to acquire 'The Big Rig' from Dallas in what appears to be another in a string of extraordinarily savvy trades by the wily ol' GM.
My biggest worries? Goaltending, or more specifically, the lack of a go-to guy between the pipes, and depth at center. Any way you slice it, de facto starter Matt Murray's had a rough year…goodness knows how his dad's death has affected him. And we sure could use another quality center, preferably one with experience. Rumor has it, former Pen Matt Cullen might be available. In my mind, Cully'd be a perfect fit.
If the Pens can shore things up a bit while gaining reinforcements?
Suddenly, those dreams of a three-peat aren't so far-fetched.
*Be sure to check out Rick Buker's books,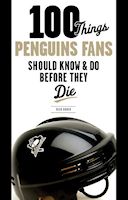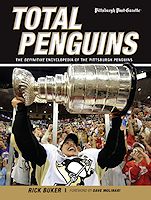 available at TriumphBooks.com, Amazon.com, and BarnesandNoble.com