The actual title of my article was going to be, Sometimes the Best Trades Are the Ones You Don't Make. Since it's a bit long and unwieldy, I figured I'd borrow my title from an old Beatles tune and call it Dear Prudence.
I liked my new title so much I decided to look up prudence in the dictionary. Merriman-Webster defines it as 1) the ability to govern and discipline oneself by the use of reason; 2) sagacity or shrewdness in the management of affairs; 3) skill and good judgment in the use of resources, 4) caution or circumspection as to danger or risk.
To my mind, a fairly apt description of how general manager Jim Rutherford has operated since taking over the Penguins. Which brings me back to my original title.
I was thinking specifically about Ian Cole and Carl Hagelin. While I can't say for sure if either was on the trading block, it's a pretty good bet they were. Especially Cole, who's been benched by coach Mike Sullivan on two separate occasions this season and appeared to be a goner until granted a reprieve three weeks ago.
Now look at them. Hagelin, who by all appearances had morphed from ultra-speedy catalyst into a $4 million/year flop, is flying once again. Indeed, since being installed on the portside beside Evgeni Malkin—a move born by desperation (and exasperation)—'Hags' is on fire. Over his past 13 games, he's tallied three goals and 12 points. His plus/minus? A sterling plus-9.
Some of the supersonic Swede's sudden scoring largess is no doubt attributable to Malkin, who's channeling his 50-goal form from 2011-12 in classic "Two-Headed Monster" fashion. But Hagelin's helped 'Geno', too.
Cole's enjoyed an equally stunning resurrection. While nobody can pinpoint precisely why, Ian appeared to run afoul of Sullivan to such an extent that he'd taken up permanent in the fiery skipper's dog house. Can you say bow wow?
Granted a surprising reprieve after spending three weeks in cold storage, he's seized the opportunity. Since his return, Cole's tallied a goal and five points in six games, along with 12 blocked shots and a sparkling plus-seven. That's a heck of a turnaround.
Back to Rutherford. I confess, I wasn't thrilled when the Pens hired him to succeed Ray Shero back in 2014. Like a lot of folks who don't know the man personally, I looked only at his track record during his last few seasons at Carolina, which wasn't good. Nor was I especially thrilled with his work here during his first year at the helm.
Since then? With precious few exceptions…pure genius.
JR seems to possess an innate feel for which elements are lacking—both on and off the ice—and an uncanny knack of finding guys (correction…the right guys) to fill those voids.  He's as adept at pulling off breathtaking blockbusters (Phil Kessel) as he is at swinging smaller but equally impactful trades, often without costing the team much in return. His in-season acquisitions of Riley Sheahan and Jamie Oleksiak are prime examples.
He also has an excellent sense of when to move guys (Eric Fehr and Scott Wilson) and when to give them some extra rope (Cole and Hagelin). In other words, he knows when to hold 'em and when to fold 'em. Prudence in action.
Here in the 'Burgh, we used to say, "In Ray We Trust." How about, "In JR We Trust."
With the trade deadline looming, the Pens are in good hands.
Puckpourri
The Penguins lost a shootout to the Stars last night in Dallas, 4-3, in the front end of a father-son road trip. They maintain a hold on second place in the Metropolitan Division.
Hagelin, Sheahan and Justin Schultz scored for the black and gold. It was Schultz' third goal of the season and first since November 7. Matt Murray made 33 saves in regulation and overtime.
Malkin extended his point-scoring streak to six games. Geno's collected 14 points during that span, including nine goals. On the flip side, Sidney Crosby is now goalless in 10 games. Sid, who remains stuck on 399 for his career, last tickled the twine against the Rangers on January 14.
The Pens wrap up the road trip on Sunday with a matinee game in St. Louis.
*Be sure to check out Rick Buker's books,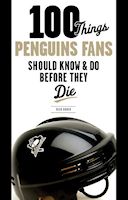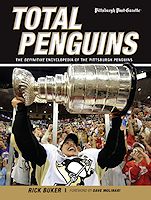 available at TriumphBooks.com, Amazon.com, and BarnesandNoble.com